WASHINGTON — There are two questions Joe Biden just can't avoid most days: When can you campaign for me? And what are you doing in 2020?
The former vice president already has been one of the most active Democratic surrogates in 2017 and 2018, and his advisers are hard at work on plans for a busy campaign schedule this fall that could have him appearing at as many as a dozen events each week.
At the same time, he and a trusted inner circle have quietly been engaging a wider network of political allies to sketch the outlines of what a Biden 2020 candidacy might look like should he decide to run, multiple sources who have participated in the discussions tell NBC News.
Biden himself has only gone so far as to say he's not ruled out what would be a third run for the White House. He's also been adamant that while a decision won't come until after the 2018 midterms, it shouldn't linger much beyond year's end — a timetable that would help to bring some order to what could be the largest Democratic presidential field in generations.
"If there were a primary here next week in South Carolina, and Joe Biden were in the primary, he would win it — going away," predicted Rep. James Clyburn, the assistant House Democratic leader and a longtime friend who speaks often with Biden. "What's going to happen between now and 2020 is another question. I have no idea."
The X Factor
Any Democrat with eyes on the White House is likely at some point to visit South Carolina for Clyburn's "World Famous" Fish Fry, part of the state party's convention weekend. And in April at least three potential candidates made the trek to Columbia for it, mingling with activists and party leaders in the state that holds the "First in the South" primary.
Looming — literally — over the crowd that Saturday night was that very familiar face.
"Hello, South Carolina Democrats!"
Biden addressed the assembled activists not in person, but with a video message that included an endorsement for the leading gubernatorial candidate, state Rep. James Smith. "He reminds me of my son Beau," Biden said as part of his brief testimonial.
His cameo, and his very personal message, underscored the inherent dilemma for of Biden. There's little question he feels strongly about the course of the nation under President Donald Trump, and the Republican's 2016 victory unexpectedly left open the possibility of Biden making another White House run. But the same factor that led him to stay out of the 2016 race remains at play in 2020.
Last Wednesday was three years since Beau Biden died at 46 from brain cancer. On Monday, Biden sets off for the second leg of a tour promoting his 2017 memoir, "Promise Me, Dad," which documents Beau's diagnosis and how those events shaped Biden's final years in the nation's second-highest office — and ultimately his decision not to seek the top job in the last election.
Those close to Biden say the more than two dozen book-tour stops he has done so far have been somewhat cathartic, as the often emotional hourlong question-and-answer sessions helped him through the ongoing grieving process while also giving him a forum to discuss current events and inevitably his political future.
When Biden has been asked publicly about his 2020 plans, he's given a fairly consistent response: I'm not ruling it out, but if I had to decide today the answer would be no. But he offered perhaps his most candid assessment to date in a recent interview with Al Sharpton for MSNBC's "Politics Nation," reflecting on the toll Beau's death still is taking on his family, especially his younger son, Hunter.
"Every breath Beau took in, Hunt expelled," he said. Beau's death "left a hole in the heart of everybody in the family. … It takes time to come back. I'm surprised how much time it took, because I've been through this before."
Surveying the field
Biden's family trauma was a major factor in his 2016 decision, but the calculation was compounded by a historical anomaly: The sitting two-term vice president would not have been his party's front-runner. By the time Biden was able to focus on making a decision, former Secretary of State Hillary Clinton had already cemented her status with millions of dollars in the bank and key party endorsements, including, it seemed, the tacit backing of President Barack Obama.
Now, albeit to a lesser extent, it is Biden's decision that may be the biggest single wild card in shaping the Democrats' prospects in 2020.
"He'll have competition, obviously. But that field's going to get narrow if Joe Biden's in it," longtime New Hampshire state Sen. Lou D'Allesandro told NBC News.
Former Attorney General Eric Holder, who visited New Hampshire on Friday, insisted that his own decision about 2020 won't be affected by Biden's or anyone else's.
"I think there are going to be a substantial number of Democrats who will probably seek the nomination, and that's OK," he said. "We'll have a good debate."
Biden knows as well as anyone that there are scores of potential Democratic candidates. And he's privately been encouraging several to go ahead and run.
Los Angeles Mayor Eric Garcetti, who became close with Biden and had encouraged him to run in 2016, reached out to the former VP as he prepared to make his first visit to Iowa in April.
"He said, 'Nobody should wait for me,'" Garcetti said in an interview.
"It is something that he's looking at. … [But] he said: 'None of you should be waiting. Don't not look at something because of me.'"
Rep. Tim Ryan, D-Ohio, who gave the keynote address at the South Carolina Democratic Party's Palmetto Dinner in April, said he's also spoken with Biden but not explicitly about 2020.
"I don't think I'll be out of school saying that he thinks I'm a good voice to be out there for us," said Ryan, who represents a Rust Belt seat where Biden has campaigned often.
Ryan and Garcetti are among the dozens of potential candidates hard at work testing the waters in early voting states. But Biden's team has largely worked to avoid public engagement in Iowa, New Hampshire and South Carolina, knowing that any moves he makes there for candidates will only generate more speculation about his future.
There are exceptions, like his video endorsement in South Carolina for Smith, who had become close with him and his late son. On Sunday he made his first endorsement in Iowa, for Abby Finkenauer, a state representative and one of four Democratic candidates running in Tuesday's 1st Congressional District primary. Finkenauer helped organize volunteers in Iowa for Biden's 2008 presidential campaign.
Biden has already campaigned and raised money for more than a half-dozen Senate candidates, while American Possibilities, his political action committee, has rolled out other endorsements and financial contributions for Democrats.
Beyond the Senate, his team is working to identify candidates in other key races — especially in Midwestern states and suburban districts — that line up with his political philosophy. Biden is very much involved in that vetting process, and has made personal calls to all of his endorsed candidates each election night.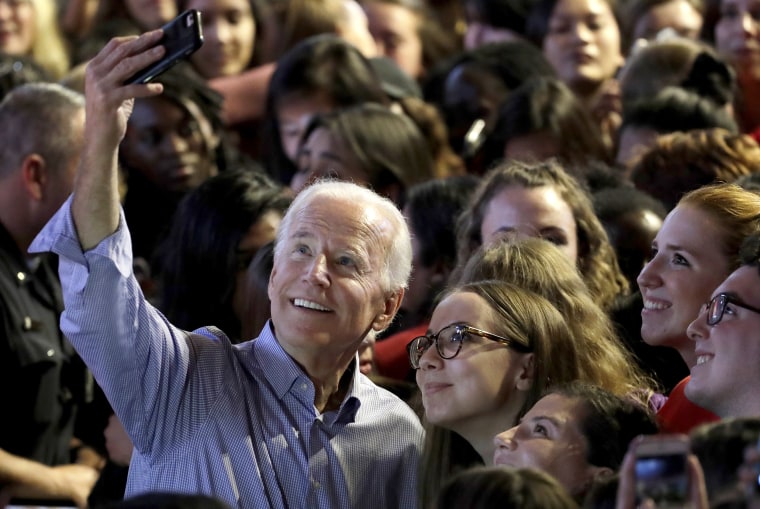 Biden even traveled to New York to boost a close ally who had been seen as a potential 2020 hopeful, New York Gov. Andrew Cuomo, now facing a re-election challenge from his left.
"We're being told by many that we have to make what I call a false choice: Do we yield only to our progressive values, or do we work on those things that affect high school-educated working people who are under siege? As if they're different!" Biden said, later adding, "I take a back seat to no one on my progressive values."
The Biden kitchen cabinet
Any discussions among Biden's political inner circle — Greg Schultz, executive director of American Possibilities; Valerie Biden Owens, his sister; longtime consultant Mike Donilon; former Sen. Ted Kaufman; former chief of staff Steve Ricchetti; and former communications director Kate Bedingfield — have been in broad strokes, aides say, and are secondary to the focus on the midterms.
And any blueprint for 2020 likely would closely resemble what they readied for 2016, but with an added emphasis on Biden's perhaps unique potential to unify the party and ultimately the country after the turbulent Trump era.
The North Star for any Biden campaign would be revitalizing the middle class, a subject Biden spoke to at length in a recent address at the Brookings Institution that was one of his most expansive policy speeches since leaving office. He called for a more progressive tax code, free tuition at community colleges and state universities, stronger labor protections and expanded skills training for American workers, and a major infrastructure package.
"Folks in the middle class are in trouble," he said in the speech, in which he quoted Sen. John McCain, R-Ariz., in decrying the "phony populism" that fueled Trump's rise.
"If we have a weak middle class, we become a fractured country," Biden said. "When opportunity fades, people feel left out. … And it's the lack of hope, the lack of opportunity that's driving so much of what's happening today."
Politically, Biden would promote his record on civil and women's rights as well as tougher gun laws, highlight decades' of relationships both with Republicans and foreign leaders to show how he can rebuild unity at home and abroad, and reject super PAC contributions.
They're also aware of potential vulnerabilities, first among them his age. Now 75, Biden would be 78 by the time the next president is sworn in. As it did ahead of a potential 2016 race, Biden's team has discussed announcing his candidacy early along with a pledge to serve just one term, and maybe even naming a running mate at the same time.
But sources close to Biden stressed that such decisions about 2020 won't come until after the midterms, in part because of how much could change by the fall.
D'Allesandro, the New Hampshire state senator, said Biden's team checked in recently to make sure it had his most up-to-date contact information, but he urged the former VP to make his decision known quickly.
"I think you can't delay the game anymore," D'Allesandro said. "If you're going to do it, you have to do it."