Former Vice President Joe Biden has blunt advice for President Donald Trump two months into his tumultuous tenure: Stop campaigning and start governing.
Biden — during his warmly received return to Capitol Hill on Wednesday morning — questioned the administration's "romance" with Russia and advised Trump to scale back the incendiary rhetoric.
"The president's words matter, they matter a great deal, they have repercussions around the world," Biden, who's also known for his off-color gaffes, told reporters. "And that's not hyperbole. I mean, they literally do."
Biden's beef with the Trump administration ranges from its effort to undo President Barack Obama's signature health care legislation to floating unfounded charges about the prior administration.
Last month, Trump tweeted that Obama ordered the wiretapping of Trump Tower during the 2016 campaign — an explosive claim that has so far proven baseless, FBI Director James Comey said at a House Intelligence Committee meeting Monday.
Related: Biden Defends Obamacare as Republican Leaders Hunt for Repeal Votes
Trump a week ago said he plans to present more information "soon" about his wiretapping allegations.
Asked by NBC News if the Obama administration ordered surveillance on Trump, Biden quipped: "Five or six times."
"Are you joking? Are you serious?" he added. "I guess there's been a great deal of humor lately."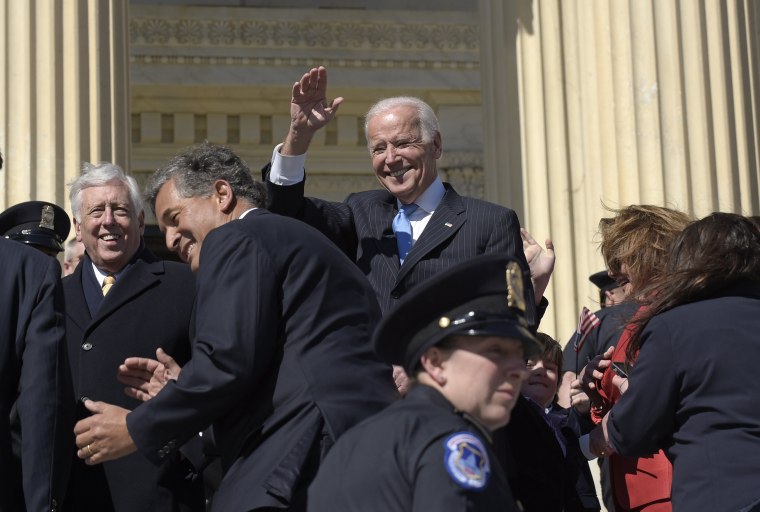 Biden added that Trump should apologize as "any gentleman would," adding, "I always hold out hope that people can get good manners."
Biden reacted just as incredulously to reports that the Trump administration's top diplomat, Rex Tillerson, is expected to miss a NATO meeting next month because of a scheduling conflict, but still planned to travel to Russia.
The secretary of state's trip to Moscow has not been confirmed by Russia.
"The notion that there's still this romance with Putin ... I'm told [Tillerson] has decided he's going to go visit Putin before he goes to the NATO conference? What in the hell are we doing?" Biden told reporters.
His remarks follow a rally with Democratic leaders hoping to halt the GOP's health care bill aiming to scrap Obamacare.
Obama's Affordable Care Act was signed into law seven years ago, but Republicans have long vowed to repeal and replace it. The House is scheduled to vote on the GOP's replacement legislation Thursday, although it remains in danger of failing with some Republicans waffling on parts of the bill.
Meanwhile, Biden's return to Capitol Hill may not be his last as the health care fight heats up.
"I ain't going anywhere. This is not going to pass," he said.