House Speaker John Boehner's legacy is on the line as he struggles to find a way out of the first government shutdown in 17 years.
There are enough votes in the House he leads to pass the spending bill approved by Senate, a move that would continue funding the government until mid-November. But to do so, the Ohio Republican right now would have to rely on a bare majority of his Republican colleagues as well as votes from Democratic members.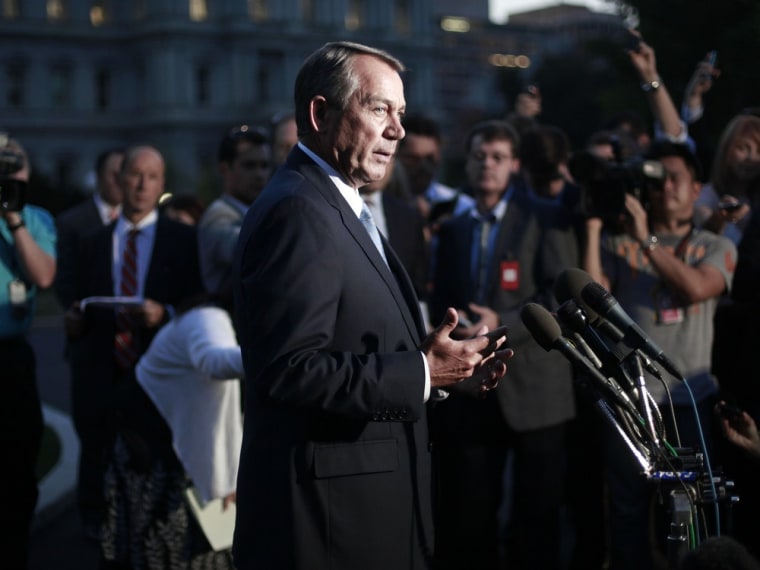 And that could put Boehner's grasp on the speakership in jeopardy if the unwieldy group of Tea Party conservatives he's overseen for the past two and a half years finds their leader guilty of violating the party's principles or making a misstep in the budget negotiations. A revolt among his members would be seen as sign of weakness and could result in his ouster. 
But failing to resolve the standoff has potential consequences as well, both for the long-term success of the Republican Party and the nation's economic well-being, giving Boehner few palatable options.
"This is what he'll be remembered for," said former Rep. Steven LaTourette, a moderate Republican from Ohio and longtime confidante of the speaker.
"I would say to the president: This is not about me," Boehner protested in a fiery speech on the House floor a few hours before a legislative impasse closed all but the most essential elements of the government for business at midnight on Sept. 30.
But like it or not, Boehner has assumed the starring role in the spending fight, replacing President Barack Obama, who served as the central figure during a similar debate in 2011.
Boehner made his name in Washington as a consummate dealmaker, being willing to haggle with both Democrats and Republicans in the interest of crafting legislation. By virtually every account, these instincts have continued to guide Boehner during his two and a half years as speaker.
And yet, the government has now suffered a shutdown in no small part due to Boehner's decision to side with the conservatives and drive a hard bargain in the GOP's strategy to prevail in a fight over government spending and the newly-implemented health care law.  Rather than cutting loose conservatives, Boehner opted to pursue repeated attempts to defund or delay Obamacare as a condition of continuing to fund the government – a strategy sure to fail in the Democratic Senate, and an approach which many in Washington, including veteran Republicans, openly mocked in the weeks leading up to a shutdown.
Sen. Richard Burr, R-N.C., a member of Boehner's inner circle, called the strategy "the dumbest idea I've ever heard." In August, Rep. Renee Ellmers, R-N.C., another Republican close to leadership, called the idea of shutting down the government over Obamacare a "distraction."
Nonetheless, Boehner pushed forward with the strategy, reflecting a major concession to the conservatives who would otherwise threaten his leadership.
"I worked for Sen. Kennedy for 12 years. I spent a lot of time with him as he negotiated one bill after another with John Boehner," said Jim Manley, a former longtime Senate aide to Ted Kennedy, and later to Majority Leader Harry Reid, D-Nev. "This is a guy who knows how to compromise and get things done. But that was then, and this is now."
But as the shutdown entered its second day – and appeared poised to last indefinitely – Boehner has become the new Democratic whipping boy, shouldering much of the blame right now on behalf of Republicans. Virtually every hour, a Democrat somewhere in Washington is uttering Boehner's name, and bemoaning the fact that the shutdown could end if only for the speaker's say-so.
"Speaker Boehner is the one person who can end the Tea Party shutdown," Sen. Charles Schumer, D-N.Y., said Wednesday on Capitol Hill, a few hours before congressional leaders would powwow at the White House.
To that end, 48 percent of Americans nationally said they had an unfavorable opinion of Boehner in a CNN/ORC poll conducted before the shutdown – an 11-point spike in that number since the last time CNN tested Boehner's popularity in May of this year. Thirty-three percent of Americans said they had a favorable opinion of Boehner in the days leading up to the shutdown.
In some respects, Boehner is a victim of circumstance. He inherited the unenviable task of leading House Republicans after the party was driven from the majority in the 2006 midterm elections. He presided over their return to power in 2010 after convincing every Republican to vote against both Obama's stimulus act (at the height of the recession in 2009) as well as the Affordable Care Act (or "Obamacare").
But Republicans' victories in the 2010 midterm elections proved to be a blessing and a curse. While Boehner won the speakership as a result, the GOP rank-and-file was filled with dogged, Tea Party conservatives who were bent on shrinking government, but also lacked a great deal of experience in electoral politics or the finer intricacies of lawmaking.
From thereon, the merlot-and-golf-loving, chain-smoking Boehner's speakership has been snakebitten.
At a number of different points during his tenure, Boehner has pursued strategies that would have positioned the GOP well and advanced much of the party's goals, only to have his bargaining position kneecapped by conservatives in his own conference. Boehner's negotiations before the debt ceiling in 2011 were emblematic: he and the president were close to striking a "grand bargain" that would have raised some taxes, but also achieved major spending reductions and entitlement reforms.
When conservatives got word of the potential taxes, they – and Boehner – balked.
The phenomenon has repeated itself over the past two and a half years: during the fiscal cliff at the beginning of this year, on a key farm bill vote and beyond.
"This isn't the deck of cards that he wanted to be dealt," LaTourette said. "He is a functionary of the Republican conference. He has to do this if he wants to survive as speaker."
Indeed, Boehner has hung onto his speakership. But his grasp on the gavel remains tenuous: 10 House conservatives waged a symbolic vote against Boehner during his re-election as speaker earlier this year, and another two declined to vote. Had a few more Republicans defected, Boehner's election would have gone to a second, politically embarrassing vote.
Boehner has been under constant pressure since, with conservative groups actively pressuring the speaker to hew to their tactics or risk their opposition. Sen. Rand Paul, a Tea Party star with designs on the presidency in 2016, said in August that if Boehner brought up the Senate-passed immigration reform bill, it would be "the final thing he does as speaker."
Boehner might endure more conservative defections anyway in 2015, should Republicans retain control of the House in next year's midterm elections and Boehner chooses to seek another term as speaker – the latter decision being an open subject of speculation in Washington.
As a result, Boehner's decision to stick with his party's conservatives is a subject of bafflement even to Democrats who have begrudging admiration for the Ohio Republican. They wonder if – or whether – Boehner will finally cut himself loose from conservatives, and move to end a government shutdown and raise the debt ceiling in a few weeks.
"The question is whether he can rise to the occasion and stand up to a group that he knows is having a deleterious effect not only on his caucus but a country as a whole," said Manley.