The feud between President-elect Donald Trump and civil rights icon John Lewis took on added meaning Monday, the Dr. Martin Luther King Jr. Day holiday, with Trump in his Manhattan apartment building and Lewis leading an event honoring King.
Trump used Twitter to mark the holiday, calling on people to "Celebrate Martin Luther King Day and all of the many wonderful things that he stood for." Trump also will meet privately with King's son, Martin Luther King 3rd, spokesman Sean Spicer said. He had no public events planned.
Lewis, meanwhile, is set to be the keynote speaker at a King scholarship breakfast in Miami. The legendary Freedom Rider and top organizer of the 1963 March on Washington seems intent on making Trump his new fight.
Lewis said in an interview on NBC News' "Meet the Press" on Sunday, that he doesn't believe Trump is a "legitimate president" and that he wouldn't be attending the presidential inauguration for the first time in his 30-year political career, citing the intelligence community's explosive findings over Russian hacking of the presidential election.
"I believe in forgiveness. I believe in trying to work with people, but it's going to be very difficult," Lewis said in the interview, which was recorded Friday. "I don't see this president-elect as a legitimate president."
"I think the Russians participated in helping this man get elected and they helped destroy the candidacy of Hillary Clinton," the Georgia Democrat added.
Related: Rep. Lewis: I Would Not Invite Trump to Selma
Lewis' stand didn't go unnoticed. Trump retaliated on Twitter early Saturday with a flurry of criticism that continued throughout the weekend. He said Lewis was "all talk" and "should spend more time on fixing and helping his district." The next day, Trump also tweeted that Lewis should "finally focus on the burning, crime infested inner-cities of the U.S."
Vice-President-elect Mike Pence told Fox News on Sunday that he "was deeply disappointed" by Lewis' comments and hoped he would reconsider his decision not to attend the inauguration.
But Trump's retorts had already led to a firestorm of backlash ahead of Martin Luther King Jr. Day, with two dozen Democratic lawmakers announcing that they wouldn't be attending Trump's inauguration in solidarity with Lewis. Atlantans pushed back against Trump's characterization of Lewis and their city.
Lewis will speak at the Martin Luther King Scholarship Breakfast in Miami on Monday. The breakfast, coordinated by the 5,000 Role Models of Excellence Project, raises money for scholarships for graduating high school seniors.
The renewed attention comes just days after Lewis joined other prominent Democrats in the Congressional Black Caucus in testifying against Sen. Jeff Sessions, a Republican from Alabama and Trump's pick for attorney general, over his voting record on civil rights.
Related: Rep. John Lewis: 'I Don't See Trump as a Legitimate President'
"We need someone who is going to stand up, speak up and speak out for the people who need help, for the people who have been discriminated against," Lewis said Wednesday.
Lewis is the final surviving member of the Big Six, a group of civil rights leaders, including King, that led the massive March on Washington, D.C., in 1963. Lewis, the youngest member of the Big Six at age 23, took to the same podium where King gave his iconic "I Have a Dream" speech.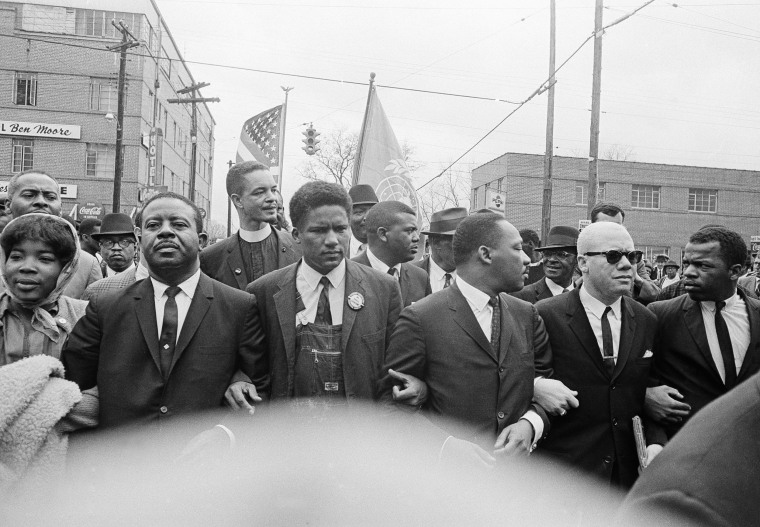 In 1965, Lewis was severely injured by Alabama state troopers during a march for voting rights from Selma to Montgomery. On the 50th anniversary of the march in 2015, Lewis spoke to "Meet the Press" about the scars he still bears on his forehead from the brutal beating.
"When I go back, I remember. The bridge for me is almost a sacred place," he said, referring to the Edmund Pettus Bridge, where protesters were met with violence. "That's where some of us gave a little blood and where some people almost died."
President Barack Obama awarded Lewis the Presidential Medal of Freedom, the nation's highest civilian honor, in 2011 for his lifelong role in the struggle for civil rights.
Last year, Lewis deployed a strategy from his early days in activism, staging a sit-in on the House floor in June with fellow Democrats to force a vote on gun control.
"There comes a time when you have to say something, when you have to make a little noise, when you have to move your feet," Lewis said then. "This is the time. Now is the time to get in the way. The time to act is now. We will be silent no more."