Republicans are eyeing a crucial final vote Friday for a tax overhaul package expected to add $1 trillion to the nation's deficit over 10 years.
Sen. John McCain, R-Ariz., threw his support behind the tax plan Thursday, boosting the bill's chances of passage.
While McCain's support offered momentum, key holdouts expressed renewed concern about the plan after a late-in-the-day analysis from the nonpartisan Joint Committee on Taxation, or JCT, concluded that the plan doesn't live up to expectations.
Hope for a vote on the bill, however, re-emerged Friday after two of those GOP holdouts — Sens. Steve Daines, of Montana, and Ron Johnson, of Wisconsin, said they would support the bill after securing changes to how certain small businesses, known as "pass-throughs," would be taxed under the bill.
The previous evening, amid a whirl of meetings and dramatic votes, Senate GOP leaders rewrote the bill behind closed doors. They weighed scaling back the tax cuts in the legislation to secure crucial support.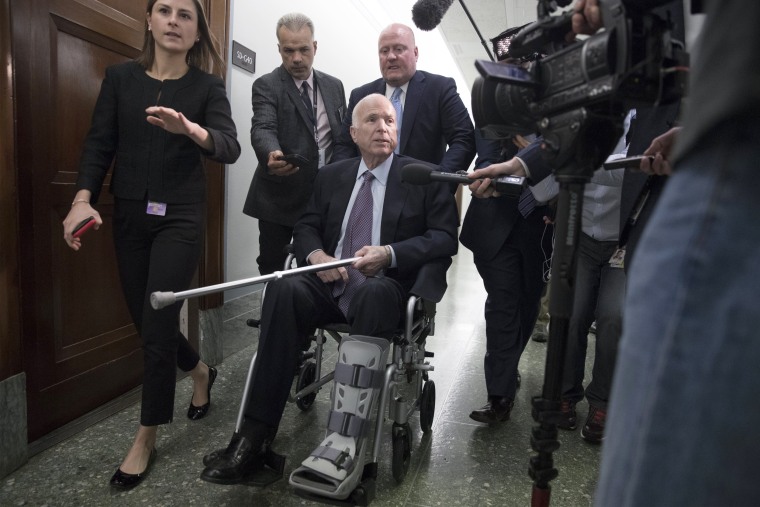 McCain said Thursday that while the Senate bill is "far from perfect," he believes it will "enhance American competitiveness, boost the economy and provide long overdue tax relief for middle-class families."
Passage of the bill would give President Donald Trump a much-needed legislative achievement in his first year in office after several failed efforts to repeal Obamacare and little progress on other top priorities. A vote on the bill could come as early as Friday.
The JCT estimated that, even accounting for economic growth, the tax bill would increase the deficit by $1 trillion over 10 years. Republicans have previously said economic growth would cover the costs of the bill, which the nonpartisan Congressional Budget Office, or CBO, said would add $1.44 trillion to the deficit over the same time.
A spokesman for Senate Finance Committee Chairman Orrin Hatch, R-Utah, told NBC News that the bill was still "evolving" and noted that other economists have predicted higher growth, but he said "the findings of JCT are curious and deserve further scrutiny."
Assuming all Senate Democrats vote against the tax plan, Trump can afford to lose only two Republican votes — three would sink the bill.
There's a handful of other holdouts, including Bob Corker of Tennessee, James Lankford of Oklahoma and Jeff Flake of Arizona, who have expressed concerns about how the bill would affect the deficit.
They wanted a "trigger" mechanism that would hike taxes should the bill not prompt enough economic growth, but the Senate parliamentarian ruled late Thursday afternoon that the proposed trigger wouldn't work under Senate rules, Corker said. Corker and Flake both announced this year that they wouldn't seek re-election in 2018.
"By overhauling our tax code, we can provide much-needed support to the men and women who sent us here"
Another faction to be reckoned with: senators supporting millions of businesses whose owners report the firm's profits on their individual tax returns. The vast majority of U.S. businesses, big and small, are taxed this way. Daines, of Montana, backed the tax legislation Wednesday after securing an increase in the deduction for business income from 17.4 percent to 20 percent. He said Friday during an interview on "Fox and Friends" that he would vote "yes" on the bill.
A short time later, Johnson, of Wisconsin, said he would vote "yes," too, due to changes that had been made to how pass-throughs are treated under the legislation. A day earlier, Johnson had said he was withholding support for the bill.
The overall legislation would bring the first overhaul of the U.S. tax code in 31 years. It would slash the corporate tax rate, offer more modest cuts for families and individuals and eliminate several popular deductions.
Trump and Republican lawmakers have repeatedly touted the bill as a boon for the middle class, despite several independent analyses that say otherwise. Two-thirds of middle-class earners would see tax increases, according to the nonpartisan Tax Policy Center.
The bill would also eliminate the Affordable Care Act's individual mandate, cutting the tax credits it offered to lower-income earners who purchase health care. This would leave poorer Americans worse off, the CBO said, while top earners and corporations would benefit.
McCain has been a deciding vote on the president's past priorities, helping to sink an Obamacare repeal this year, but he said he would support this bill because it benefits "all Americans."
"This bill would directly benefit all Americans, allowing them to keep a higher percentage of what they earn," McCain said in a statement. "For months, I have called for a return to regular order, and I am pleased that this important bill was considered through the normal legislative processes, with several hearings and a thorough mark-up in the Senate Finance Committee during which more than 350 amendments were filed and 69 received a vote."
Senate Majority Leader Mitch McConnell, R-Ky., rallied his party behind the bill on Thursday.
"This is a good bill, and by overhauling our tax code, we can provide much-needed support to the men and women who sent us here," he said. "It's our opportunity to overhaul our complex tax code and shift the economy into high gear."
Democrats, meanwhile, have remained united in opposition.
The bill would "increase the deficit which will cannibalize support from everything we know is essential to economic growth [and] a strong middle class," Senate Democratic leader Chuck Schumer of New York said in tweet.