NEWARK, N.J. — The bribery trial of New Jersey Sen. Bob Menendez ended in a mistrial Thursday afternoon when jurors were again deadlocked in a case that threatened to end the Democratic lawmaker's political career.
Jurors were unable to reach a unanimous verdict — the second time in four days — even though they reviewed evidence slowly and thoroughly of Menendez's relationship with a wealthy donor, defense attorney Abbe Lowell told U.S. District Judge William Walls. Lowell said jurors had a strong difference in viewpoints since deliberations began seven days ago.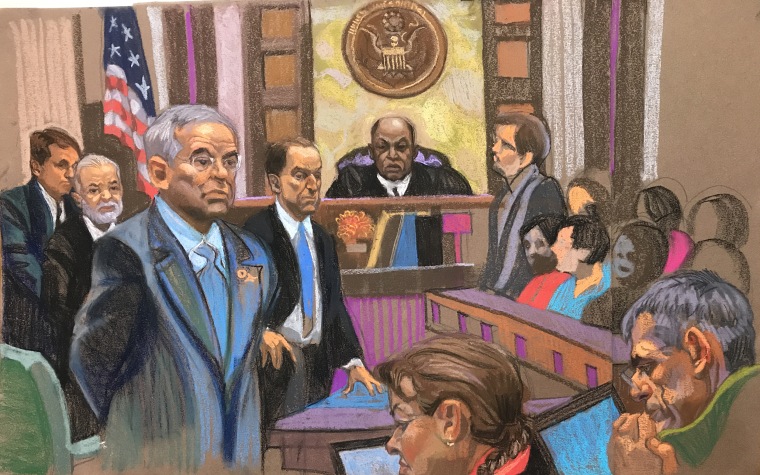 Walls said he had "no alternative but to declare a mistrial." A juror later told reporters that the deadlock was 10 to two leaning toward acquittal on all counts.
Defense attorneys asked the judge to give them until Dec. 15 to file a brief for acquittal. Prosecutors, meanwhile, gave no immediate indication whether they will seek to retry the senator.
Menendez, 63, was briefly overcome with emotion outside of the federal court in Newark as he thanked his attorneys, his family and fellow senators, including New Jersey Sen. Cory Booker and South Carolina Sen. Lindsey Graham, for their support.
He also expressed gratitude to jurors "who saw through the government's false claim and used their Jersey common sense to reject it."
Related: Menendez Jury Deadlocked, Judge Says Keep Deliberating
And he took a swipe at the FBI and the Department of Justice for pursuing the case in the first place.
They "certainly cannot understand that the Latino kid from Union City and Hudson County can grow up to be a United States senator and be honest," he said, the son of Cuban immigrants.
The trial against Menendez was the first in 36 years to involve a sitting senator facing federal bribery charges, the most serious of which carried a 20-year maximum prison sentence.
Prosecutors painted Menendez as the "personal senator" to Florida ophthalmologist Dr. Salomon Melgen, who is also on trial. Melgen was already found guilty in April of health care-related fraud.
Prosecutors told jurors that Melgen had offered his private jet for the two-term senator's use, showered him with luxury trips and steered more than $750,000 in campaign contributions to entities supporting Menendez.
Menendez reciprocated by aiding Melgen's business interests, prosecutors added, including helping him with a Medicare billing dispute and obtaining visas for foreign women described as Melgen's girlfriends.
Defense attorneys said Menendez's meetings on behalf of Melgen were to discuss policy issues, and various trips to the Dominican Republic were merely social visits between friends.
Both defendants initially pleaded not guilty in 2015 to 18 counts of bribery and fraud. Neither took the witness stand during the 11-week trial, which included more than 55 witnesses, from FBI agents to plane pilots.
Mendendez on Thursday said in regard to Melgen, "I wish my friend, Sal, continuing success in his search for justice."
The inconclusive end to the two-and-a-half-month trial could leave the charges hanging over Menendez as he gears up for an expected run for re-election next year to the Senate, where Republicans hold a slim edge and Democrats need every vote they can get.
The Senate Select Committee on Ethics announced that it would resume its inquiry into Menendez, saying that it had deferred its investigation in 2013 in deference to the Department of Justice's criminal investigation.
"At this time, the Committee intends to resume its process," the senators on the committee said in a statement.
The Citizens for Responsibility and Ethics in Washington said Menendez's mistrial is more proof that corruption laws must be strengthened.
"Congress needs to take action to ensure elected officials are held accountable when they serve themselves rather than the people," Noah Bookbinder, the legal watchdog's executive director, said in a statement.
In Menendez's case, one juror who was excused last week had hinted that most jurors were likely leaning toward acquittal.
"I think the defense showed me enough to say he's not guilty on every count," Evelyn Arroyo-Maultsby told reporters.
Adam Reiss reported from Newark, and Erik Ortiz reported from New York.