WASHINGTON — A federal judge Monday declined to throw out federal bribery charges against Sen. Robert Menendez of New Jersey, leaving the Justice Department's case intact against one of the Senate's senior Democrats in the middle of a jury trial.
U.S. District Court Judge William Walls said the evidence presented by federal prosecutors during the past month in Newark, N.J., appeared to meet the legal test for proving bribery under federal law.
Defense lawyers will now begin presenting their case.
"The jury will decide what happened," Walls said. "That's why we're going to the jury."
Menendez is accused of illegally accepting favors for years from a Florida eye doctor, Salomon Melgen.
Among the favors, prosecutors said, were a dozen flights on a private jet to stay in Melgen's cloistered resort in the Dominican Republic, three nights at a five-star hotel in Paris, and more than $700,000 in political contributions for Menendez and the Democratic Party.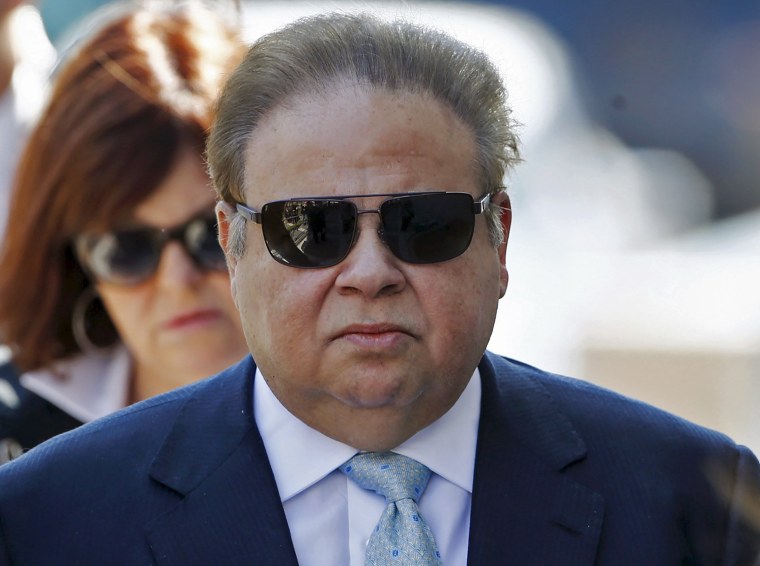 In return, the government said, Menendez helped get visas for Melgen's girlfriends, aided a Melgen-owned company with a contract worth millions for port security in the Dominican Republic, and leaned on federal regulators after Melgen was accused of overbilling Medicare for nearly $9 million.
But after prosecutors rested their case last week, defense lawyers said the evidence did not meet the higher legal standard established by the U.S. Supreme Court's 2016 decision that threw out bribery charges against Robert McDonnell, the former Virginia governor.
None of what Menendez did qualified as quid pro quo corruption under the revised test, his lawyers said, because Menendez never agreed to perform any specific act when he received specific favors from Melgen.
The defense said the government could not make out a bribery case by arguing that all the gifts from Melgen were to secure Menendez's future help — in essence, to put Menendez on retainer by offering him a stream of benefits.
But prosecutors said the Supreme Court's McDonnell ruling did not foreclose cases like this one. The government's theory of the case "captures the most egregious forms of bribery where, like here, corruption is so pervasive that it involves more than a single gift or an isolated official act and often lasts for years," they said.
In a blow to Menendez, Judge Walls accepted the government's position.
"Payment may be made with intent to retain official services on an as-needed bases, so whenever the opportunity presents itself the official will take official action on behalf of the payer's benefit," he said.
Pete Williams reported from Washington, D.C., and Brian Thompson from Newark, N.J.