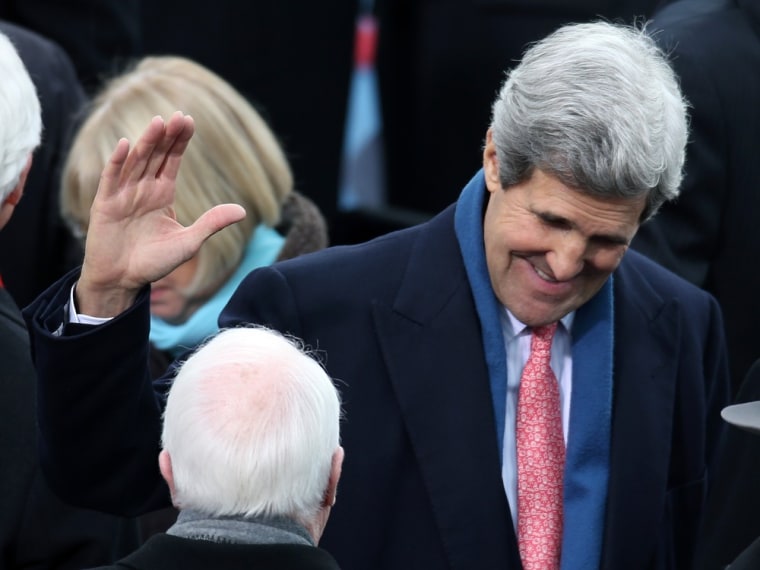 One day after the Senate Foreign Relations Committee conducted a sometimes fractious hearing with Secretary of State Hillary Clinton over last September's attack on the U.S. diplomatic mission in Benghazi, Libya, the panel holds its confirmation hearing Thursday morning on the man President Barack Obama has chosen to succeed her: Sen. John Kerry of Massachusetts.
Wednesday's hearing with Clinton in the witness chair was marked by some anger and recriminations over the attack in Libya that resulted in the killing of Ambassador Chris Stevens and three other Americans.
Clinton at times clashed with Republicans over the administration's version of events in the immediate aftermath of the Benghazi attacks, at one point forcefully arguing with Sen. Ron Johnson, R-Wisc., over the precise origins or motives of the attackers.
She intensely asked, "Was it because of a protest or is it because of guys out for a walk one night and they decide they go kill some Americans? What difference, at this point, does it make?"
Clinton also sketched the strategic landscape that Kerry will face in his new job if he's confirmed by the Senate, as is nearly certain.
Clinton told the committee that the United States cannot allow the North African nation of Mali, just south of Algeria, to become a base of operations for al-Qaida in the Islamic Maghreb (AQIM), warning of the risk of AQIM attacks on the United States itself.
"We are in for a struggle," she predicted. "But it is a necessary struggle. We cannot permit northern Mali to become a safe haven. People say to me all the time, well, AQIM hasn't attacked the United States. Well, before 9-11, 2001, we hadn't been attacked on our homeland since, I guess, the War of 1812 and Pearl Harbor. So you can't say, well, because they haven't done something they're not going to do it."
She also sounded the alarm about the proliferation of weapons from caches in Libya that were "liberated" after Moammar Gadhafi was toppled, with U.S. and NATO help, in 2011.
"Libya was awash in weapons" before Gadhafi was overthrown, she said. "Obviously, there were additional weapons introduced. But the vast, vast majority came out of Gadhafi warehouses ... and then went on the black market, were seized by militias, seized by other groups, and have made their way out of Libya into other countries in the region, and have made their way to Syria, we believe."
She said the Algerian terrorists who held foreigners hostage at a natural gas plant last week, killing 37 of them, were armed with weapons from Libya.
Syria a looming challenge
Clinton also highlighted another looming challenge for Obama and Kerry: the civil war in Syria in which 60,000 people have been killed. Obama has decided to not impose a no-fly zone against the regime of President Bashar Assad, but he now faces growing bipartisan pressure to give more aid to the Syrian opposition.
On Tuesday, a group of three Democratic and two Republican senators just back from a trip to the Middle East urged Obama to send more aid to the Syrian refugees; some urged him to impose a no-fly zone and to provide weapons to anti-Assad fighters.
"We are all in agreement that more needs to be done to assist militarily the opposition within Syria," said one of those senators, Richard Blumenthal, D-Conn. He added that the debate over what the Obama administration ought to be doing in Syria "is going to be reinvigorated" because the fall of Assad, thought to be imminent a year ago, now is in doubt.
"Clearly now, he is using his air force for nothing more than the slaughter and massacre of his own people," Blumenthal said. "And the United States ought to be finding a way to either disarm or deflect or somehow diminish that power."
Clinton said Wednesday in her Senate testimony that, "It is a red line for this administration with respect to Syria concerning the use of chemical weapons. Syria, as you probably know, in addition to having the fourth largest army before this revolution has a very significant supply of chemical and biological weapons."
The Obama administration, she said, is trying "to prevent those from falling into the wrong hands, Jihadist hands, Hezbollah hands .. ."
She added, "This Pandora's box, if you will, of weapons coming out of these countries in the Middle East and North Africa is the source of one of our biggest threats."
Kerry, a member of the Senate since 1985, is the chairman of the Foreign Relations Committee but will be ceding that post to Sen. Robert Menendez, D-N.J.
A Navy veteran of the Vietnam War, Kerry was the Democratic presidential nominee in 2004 and won 59 million votes, but lost to President George W. Bush.
In announcing the nomination, Obama said on Dec. 21, "John's entire life has prepared him for this role.  As the son of a Foreign Service officer, he has a deep respect for the men and women of the State Department -- the role they play in advancing our interests and values, the risks that they undertake and the sacrifices that they make along with their families."  
Related: Clinton takes responsibility in Benghazi attack, clashes with Republicans