Kris Kobach, Kansas' secretary of state and President Donald Trump's chosen election fraud expert, will defend his claims of widespread election fraud Tuesday in a major voting rights case that could put the president's unsubstantiated assertions on trial, too.
Kobach is facing off in federal court against the American Civil Liberties Union, which argues that the Kansas law requiring voters to prove their citizenship with documents like passports or birth certificates violates the 1993 National Voter Registration Act (NVRA), the law that standardized the federal voter registration form and made it available at Department of Motor Vehicles nationwide.
"Kris Kobach has been the nation's chief purveyor of false things about voter fraud," Dale Ho, director of the ACLU's Voting Rights Project, said. "Now it's time to prove it, and I don't think he's going to."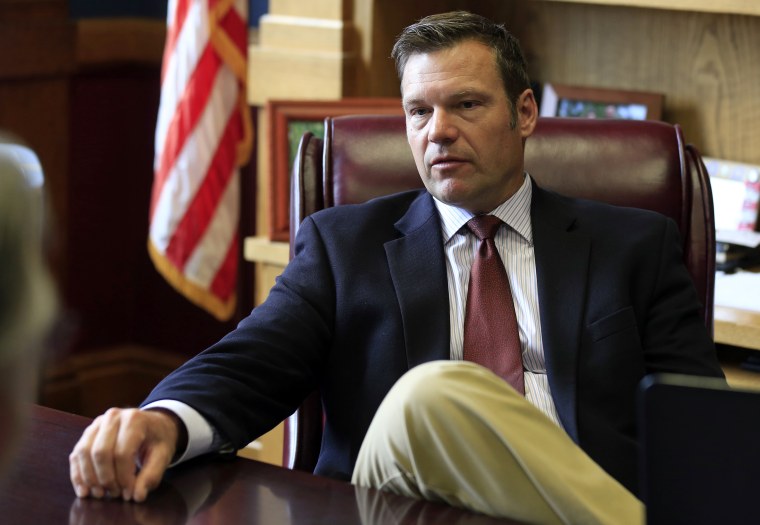 Kobach, who is also a candidate for governor in Kansas, has seen his national profile rise as a source of Trump's unproven claim that millions of illegal ballots were cast in 2016 as well as a leader of the president's short-lived election commission convened to examine the U.S. electoral system for evidence of large-scale voter fraud that abruptly dissolved without issuing any findings.
The Kansas case could have broad implications for voting rights, Ho said, and paint a target on the NVRA's back inviting other states to implement equally tough measures. For Kobach, the stakes are equally high — losing would mean either abandoning the strict voter fraud law he has championed as a model for the nation or beginning a lengthy appeals process that could go as high as the Supreme Court.
To win, Kobach must convince the court that voter fraud in Kansas is as widespread as he claims while also proving Kansas' law doesn't violate the NVRA. But he may face an uphill battle. As the only secretary of state with prosecutorial power over voter fraud, Kobach has convicted just nine individuals since 2015. Only one was a noncitizen.
Meanwhile, the Supreme Court ruled in 2013 that a similar law in Arizona requiring proof of citizenship on federal voter registration forms — which already ask voters to swear to their citizenship — violated the NVRA, which holds that states can only ask voters for the minimum amount of information needed to accurately register them.
In a rare move for an elected official, Kobach will serve as his own attorney for the trial, something that's sure to garner attention for his gubernatorial bid. He did not respond to an NBC News request for comment on Monday, but earlier this month, he told Fox News that the ACLU was making "crazy arguments."
The ACLU represents the League of Women Voters and five plaintiffs, all American citizens in Kansas, who were unable to register to vote because of the proof-of-citizenship law. One couldn't afford the $20 fee for an out-of-state birth certificate; two others showed the required documents at the Department of Motor Vehicles when registering to vote, but still weren't approved because they didn't show the documents specifically to election officials.
The Kansas law was in place for more than two years before the ACLU secured an injunction in 2016, but in that time, it barred 1 in 7 applicants — some 35,000 voters — from registering to vote, according to the ACLU.
Ho noted that while most voters have a birth certificate or passport needed to prove their citizenship, requiring those documents at the time of voter registration amounts to an extra barrier. It also tacks on a financial burden to voting for those who need to pay for documents, like a birth certificate, he added.
"When you layer on these bureaucratic hurdles, inevitably some people end up not getting registered to vote," he said.
The ACLU will also ask the judge to rule on their motion to charge Kobach with contempt for his handling of the case, including refusing to update voter manuals after the injunction halted the proof-of-citizenship law.
Kansas and Arizona are the only two states currently implementing some kind of proof of citizenship requirement. (After that 2013 Supreme Court ruling, Arizona now requires proof-of-citizenship for voters using state forms to register to vote in state elections, but not for those using federal forms. A lawsuit challenging the dual system is ongoing.)
Alabama and Georgia have similar laws, but haven't implemented them yet, while lawmakers in Oklahoma, Mississippi and California have introduced proof-of-citizenship legislation for this current legislative session, according to the Brennan Center for Justice, a public policy and law institute based in New York.
"If we lose, it sends a signal to other states that Motor-Voter is really just a suggestion and you can impose any requirements on registration application that you want," Ho said.