CARNEGIE, Pa. — Rick Saccone, the Republican nominee in Tuesday's House special election here, has managed a rare feat in modern politics: He's unified organized labor.
The problem, for him, is the unions are against him — not just across industries but from the leadership through much of the rank and file.
If Saccone loses the race in the 18th congressional district, a once-solidly Republican swath of southwestern Pennsylvania where President Donald Trump won by 20 percentage points in 2016, it will be in part because he alienated labor voters by supporting policies designed to shrink union membership and hold down wages.
"This isn't about Trump, it's about him," said Rep. Mike Doyle, the labor-backed Democrat who represents an adjacent district based in Pittsburgh. "I've never seen the unions as mobilized as they are right now."
Polls show that Democrat Conor Lamb, a 33-year-old former Marine and federal prosecutor, has erased the advantage Republicans typically hold here, and all sides say they expect a close finish.
"I'd like to say this will be won by 20 percent. But I'd be happy if we won by 20 votes," Tim Waters, political director of the United Steelworkers, said at a rally for Lamb last week. "This is going to be very, very, very, very close."
Part of the reason is that Saccone hasn't followed the GOP formula for success in courting labor votes.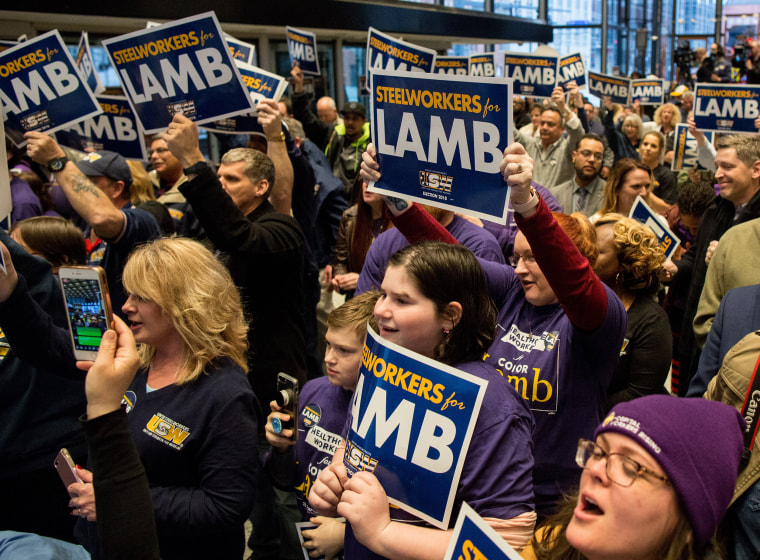 While unions have traditionally been a major source of money and manpower in Democratic politics, members at the local level have shown a willingness to buck their leadership in congressional and presidential elections. Trump's 2016 Electoral College victory was predicated in part on winning the support of many unionized workers in Pennsylvania, Wisconsin and Michigan.
Union leaders in Pennsylvania say 1 in 5 votes Tuesday will come from a labor household in the district.
In an interview at a campaign office here Saturday, Lamb said labor is critical to his campaign.
"Having them all united on one team has been an incredible experience," Lamb said. "We've been at so many meetings with everybody where they're all looking around and saying, 'Man, it hasn't been like this for a while.' And I think that's what it takes to get done what we're trying to get done."
Former Rep. Tim Murphy, who represented this district before resigning amid a sex scandal last year, demonstrated that paying a little bit of attention to organized labor could go a long way in securing his job. Through 2016, he had a lifetime rating of 44 percent from the AFL-CIO, which tied him for 10th-highest among House Republicans, and he won endorsements from that union's state branch, the United Mine Workers of America and a handful of other unions.
And when Murphy made his annual trip to Pittsburgh's massive Labor Day parade, he would march with several different unions, using a car to shuttle him back to the next group in the procession.
While none of that made him labor's favorite congressman, his efforts made it a lot harder for potential rivals to build political coalitions. He won eight elections with ease.
Former Rep. Jason Altmire, a Democrat who represented a demographically similar district in western Pennsylvania, said that successful GOP candidates in the area have figured out how to peel off support from a few unions or at least separate union members from their leaders. Often, that's done by appealing to union members on cultural issues and blunting differences on labor matters.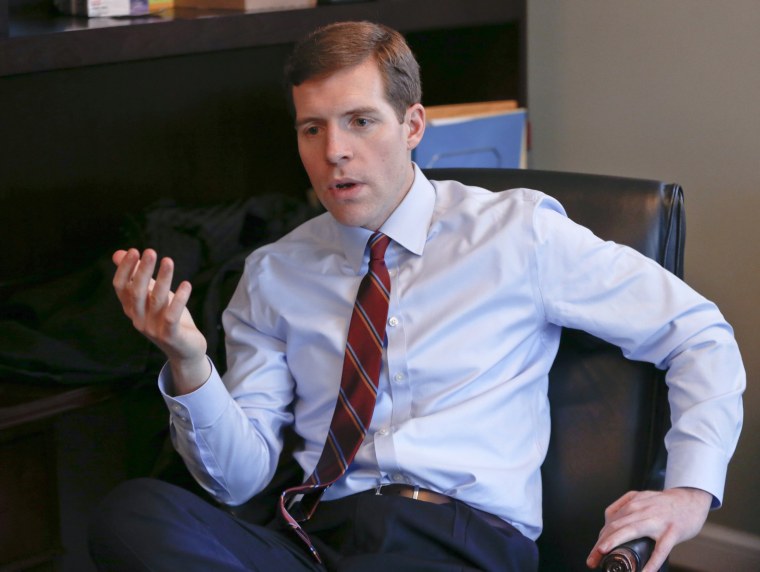 Saccone has "made no effort whatsoever" to do the latter, Altmire said.
Labor officials here say Saccone has done more than just ignore them.
"He co-sponsored or voted for every single anti-labor bill that has come up during his time in Harrisburg," said Steve Mazza, an official with the Carpenters union.
Saccone says that contrary to the "myths that keep being perpetrated by some in different union leaderships," he has strong support from the rank-and-file, whom he said regularly complain about the "lies" union leaders tell about him.
"I've had union workers come up to me and complain about sanctuary cities and open borders and how illegal workers are displacing them and how they were voting for me because I was for jobs," Saccone said at a rally Friday.
For his part, Lamb didn't get off to a good start with labor. Early in the campaign, he expressed concern about calls for a $15-an-hour minimum wage, which upset union leaders. Sensing the distress he'd caused, Lamb launched something of an apology tour, which gave him face time with the union leaders who now support him.
Another reason Saccone is lagging Trump's performance in the district is that he's not running against Hillary Clinton, who struggled to win working-class white men, including many union members.
In that election, Doyle said, Trump was promising to bring jobs to the area and "Hillary was talking more about Trump's behavior."
Many Clinton supporters have said she had difficulty with that set of voters because of sexism among the electorate rather than her policy positions.
In this election, Saccone's supporters are trying to tie Lamb to another prominent woman in Democratic politics: House Minority Leader Nancy Pelosi, D-Calif.
"If you've been wishing you lived in San Francisco so you could vote for Nancy Pelosi, well, your dream can come true," says the narrator in one ad. "Cause voting for Conor Lamb is just like voting for Nancy Pelosi."
The ad's sponsor: the anti-union Club for Growth in Washington.
Jonathan Allen reported from Carnegie, Pa., and Alex Seitz-Wald from Pittsburgh.