As lawmakers paused Wednesday to remember Sen. Frank Lautenberg, Vice President Joe Biden eulogized the late New Jersey lawmaker as a man who "worked like hell" on behalf of the American people – and who loved both the Senate and Amtrak almost as much as Biden himself. 
"Like me, he loved the Senate," Biden said of the late senator, who died Monday at the age of 89. "Because he saw it as the place where he could do more – with the financial success he had, all the philanthropy he had, the influence he had in the community – he believed, and he was right, there was no place he could do as much to impact the people that he cared about than the United States Senate."
Lautenberg was the oldest member of the Senate and the last World War II veteran to serve in the chamber. During almost 30 years on Capitol Hill, he authored drunk driving laws, passed legislation to ban smoking on airplanes, fought for public transit and worked to curb gun violence.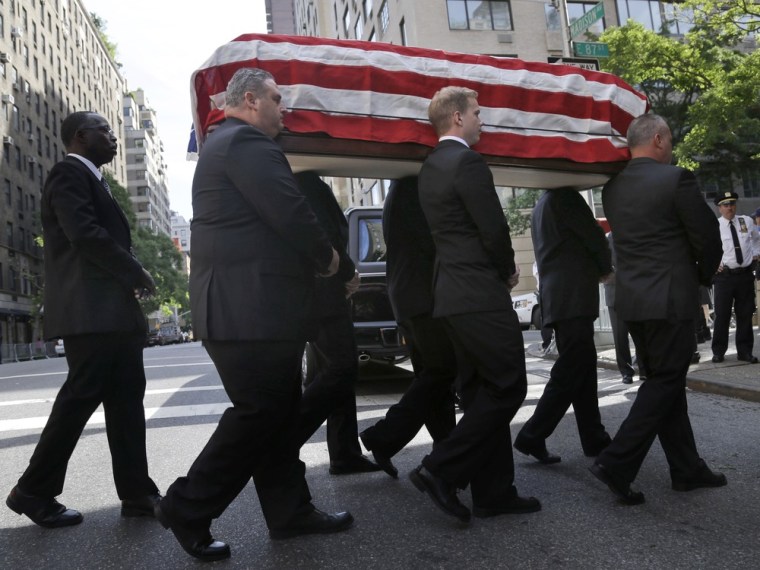 On Wednesday afternoon, Lautenberg's casket will be transported to the New Jersey train station that bears his name and will travel to Washington, D.C. on an Amtrak train. There, it will lie in repose in the United States Capitol in the Lincoln Catafalque -- built for the coffin of Abraham Lincoln --  before his burial Friday at Arlington National Cemetery.
Biden, who was serving his second term when Lautenberg was first elected in 1982, said he advised him to run for re-election before the ailing lawmaker announced in February that he would not seek re-election in 2014 due to his failing health. 
In their remarks earlier in the services, Lautenberg's children indicated that their father regretted the decision to announce his coming retirement and wished that he could "take the whole thing back" as recently as a few weeks before his death.
"Your dad never quit," Biden told them.  "He never quit anything. He never gave up. He never gave in."
Noting that both men loved the trains that run along the East Coast corridor, Biden at one point recalled running at break-neck speed for the train he took every day, only to be told by Amtrak staff that "don't worry, you're OK, we're holding it for Lautenberg."
Biden also won prolonged laughter for his opening comment on speaking after hours of emotional tributes from Lautenberg's former colleagues – including former senator and secretary of State Hillary Clinton – and family members.
"If there's a definition of redundant, I'm it," he remarked.
A contingent of former and current senators and staff members were also on hand for the ceremony, as were New Jersey Gov. Chris Christie and Newark Mayor Cory Booker – who coveted Lautenberg's seat even before the octogenarian senator announced his expected retirement.
Calling him "a steadfast champion of women's rights and opportunities," Clinton said Lautenberg was considered an honorary member of the Senate Women's Caucus.
"He loved and he was loved," Clinton said after lauding his accomplishments in defense of the nation's environment, veterans and children.  "And after all, that's what makes a great life."
Sen. Robert Menendez, now New Jersey's senior senator, called his departed colleague "one of the most tenacious men I have ever met" and joked about Lautenberg's love for pop superstar Lady Gaga, whose concerts he attended both for a political fundraiser and for his 86th birthday celebration.
"Bonnie, I'm sure you know he loved you dearly," he told Lautenberg's widow. "Even Lady Gaga couldn't lift a finger to you."
Seventeen members of the Senate were listed as honorary pallbearers for the departed senator and the upper chamber was not in session Wednesday as members paused to remember their colleague.
Lautenberg is survived by his wife, six children and 13 grandchildren.
Wondering how he would go on without his dad, son Josh Lautenberg said his father would have advised the family "to move forward without hesitation, run the stairs, walk fast and grab a hot dog on the way."