WASHINGTON — Constituents eager to directly question their congressional representatives may have a tough time doing so during this August recess.
The number of town halls members of Congress are holding is shrinking, especially among Republicans, according to groups that track the number of members holding the events. Despite holding majorities in both the House and Senate, Republicans trail Democrats in the number of members holding town halls during the current five-week August recess, according to the Town Hall Project. Just 80 members of the House (49 Democrats and 31 Republicans), and 13 senators (eight Democrats and five Republicans), have so far announced town halls over the break, according to the group.
Town Hall Project found that 175 members of Congress have yet to hold an in-person town hall in 2017. Of those 148 are Republican.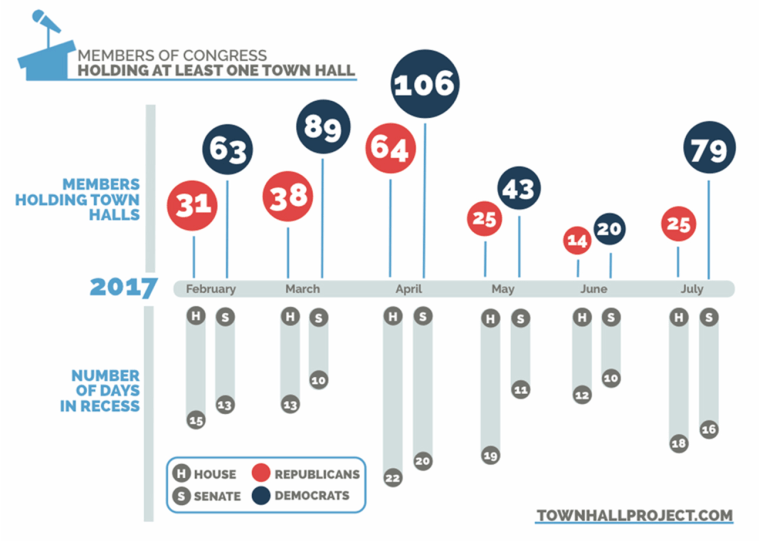 And it seems to be part of the a larger trend. The number of town halls have steadily declined from 2015, according to the independent site Legistorm, which has tracked town halls since 2013.
Much of that drop off can be attributed to GOP members who have cut back or eliminated hosting town halls all together. And Congressional leadership on both sides of the aisle have shown an unwillingness to face unvetted questions from the public, the site found.
Overflow crowds peppered with protesters, activist groups placing premiums on catching viral moments and continued concerns over safety have all created an environment in which lawmakers are increasingly choosing controlled events with voters over town halls.
GOP members have watched as their colleagues who have done the events have been shouted down or turned into cable news fodder. On Monday, California Republican Rep. Doug LaMalfa was told to "die in pain" for his support of the GOP plan to replace the Affordable Care Act. North Dakota Republican Rep. Kevin Cramer had cash shoved down his shirt back in May. And Republican Sen. Tom Cotton and then-Rep. Jason Chaffetz have faced rowdy crowds that interrupted them with jeers with chants of "do your job."
It's not a new phenomenon. The scenes that have played out at town halls this year have been compared to the combative exchanges that took place during the Obamacare debate in the summer of 2009. Then the conservative base was mobilized to fight Democrats' plans for health care reform. Now the GOP is the target.
"Aside from the obvious security concerns, what we have found is there are people who are trying to come in from out of the district to disrupt town hall meetings and not have a civil discussion," House Speaker Paul Ryan told reporters in his home state of Wisconsin last month.
"I have done a number of telephone town hall meetings which I find very effective as people don't have to travel," he added. "I do office hours. I just did them this morning in Janesville. In addition, I am doing a lot of business ones. ... So I am finding a lot of different ways to have a good civil dialogue with constituents."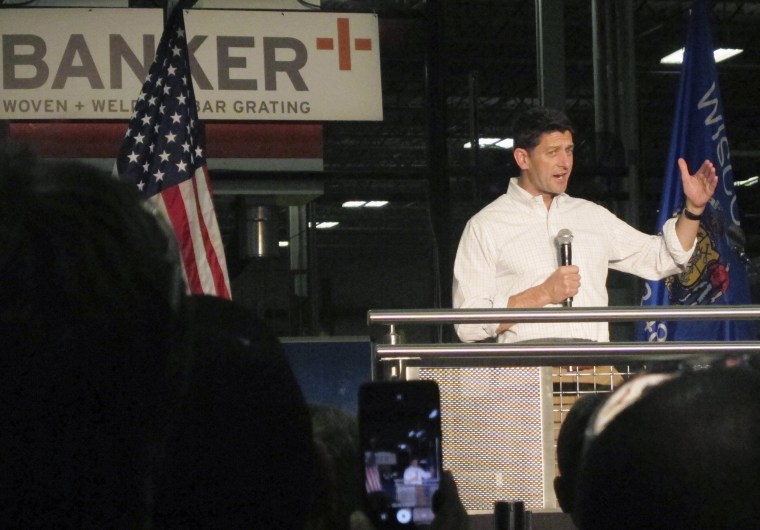 Liberal advocacy groups have made an aggressive push to get supporters to GOP town halls events but denouncing the over the top rhetoric and actions of some. The Town Hall Project, started by former Democratic campaign staffers, along with left-leaning groups like Move On, the Center for American Progress, and NextGen American have provided guidelines for supporters for how to capture headlines at town hall events. They do encourage attendees to be persuasive and assertive.
The Democratic Congressional Campaign Committee has launched digital ads targeting 25 Republicans, including Ryan, who have not scheduled town halls over the break.
"It's part of the job. You are going to face tough questions and hear from people who disagree with you," said Jimmy Dahman, founder of the Town Hall Project.
But, as Ryan mentioned in July, safety remains the dark cloud hanging over all public events after the shooting at a Congressional baseball practice in June. And it may be another factor contributing to the decrease in town halls.
At least one GOP member, Rep. Kay Granger of Texas, said she will not be doing any town halls because of safety concerns.
I wish we could have a town hall meeting and engage with others," she told a Dallas-Fort Worth television station. "There are so many threats going on."
The Federal Election Commission last month cleared the way for members to use campaign funds to install or upgrade residential security systems. And legislation to boost funding for security for lawmakers is currently making its way through Congress.
Still many continue to view town halls as a welcome and necessary part of government.
"I've had 14 town halls this year," Sen. Claire McCaskill, R-Mo., defiantly tweeted at a naysayer on Tuesday. "And will have 25 more this month."