Fox News was facing an existential crisis after the 2020 elections and its executives were panicking, according to new documents released in a lawsuit against the network. 
A new legal filing by Dominion Voting Systems in their ongoing defamation suit against Fox News on Monday paints a picture of nervous executives attempting to shore up ratings while fielding concerns about the false claims of election fraud being pushed by allies of then-President Donald Trump in the days and weeks leading up to the Jan. 6 attack on the Capitol — often on the network's air.
Fox Corp. CEO Lachlan Murdoch said in his sworn deposition that the decline in ratings Fox News experienced after the 2020 election made him lose sleep. A Fox Corp. senior vice president in charge of monitoring criticism of the brand, Raj Shah, warned top executives that Fox News  was "underwater" with viewers and told a pollster they faced "heavy fire" from its base after the election, according to an email cited in the filing.
News Corp. CEO Rupert Murdoch made clear in an email to Fox News CEO Suzanne Scott that the network's post-election coverage had to not "antagonize Trump" while also not completely buying in to some of false claims about what happened. 
"Everything at stake here," he wrote. 
Fox News has defended its coverage and called Dominion's lawsuit "baseless." They said in a statement on Monday that Dominion's arguments take "an extreme, unsupported view of defamation law."
Read exactly what the filing says about this and other allegations in the nearly 200-page document.
Rupert Murdoch's testimony and contemporaneous emails indicate he did not believe Trump's stolen-election lie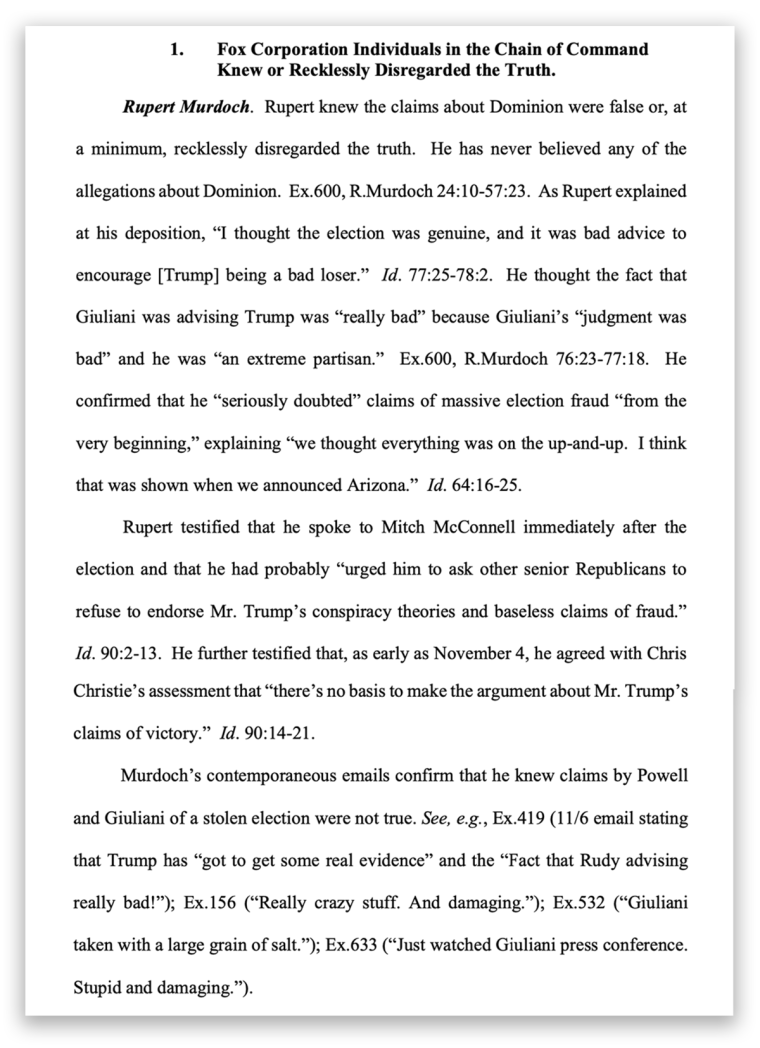 Rupert Murdoch acknowledged that some star Fox News hosts 'endorsed' Trump's false fraud claims on air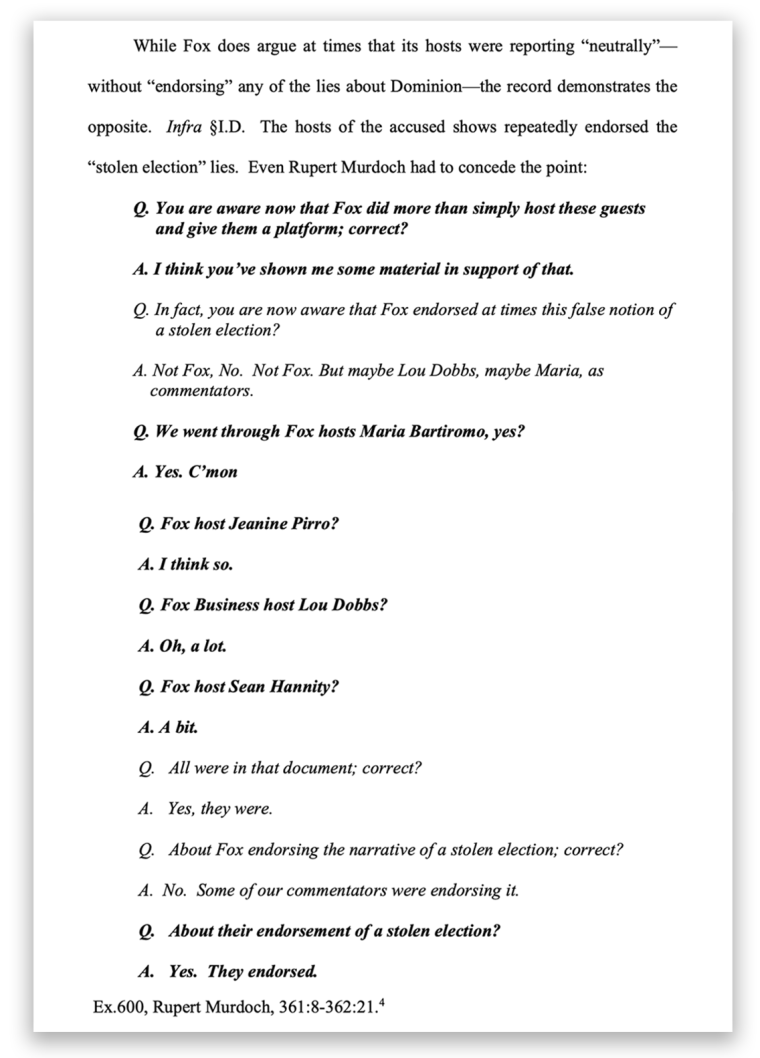 Rupert Murdoch said he spoke with Senate GOP leader Mitch McConnell immediately after the election and urged top Republicans to reject Trump's fraud claims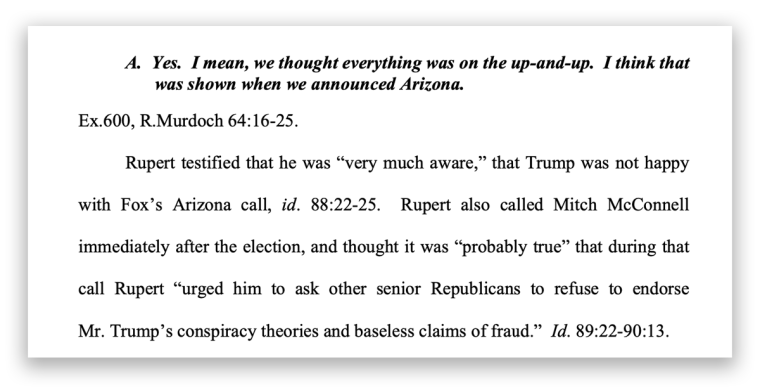 Rupert Murdoch worried about antagonizing Trump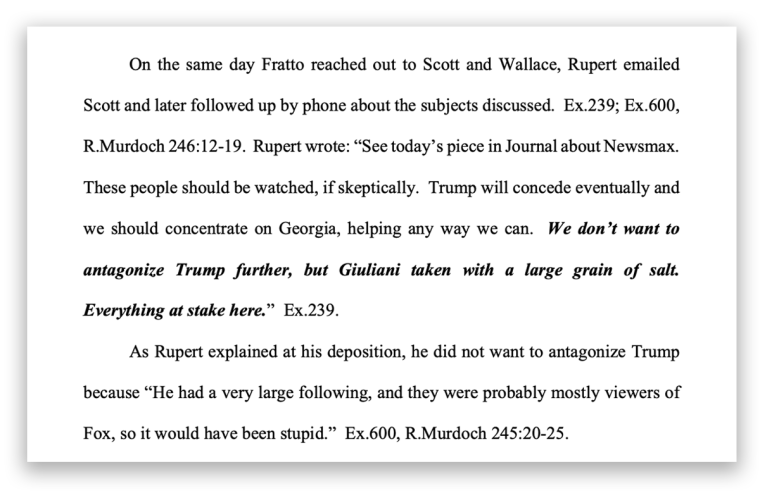 Fox News gave Trump's son-in-law and adviser Jared Kushner advance access to Biden's campaign ads and debate strategy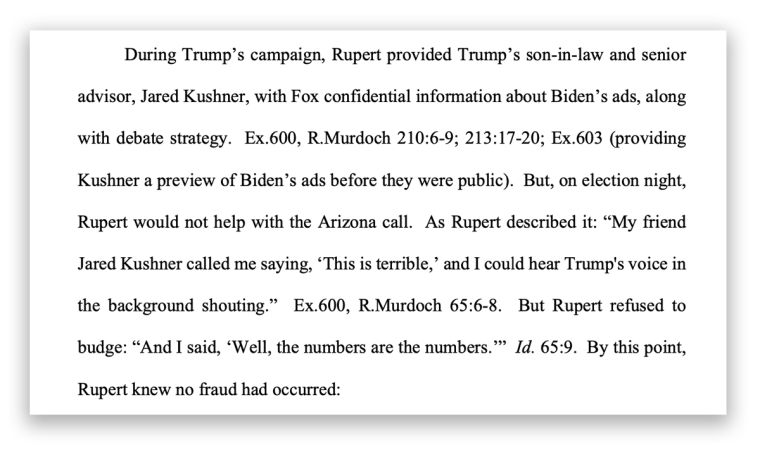 Fox News executives were worried about the drop in ratings after the election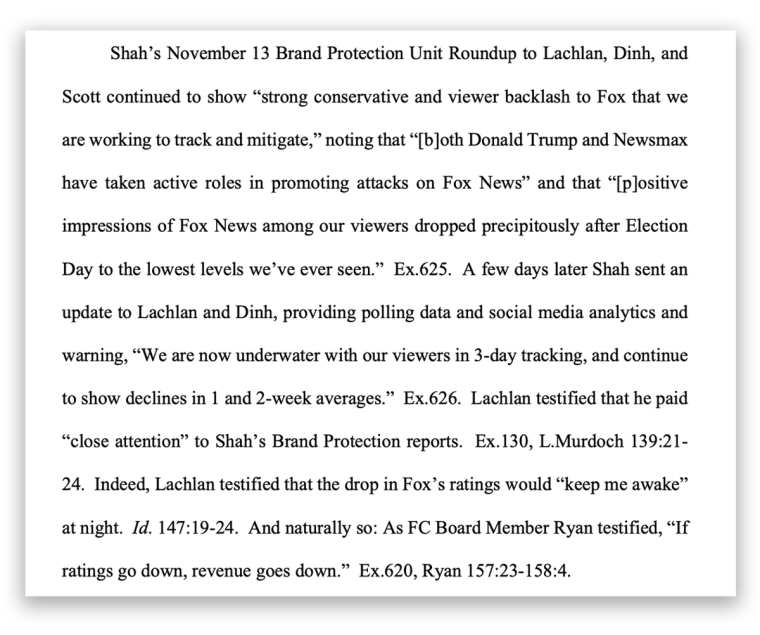 The Fox Corp. executive charged with protecting the brand, Raj Shah, called for 'decisive action' when polling indicated a drop in favorability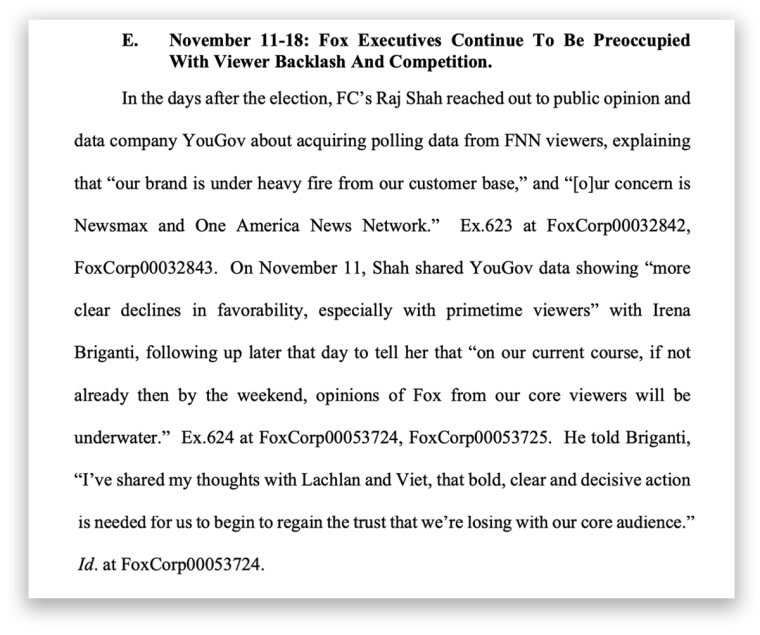 Rupert Murdoch acknowledged he chose not to pull Trump attorneys Sidney Powell and Rudy Giuliani off the air

Former House Speaker Paul Ryan, a Fox Corp. board member, repeatedly appealed to the Murdochs to 'stop spouting election lies'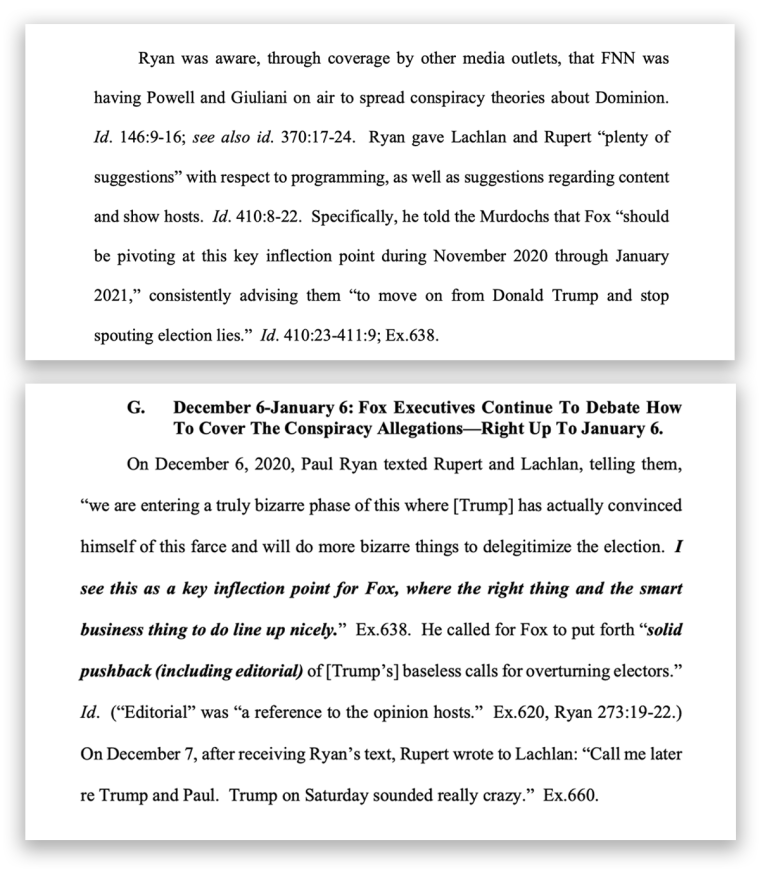 Fox News host Sean Hannity was 'privately disgusted by Trump for weeks' but scared to lose viewers, according to an email Rupert Murdoch sent Ryan in January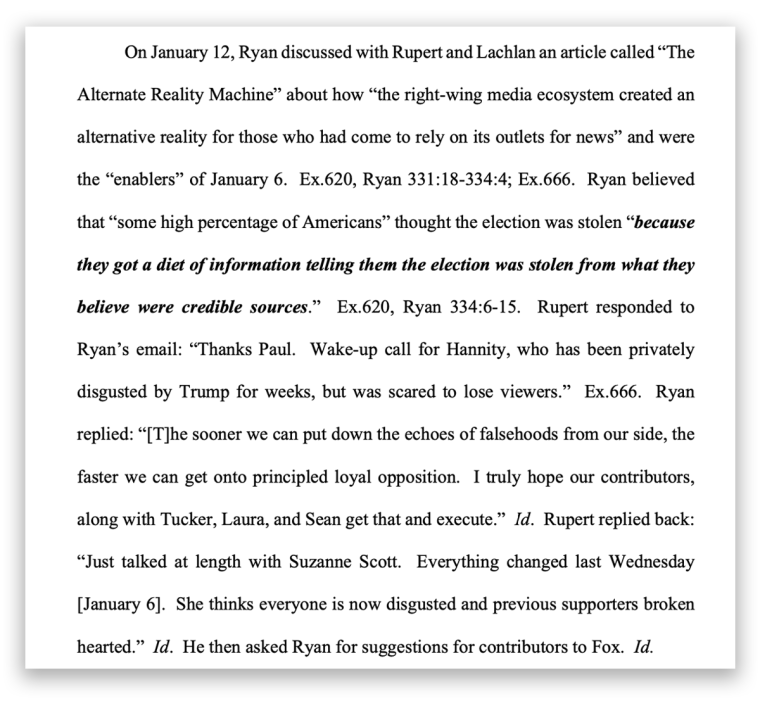 Rupert Murdoch testified that he allowed MyPillow's Mike Lindell to continue advertising on Fox News because of the money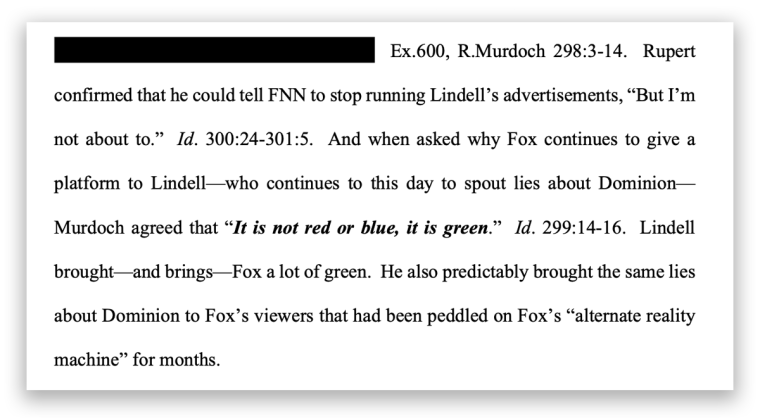 Rupert Murdoch said in an email on Jan. 11, 2021 — in response to concerns raised by a different board member after the attack on the Capitol — that Fox News was 'pivoting as fast as possible'