One side effect of the Supreme Court's decision to stop enforcement of Section 5 of the Voting Rights Act is clear: a flood of new lawsuits that have already begun.
The ruling all but guarantees that voting rights advocates will pivot toward filing lawsuits relying on a separate piece of the law, Section 2, to challenge procedures which might impede voters.
Nine states, mostly in the South, and other jurisdictions in places from Brooklyn, N.Y., to Shannon County, S.D., had been covered by Section 5 of the law which required election officials to get either the Justice Department or a federal judge to pre-approve changes in voting procedures.
Section 2, on the other hand, bans voting procedures that discriminate on the basis of race, color, or membership in one of the language minority groups -- such as speakers of Spanish, Vietnamese, Korean, or Navajo -- identified in the VRA.
In its decision Tuesday in a case involving Shelby County, Ala., the high court essentially made Section 5 unenforceable for now. It found that the formula to determine which jurisdictions were covered under the VRA was flawed, and Congress seems unlikely to write a new formula before the 2014 elections.
Texas Secretary of State John Steen immediately announced that his state's voter photo identification law -- which had been passed by the Texas legislature in 2011, but then barred by a federal judge using section 5 of the Voting Rights Act -- will now be in effect.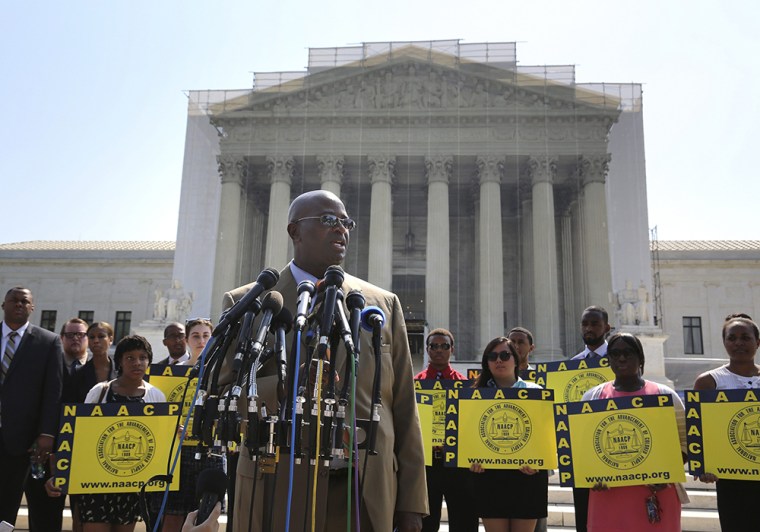 Steen was sued Wednesday by Rep. Marc Veasey, D-Texas, who represents a Latino-majority district in the Dallas area, and other plaintiffs who claimed that the photo ID law will cause candidates to incur new costs in running their campaigns; make it harder to mobilize voters; and in some cases, bar people from voting, for example, if the name on their driver's license doesn't match the name on their voter registration certificate.
The plaintiffs contend that the Texas voter ID violates Section 2 of the VRA.
As Chief Justice John Roberts noted in the majority opinion in the Shelby County case, "Section 2 is permanent, applies nationwide, and is not at issue in this case."
To win a Section 2 case, the Justice Department or a plaintiff doesn't need to prove that a voting procedure had an invidious intent – only that it had the result of denying a racial or language minority an opportunity to take part in the political process.
Nina Perales, vice president of litigation at the Mexican American Legal Defense and Educational Fund in San Antonio, Texas, said, "It's going to be very costly and potentially time consuming to litigate that (voter ID) issue under Section 2. It's very expensive to do the kind of statistical analysis that's required in that case."
And the burden of proof is on the plaintiffs to show the law would have a discriminatory effect -- and not on Texas to justify the law. Attorney General Eric Holder could also decide that the Justice Department will sue Texas under Section 2.
Political scientist Michael McDonald, a voting expert at George Mason University, said the high court's decision in the Shelby County case "is a yellow light for voting law changes, not a green light for voting law changes – because if jurisdictions overstep, they may find themselves in court under section 2 litigation – and they may find the courts willing to put them back under section 5" using a provision called "bail-in" -- which was not at issue in Tuesday's decision.
The Shelby County ruling seems to have has caused confusion in the minds of some voters.
For example, some people mistakenly think that Tuesday's decision scrapped the VRA requirement that bilingual ballots and registration materials be provided to the 251 counties and other jurisdictions with significant populations of citizens who speak or read a language other than English.
"I've been hearing that rumor from so many people," Perales said. "I don't know how that rumor got started. There is nothing in the (Shelby County) decision that has anything to do with language minority assistance." Part of the confusion, she said, comes from people wrongly thinking that the high court had struck down all of Section 4 of the VRA, but in fact that court only struck Section 4B -- the coverage formula.
John Anzalone, a Democratic pollster based in Montgomery, Ala., said., "I think you're going to see a lot more (state legislative action) on not only the voter ID, but I think you're going to see any type of early voting, etc. impeded as well" by new laws passed by legislatures in states that prior to Tuesday's decision were covered by Section 5.
He continued, voter ID laws "test well for Republican primary voters. The new norm in the Deep South is that these (Republican) legislators don't have to worry about general elections; what they're worried about is being primaried (challenged) in a Republican primary. You see the legislative agenda being poll-driven for the incumbent Republicans to make sure they don't get Tea Party challengers in the Republican primary."
Political scientist Charles Bullock, a voting rights expert at the University of Georgia said, "I expect that a number of states controlled by Republicans will adopt voter ID requirements, including those states covered by Section 5. These can still be challenged in court like the Indiana case which was the initial case involving a voter ID requirement" -- a reference to the Supreme Court upholding Indiana's voter ID law in 2008.
"Despite all the controversy involving voter ID requirements, their impact is probably minimal," Bullock said, pointing to his research which showed that "no more than a thin sliver of prospective voters would be rejected."
And he said, "There is no evidence that minority turnout in Georgia declined following implementation of the voter ID requirement -- indeed to the contrary, black participation has reached unprecedented levels."
Nonetheless, the claim of discriminatory impact will encourage Democrats to go to the polls, Bullock said. A Democratic voting rights push in 2014 "may succeed in offsetting some of the fall off in turnout that usually occurs in midterm years. It may help Democrats avoid the large losses that usually come in a president's second midterm."
Anzalone agreed that changes in voting procedures may inspire Democratic turnout as Republicans may face backlash from more motivated Democratic voters.
But Republican strategist Guy Harrison, who was executive director of the National Republican Congressional Committee in the 2010 election cycle when Republicans took back the House, dismissed the backlash theory: "Democrats are looking for any reason they can find to figure out why voters would come out for them in the mid-terms. They're already having a bad first six months of the second (Obama) term."