CHARLESTON, S.C. — Sen. Lindsey Graham at a town hall on Saturday again pledged he will ensure a "bipartisan and fair" investigation into Russia's alleged meddling in the presidential election — and said recent developments involving Michael Flynn are "getting weirder by the day."
"We're going to follow the evidence and not let politics get in the way," Graham told the overwhelmingly anti-Trump crowd.
Graham, a Republican, also joked about the situation involving Flynn, just days after the former national security adviser offered to testify in exchange for immunity.
"We're going to talk about the Flynn deal," Graham said from the town hall stage with a chuckle. "It's getting weirder by the day, isn't it? Yeah."
Related: Flynn's Immunity Request Rejected By Senate Intel Committee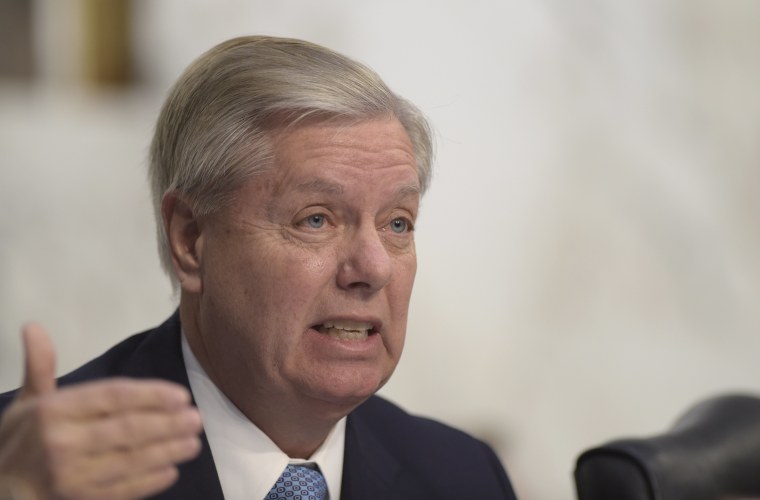 Graham openly questioned how the Trump campaign "missed" the fact that Flynn was registered as a foreign agent for Turkey during the campaign. He also poked at Flynn's comments in 2016 that individuals connected to Hillary Clinton who sought immunity were essentially admitting guilt to a crime.
"You know, Flynn said himself, 'If you want immunity, you must, you know, be guilty,'" Graham quipped.
He suggested that the investigations by the committees in Congress and the FBI should also look at former Trump campaign chair Paul Manafort's business dealings while he led the GOP nominee's campaign last year.
"Let's see what kind of business dealings he had. So, when issues arise, about people around the campaign or in the Trump administration have deals that don't sound right or look right, we'll look at it," Graham said.
Related: FBI Making Inquiry Into Ex-Trump Campaign Manager's Foreign Ties
Graham indicated to the crowd that the integrity of the Senate Intelligence Committee's investigation is keeping him from outright calling for an independent commission to look into possible ties between the Trump campaign and Russia.
The senator expressed skepticism over the House Intelligence Committee's investigation, suggesting the panel's chairman, Rep. Devin Nunes, R-California, is running astray.
"Nunes. The House. They're off in a ditch," Graham said.
Related: Flynn, Nunes Fallout Over Russia Probe Grows Ominous for White House
The several hundred that gathered on Saturday widely embraced Graham's remarks about his commitment to investigating any potential Russia connections. He warned the crowd that future interference by the Russians could impact the U.S. again, and also roil European politics in elections from France to Germany.
But on other issues Graham addressed on Saturday, the riled-up crowd spit back dissatisfaction.
Graham said he would vote to change Senate rules to prevent Senate Democrats from filibustering the confirmation proceedings for Judge Neil Gorsuch.
"If I have to, I will vote to change rules because I am not going to allow President Trump to be denied the same opportunity that every president has had for 200 years because you're mad and you can't accept the outcome of an election," he said to jeers.