President Joe Biden wrapped up his five-day European trip in Helsinki on Thursday after showcasing Finland's NATO membership, which Western nations see as standing for a reinvigorated and expanding alliance in the face of Russian aggression.
The stop came after Biden attended a high-profile NATO summit in nearby Lithuania, where much of the focus was on on Ukraine's path to membership. However, the United States and its allies touted Finland becoming the defense alliance's newest member as one of the crowning achievements of the gathering.
Finland shares an 830-mile border with Russia and had until recently maintained relatively cordial relations with Moscow. But it applied for entrance to NATO soon after Russian President Vladimir Putin's invasion of neighboring Ukraine last year.
On Wednesday evening, Biden pledged that Western partners would not back away from Ukraine's defense despite having not agreed on a path or timeline for it to become a NATO member, which Kyiv desperately wants. At the end of the summit in Vilnius, the Lithuanian capital, he said that "the defense of freedom is not the work of a day or a year. It's the calling of our lifetime — of all time."
What to know about Biden's Finland trip
Biden met with Finnish President Sauli Niinistö and leaders of other Nordic nations, including Sweden, Norway, Denmark and Iceland.
Biden held a joint press conference with Niinistö at 12:40 p.m. ET before he departed from the country.
Biden arrived in Helsinki after Ukrainian President Volodymyr Zelenskyy called the NATO summit's outcome "a significant security victory" for his country, but nonetheless expressed disappointment Kyiv did not get an outright invitation to join the alliance.
Biden heads to Washington after meeting with NATO allies
Biden has wrapped up his five-day swing through Europe. The president ended the trip in Helsinki, where he worked a rope line of U.S. Embassy staff and families before boarding Air Force One.
Biden's sit-downs with the Finnish president and other Nordic leaders capped back-to-back meetings — and a major speech — that sought to bolster America's global alliances.
The president also vowed to support Ukraine in its war against Russia, reaffirming U.S. support at every stop.
Biden jokes about Prigozhin after failed mutiny, 'I'd be careful what I ate'
Biden delivered a warning with a ring of truth when he quipped that the Russian mercenary leader who threatened to topple Putin's military leadership could be poisoned.
"If I were him, I'd be careful what I ate. I'd be keeping an eye on my menu," Biden joked during a news conference with the Finnish president.
Asked about disarray in Russia's military after the mutiny, Biden remarked that he did not know Yevgeny Prigozhin's whereabouts or the status of his relationship with Putin after the Wagner mercenary chief led the armed rebellion on Moscow before suddenly turning back.
Putin met for nearly three hours with Prigozhin and top Wagner military commanders at the Kremlin days after the revolt, Putin's spokesperson said earlier this month.
Biden: U.S. will 'absolutely' remain a reliable NATO partner
The U.S. will "absolutely" remain a reliable NATO partner, Biden told reporters Thursday, adding that he has "no reason" to believe the U.S. will soon retreat from the world stage.
Asked by a reporter what actions he will take to assuage Europe's fears of U.S. retrenchment, pointing to the failed attempts of some senators to pass a bill that would bar future presidents from withdrawing from NATO, Biden cited "overwhelming" bipartisan support for the alliance among the American people.
Biden said that support existed in Congress and in both parties, adding that "notwithstanding the fact that there's some extreme elements of one party, we will stand together."
In a subtle concession to some allies who may fear a return to a Trump-like, more isolationist foreign policy, Biden noted that while he cannot "guarantee the future," he said that the U.S. will stay "connected" to NATO.
"As sure as anything can possibly be said about American foreign policy, we will stay connected to NATO ... beginning, middle and end, we're a transatlantic partnership," Biden said.
Biden rips Republican senator for hold on military nominees over Pentagon abortion policy
Biden blasted GOP Sen. Tommy Tuberville's continuing hold on hundreds of U.S. military nominees over the Pentagon's abortion policy, calling his position "ridiculous" and saying it is "jeopardizing U.S. security."
Asked at a joint news conference with the Finnish president about Tuberville's hold and whether he would be willing to talk to the senator from Alabama, Biden said he'd be willing to do so "if I thought there's any possibility of him changing his ridiculous position. He's jeopardizing U.S. security with what he's doing."
"I expect the Republican Party to stand up — stand up and do something about it," Biden continued.
"The idea that we don't have a chairman of the Joint Chiefs of Staff, the idea that we have all these promotions that are in abeyance right now and we don't know what's going to happen, the idea they we're injecting into fundamental foreign policy decisions what in fact is a domestic social debate on social issues, is bizarre," Biden said. "I don't ever recall it happening, ever. And it's just totally irresponsible, in my view."
"I'm confident that the mainstream Republican Party no longer, does not support what he's doing, but they got to stand up and be counted," Biden said. "That's how it ends."
Tuberville initiated the holds over his objection to a Pentagon policy that provides paid time off and covers travel costs for service members and dependents seeking abortions. He has maintained that his holds will not erode the armed forces' readiness, contrary to what top military leaders have said. His office did not immediately respond to NBC News' request for comment.
Biden says Putin has 'lost' war, adds NATO promise for Ukraine won't lengthen conflict
Biden rejected the idea that promising Ukraine a path to NATO membership once it is no longer at war with Russia could prolong the conflict, insisting that Putin could end the conflict now.
"He could just say, 'I'm out,'" Biden said at a joint news conference with the Finnish president. "What agreement is hopefully reached depends upon what he decides to do, but there is no possibility of him winning the war in Ukraine. He's already lost that war."
The Russian invasion of Ukraine in February last year has led to a battlefield stalemate that Washington is seeking to help break with shipments of controversial munitions.
Ukraine has long sought NATO membership, a security alliance that rests on a 31-country mutual defense pact.
Biden and Niinistö hold joint news conference
Biden and Niinistö's joint press conference is underway.
They are delivering opening remarks before answering questions.
Biden meets with Finnish president, affirms 'unwavering support' for Ukraine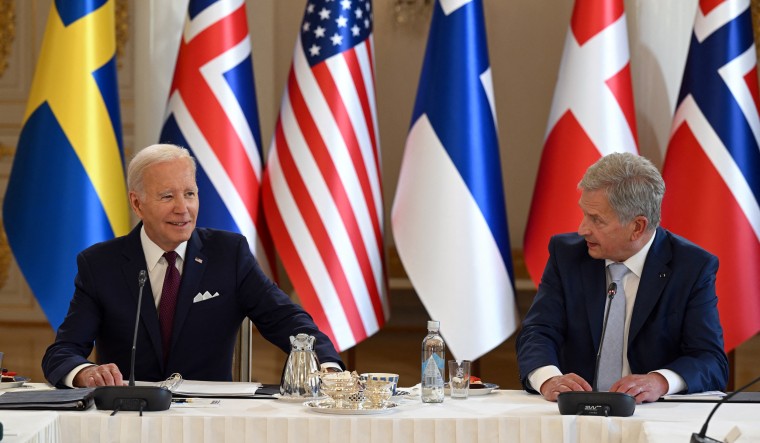 Biden welcomed Finland's new status as a regional security guarantor and congratulated Niinistö on his country's recent admission to NATO, according to a White House readout of remarks ahead of a bilateral meeting between the two leaders earlier Thursday.
The two heads of state discussed U.S.-Finnish financing agreements, Sweden's NATO bid, 5G communications and climate change, and reaffirmed "their unwavering commitment to support Ukraine as it continues to defend itself against Russian aggression," according to the readout.
Speaking to reporters at the top of their meeting, Biden also spoke about his Wednesday meeting with the Ukrainian president, characterizing it as a "very, very, very, very good, long meeting with Zelenskyy who ended up being very happy."
Photo: Biden with Nordic leaders in Helsinki
Biden with Nordic leaders, from left, Swedish Prime Minister Ulf Kristersson, Danish Prime Minister Mette Frederiksen, Finnish President Sauli Niinistö, Icelandic Prime Minister Katrin Jakobsdottir and Norwegian Prime Minister Jonas Gahr Store at the presidential palace in Helsinki, on Thursday.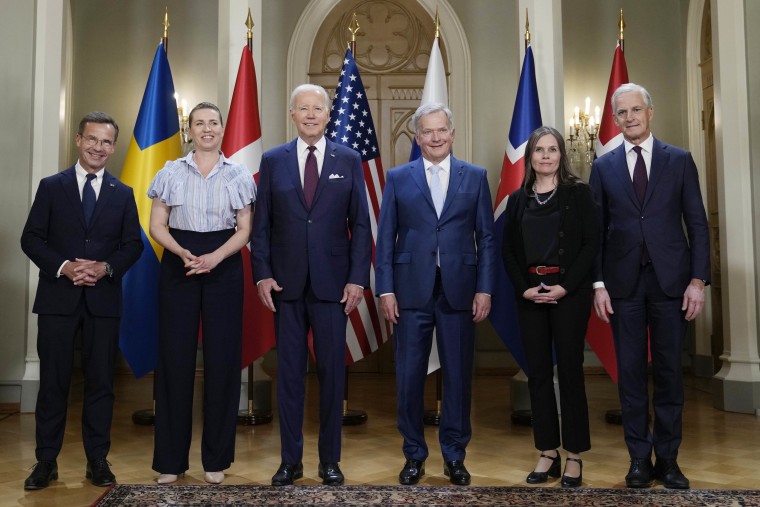 Biden warned Putin to expect the 'NATOization of Finland'
Biden told Niinistö how he had warned Putin that he would bring NATO to his doorstep if Moscow worked to weaken the defense alliance. Finland and Russia share an 830-mile border. 
"You may remember my telling you, I said to our friend in the east that if he wants the Finlandization of NATO, he's going to get the NATOization of Finland," Biden said Thursday. 
Biden said it took him "about three seconds to say yes" when Niinistö called to ask about joining the alliance after Russia invaded Ukraine, ending a decadeslong promise of neutrality adopted by Helsinki after the Cold War. He called it "the fastest ratification that occurred in modern history."
Erdoğan expects NATO allies to lift restrictions on arms sales
Turkish President Tayyip Erdoğan has been quoted as saying that he expects NATO allies to lift sanctions and restrictions on his country's defense industry.
Turkish ministers will hold more talks with their American counterparts on the sale of F-16 fighter jets, he was quoted as telling reporters on a flight returning from the NATO summit in Lithuania.
Erdoğan also said the European Union leaders he met had a positive stance about reviving Turkey's accession bid. 
"After the positive steps we see from the E.U., we will start work on implementing the promises we have made," he said, days after he unexpectedly agreed to send to parliament Sweden's  bid to join the alliance.
Photo: Coast guard patrols Helsinki harbor ahead of visit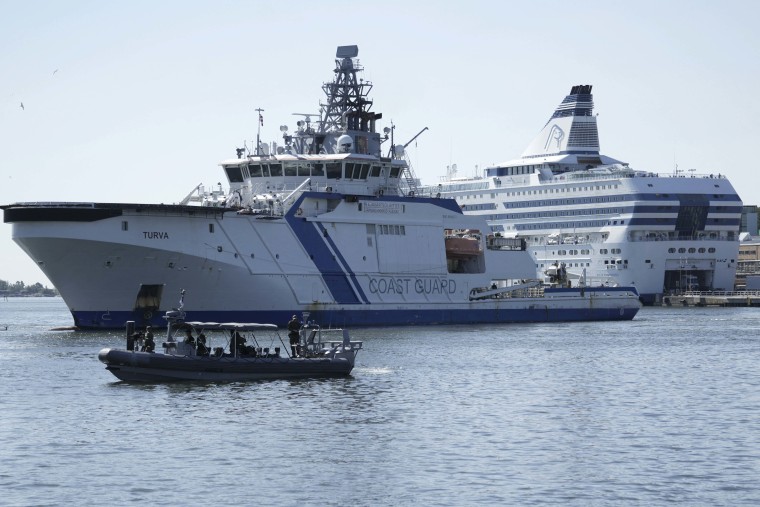 The latest news from the war in Ukraine
Ukraine shot down some 20 Iranian-made Russian drones overnight but the shrapnel fell on the capital, Kyiv, wounding two people and destroying homes, officials said. The latest attack began after midnight.
The Ukrainian military said it also intercepted two Russian cruise missiles. The statement said one ballistic missile was not intercepted, although it did not explain what damage the missile caused.
The government of the region of Khmelnytskyi in western Ukraine reported that a cruise missile was intercepted over the region, and reported no casualties. "We appreciate the meticulous work of Ukraine's air defense forces," the regional administration wrote on Telegram.
Photo: Presidential arrives in Helsinki