Democrats marked Day 2 of their unconventional, nearly all-virtual Democratic National Convention with another all-star lineup that saw Joe Biden officially becoming the nominee.
Former President Bill Clinton, Senate Minority Leader Chuck Schumer, Rep. Alexandria Ocasio-Cortez and Jill Biden, the former vice president's wife, were among the high-wattage speakers who took the virtual stage Tuesday, with the former second lady delivering the night's keynote speech.
NBC News aired a special report from 10 to 11 p.m. ET, and MSNBC will have convention coverage from 7 p.m. to 2 a.m., with special coverage beginning at 9 p.m. NBC News Now will livestream the convention, with special coverage starting at 8 p.m. Follow us here on NBCNews.com for breaking news, analysis and fact checks.
Download the NBC News app for full coverage and alerts on the latest news.
This live coverage has now ended. Continue reading DNC news from August 19, 2020.
Trump bashes Michelle Obama's speech that said he was 'in over his head'
On the heels of former first lady Michelle Obama's convention speech, President Donald Trump spent Tuesday morning bashing her sharply critical remarks, in which she said that Trump was in over his head. 
"Yeah, no, she was over her head, and frankly, she should've made the speech live, which she didn't do, she taped it — and it was not only taped, it was taped a long time ago, because she had the wrong deaths, she didn't even mention the vice presidential candidate in the speech," the president told reporters about the speech, which was recorded before Sen. Kamala Harris, D-Calif., was announced as former Vice President Joe Biden's running mate. 
"And, you know, she gets these fawning reviews," Trump added. "If you gave a real review it wouldn't be so fawning. I thought it was a very divisive speech, extremely divisive." 
Trump also slammed the former first lady in a tweet on Tuesday, saying someone needs to explain to her that it was her husband's presidency that led to Trump winning the 2016 election.
Jill Biden to go back to her teaching roots for prime-time DNC speech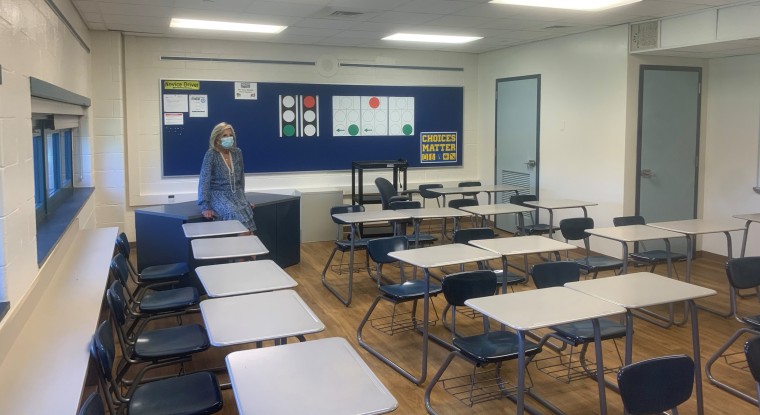 Whenever Joe Biden discusses his wife's work, he'll inevitably say that teaching "isn't what she does, it's who she is." So as Jill Biden considered where to deliver her prime-time speech in this unorthodox Democratic National Convention, there was an obvious answer: the classroom.
The former second lady and potential future first lady will deliver Tuesday's keynote address live from Brandywine High School in her hometown of Wilmington, a city where she taught English in the early 1990s. The choice is a signal of how the self-described reluctant political spouse has always forged her own professional path even as her husband's career has taken him just shy of the White House. 
A lifelong educator with two master's degrees and a doctorate in education, Biden continued to teach at a community college in Northern Virginia while her husband served as vice president, a decision her staff initially thought was a nonstarter. She has said she hopes to continue teaching if they move to the White House next year.
"How great would that be?" she asked in an interview with NBC News from the campaign trail last fall. "What would that say about teachers? Wouldn't that lift up the profession and celebrate who they are? It would be my honor." 
Biden has often talked on the campaign trail about how teaching at community college has been particularly important to her, given that her students come from all walks of life. In an introductory video, the country will hear rare testimonial from one of her former students. "She gave 100% of her energy to the students," the student, Yvette Lewis, says. 
ANALYSIS: Trump in front, progressive policy in back at Biden's convention
If the first night of the Democratic National Convention was any indication, Joe Biden plans to stick to the safest route possible in the final months of his campaign to defeat President Donald Trump.
Biden's ideal coalition includes the Democratic base, swing voters and some longtime Republicans turned off by Trump's manner. When Biden and his surrogates talk about their disdain for Trump, that coalition unites; when they talk about a progressive policy platform, it is more likely to fracture.
Like Biden's broader campaign, the opening night largely amounted to an argument about the incumbent — that Trump has mishandled his job, and the response to the health and economic crises wrought by the coronavirus in particular, because of fundamental personal flaws that won't change if he is re-elected.
Perez defends decision to give Kasich, other Republicans a DNC role
MILWAUKEE — Democratic National Committee Chair Tom Perez offered a full-throated defense of his decision to give Republicans like former Ohio Gov. John Kasich a prominent role at the 2020 convention, brushing back criticism from progressives who say the former GOP presidential candidate doesn't represent their party.
"I disagree with John Kasich on issues of real importance, whether it's women's reproductive health or the right to form a union. But Ted Kennedy taught me that progress was the search for Venn diagrams," Perez told NBC News here late Monday after opening night. "The moment that you give up the search for common ground is the moment that governance gets really, really hard."
Kasich wasn't the only Republican who spoke on Monday at the convention: He was joined by former New Jersey Gov. Christine Todd Whitman, former Rep. Susan Molinari, R-N.Y., and Quibi CEO Meg Whitman. In backing Joe Biden they described President Donald Trump as a mix of divisive, unstable and unable to deliver results.
The decision to give GOP luminaries a seat at the table is a source of tension between Perez, whose mission is to win the 2020 election, and progressive advocates whose goal is to advance their policy causes over the long haul by enhancing their clout within the party. Perez said those Republicans who spoke out against Trump were creating a "permission structure" for Americans who don't typically vote Democrat to pull the lever for Biden.
Read more about Perez's rationale for Republican participation here.
Trump returns to campaign trail to counter Democratic convention
President Donald Trump hit the campaign trail Monday as part of his effort to offer a counter message to the Democratic National Convention this week.
As the Democrats kicked off their virtual convention Monday, Trump made three campaign stops in Wisconsin and Minnesota, two states that are pivotal to his re-election bid. He has strategically deployed news-making comments in the past to distract from his political opponents.
The president is scheduled to continue his counterprogramming events Tuesday in Arizona and Thursday in Scranton, Pennsylvania, Biden's hometown.