Latest news about Ukrainian President Volodymyr Zelenskyy's visit to Washington:
Ukrainian President Volodymyr Zelenskyy traveled to Washington, D.C., this morning for a meeting with lawmakers. He then met with President Joe Biden at the White House and defense officials at the Pentagon.
As part of the visit, Biden announced an additional Ukraine aid package valued at $325 million.
Zelenskyy met with a bipartisan group of House members, including Speaker Kevin McCarthy, who said he declined Zelenskyy's request to address Congress in a joint session. He joined a meeting with around 70 senators after that.
Earlier this week, Zelenskyy attended the United Nations General Assembly in New York, where he appealed to world leaders to continue to aid his fight against Russia.
The U.S. has been one of the biggest backers of the Ukrainian effort, but Republicans in Congress have begun to oppose continued assistance.
Ukrainian first lady describes nation's fight as 'spiritual battle'
Zelenskyy was joined onstage tonight by his wife, first lady Olena Zelenska, who also delivered brief remarks.
Zelenska described Ukrainian defense as "a protection of values, such as the right to life and personality."
"These are not only physical things, but also intangible values" that extend to a fight "against evil, against the worst that might be born within a human — a conscious effort to kill, destroy, grab, enslave," she said.
"Therefore it is also a spiritual battle," she added.
Zelenskyy says U.S. support has saved 'millions of Ukrainian lives'
Zelenskyy said in a speech tonight at the National Archives that support from the U.S. has "saved millions of Ukrainian lives." He recognized a 10-year-old girl who he said survived the Russian invasion of Bucha.
"Ukraine will always be grateful for this," he said.
Zelenskyy praises Ukrainian soldiers in National Archives speech
Zelenskyy praised Ukrainian soldiers in the country's battle against Russia in remarks at the National Archives tonight, saying they "hold on with the grip of a bulldog."
"Never before has the Russian leadership met such strong resistance, and never again will Russia manage to destroy any other nation," he said.
"We will do everything to ensure that our unity — the unity of Ukraine, the United States and the entire free world — becomes stronger than ever before," he added.
Biden says first Abrams tanks to arrive in Ukraine next week
Biden said in remarks alongside Zelenskyy that the first U.S. Abrams tanks would be delivered to Ukraine next week.
Biden had said in January that the U.S. would send 31 Abrams tanks to Ukraine.
Biden made the announcement as he described a new aid package that includes air defense capabilities and more artillery and ammunition.
Zelenskyy to speak at National Archives this evening
After his meeting with Biden at the White House, Zelenskyy is expected to give a speech tonight at the National Archives.
Zelenskyy had requested to address to a joint session of Congress, but Speaker Kevin McCarthy, R-Calif., declined, citing what he said were time constraints given the busy legislative week and noting that Zelenskyy has previously addressed Congress.
Zelenskyy thanks Biden for latest round of aid
Zelenskyy reiterated his gratitude for Biden and the American people in their support for Ukraine in remarks at the White House.
He said Americans are "together with us, with Ukrainians, with ordinary people, all of us."
"Thank you so much," he added.
Zelenskyy called the discussions "very productive" and "strong."
Biden says new aid will 'help save Ukrainian lives'
Biden said at at the White House that the new aid package would "protect Ukraine, Ukraine's grain silos, hospitals, schools and power plants. That will help save Ukrainian lives."
In his remarks with Zelenskyy after their meeting, Biden reiterated the administration's stance that "Russia alone stands in the way of peace" and expressed concern over reports of Russia's relocating thousands of Ukrainian children to Russia.
"What they've done to your children is just — it's criminal," Biden said.
Biden announces $325 million aid package
Biden formally announced a $325 million aid package to Ukraine today.
The package includes air defense capabilities, cluster munitions, anti-tank weapons and other equipment.
Biden's announcement marks the 47th tranche of equipment to be drawn from the Pentagon's inventories in support of Ukraine since August 2021.
Ukraine strains to shore up aid as war's second winter looms
The strain on Ukrainian officials was easy to see at a high-level meeting of defense chiefs of Ukraine's main backers in Germany this week.
As Ukraine faces a languishing offensive that is running out of time before winter, its allies richly praised its bravery on the battlefield but fell short on pledges to deliver the sort of aid Kyiv says it needs to defeat Russian forces. 
"Our commitment remains unwavering," the U.S. Joint Chiefs of Staff chair, Gen. Mark Milley, said at the 15th meeting of what is known as the Ukraine Defense Contact Group, a gathering of more than 50 nations aimed at procuring military aid for Ukraine. "Behind every weapon, we should all remember, there is a brave Ukrainian soldier, and their resolve is equally unwavering."
Ukraine's new defense chief, Rustem Umerov, then hurried through a spare two-minute speech at the end of the meeting that included no new major pledges.
More than 18 months into the Russian invasion, Ukraine is trying to persuade foreign backers to continue their support amid a sluggish offensive, the looming winter and waning international attention.
Biden and Zelenskyy give brief remarks before White House meeting
Biden mirrored the warning Zelenskyy gave world leaders at the U.N. this week in a brief comment to reporters at the White House.
With Zelenskyy alongside him, Biden said that no nation would be secure if the world does not stand up to invaders. He said it was why the U.S. built a coalition to defend Ukraine and continues to work to formalize long-term commitments to the country.
He then applauded Zelenskyy for his leadership through the war.
"Your bravery has inspired the world," Biden said, adding that he was "determined to show" that "we stand with you."
Zelenskyy spoke briefly, thanking Biden and Congress, and noted that he had visited the 9/11 memorial with his wife, as "it's important to remember the victims of terrorism." Notably, Zelenskyy called Russia a "terrorist state" at the U.N. this week.
Biden and Zelenskyy said they would discuss weapons, with a particular focus on air defense systems. National security adviser Jake Sullivan and Secretary of State Antony Blinken joined them at the White House meeting.
U.S. official provides details of next Ukraine security package
A U.S. official shared a full list of the capabilities included in the next Ukraine security assistance package ahead of the announcement expected later today.
Valued at $325 million, it includes air defense capabilities, cluster munitions, anti-tank weapons and other equipment. It is the 47th tranche of equipment to be pulled from Pentagon inventories to aid Ukraine since August 2021.
The security assistance falls under the Presidential Drawdown Authority, which allows the president to pull military equipment from U.S. stocks and provide it to other nations. Biden is also asking Congress for $24 billion to sustain American support for Ukraine.
Capabilities in the package:
AIM-9M missiles for air defense.
Additional ammunition for High Mobility Artillery Rocket Systems (HIMARS).
Avenger air defense systems.
.50-caliber machine guns to counter Unmanned Aerial Systems.
155 mm artillery rounds, including Dual-Purpose Improved Conventional Munitions, or DPICM.
105 mm artillery rounds.
Tube-Launched, Optically Tracked, Wire-Guided (TOW) missiles.
Javelin and AT-4 anti-armor systems.
Over 3 million rounds of small arms ammunition.
59 light tactical vehicles.
Demolitions munitions for obstacle clearing,
Spare parts, maintenance and other field equipment.
Zelenskyy arrives at the White House to meet with Biden
Biden and first lady Jill Biden welcomed Zelenskyy at the East Gate of the White House a little after 3:30 p.m.
It's the second time the Ukrainian president has come to visit the Bidens since the start of the war.
Zelenskyy arrived in a large SUV with his wife, Olena Zelenska, and then stood alongside the American president to pose for photos. He did not take any questions before entering the doors of the White House, flanked with a U.S. and a Ukrainian flag.
GOP senators praise Zelenskyy's effort to woo skeptical lawmakers
Zelenskyy's outreach on Capitol Hill appears to have been well received even by some lawmakers who are hesitant to provide additional funding to Ukraine.
Sen. Thom Tillis, R-N.C., criticized congressional Republicans who skipped the Ukrainian president's visit and applauded the wartime leader for laying out his argument for continued U.S. support.
"Make no mistake about it," he said, "anybody that could say this war would be over in 24 hours, or anybody who says we don't need to support them because it's not going to sustain the effort, is not paying attention to the details. It would be devastating."
Sen. Cynthia Lummis, R-Wyo., told NBC News that the Ukrainian president was asked how he would address American concerns that the U.S. is "getting into another forever war."
"I thought the way he answered that question, was his strongest answer," said Lummis, who has voted against Ukrainian aid in the past. "Because he made it clear that if Ukraine loses the war there will still be a 'forever war.'"
Zelenskyy argued that if Ukraine loses, there is a ceasefire or an agreed division of Ukrainian land, then Russia will not be deterred from invading other countries or restarting its war with Ukraine with greater firepower.
Lummis said his reasoning was "absolutely compelling" and "consistent with what we see on our own." Lummis added that while she still has concerns, she is now "convinced that we have to stay. We have to help Ukraine."
U.S. set to send $325 million security package to Ukraine
Two U.S. officials told NBC News that the next security package for Ukraine will amount to $325 million.
The package will include more air defense and artillery capabilities to support Ukraine's armed forces, Pentagon press secretary Pat Ryder told reporters at a briefing. The presidential drawdown will be the Biden administration's 47th tranche of equipment taken from the Department of Defense inventory.
This package is separate from the potential $24 billion military and humanitarian aid package that Biden has requested for Ukraine.
Defense Secretary's meeting with Zelenskyy at the Pentagon was 'very warm'
Pentagon press secretary Pat Ryder said the meeting between Secretary of Defense Lloyd Austin and Zelenskyy went well, describing it as "very warm" and "very engaging."
Few details about the two leaders' "great conversation" were shared by Ryder, but he emphasized the Ukrainian president's appreciation for the support of the U.S. and its people.
He also noted that "the secretary gave his personal commitment to stay engaged to work with our allies and partners to ensure that [Ukraine] have what they need."
GOP Rep. Marshall says he won't 'support another cent going to Ukraine'
Sen. Roger Marshall, R-Kan., who skipped a meeting with Zelenskyy earlier today, said he will not back sending any more U.S. money to Ukraine.
"At a time when our nation is facing a historic debt crisis, a wide-open southern border with fentanyl, Chinese military-aged nationalists, known terrorists, and cartels pouring into our country, I can't even understand how this body can justify sending another blank check to Zelenskyy," Marshall said in a news release, adding that the U.S. is "hemorrhaging" money it can't afford while E.U. leaders stand idly by.
"There is no strategy, no exit plan, and no accountability from Zelenskyy," Marshall added. "My priority is securing our American homeland, not sitting through another charade."
Ukraine's first lady says college students are fighting and dying in her country
Ukraine's first lady, Olena Zelenska, said she was pleased to speak today at Georgetown University, which she called "a friend of Ukraine."
She noted, however, that college students in her own country were fighting and dying as she spoke, and added that they, like the students at Georgetown, deserved an opportunity to study and read widely "instead of dying from bombs in the streets of their own cities." Those opportunities is what they are fighting to defend, she said. 
"It's a matter of survival. We want to live," Zelenska said. "That is why you fight and hold on as long as possible — to have a chance at life."
The first lady answered several questions from Ambassador Melanne Verveer, the executive director of the Georgetown Institute for Women, Peace and Security, and one from a Ukrainian student who is studying at Georgetown. 
Her answers touched on Ukrainian resilience, female leadership, gender inequality, and her country's need for humanitarian and health care support. She also discussed the work of her foundation, which is directed toward addressing mental health and aiding children in Ukraine. 
Verveer and Georgetown University President John DeGioia also presented the Ukrainian first lady with the Hillary Clinton Award for Advancing Women Women in Peace and Security. She was given the honor last year but was unable to leave Kyiv for the award ceremony at the time.
McCarthy won't commit to more aid to Ukraine by end of year
Speaker McCarthy said he would not commit to sending more aid to Ukraine by the end of the year because he has more pressing domestic issues to take care of.
"Look, we've got to get first our our fiscal house taken care of here in America," he said following a meeting between congressional leaders and Zelenskyy on Capitol Hill. "I'm more than willing to look at that."
"But one thing I know is that if President Joe Biden is only focused on that, when you've just had 10,000 people come across the border, and he wants to ignore that. I think there are priorities here," McCarthy added.
The speaker is facing mounting pressure as the deadline to pass government funding and avert a potential shutdown looms.
Meanwhile, Senate Minority Leader Mitch McConnell, R-Ky., doubled down on U.S. support for Ukraine, calling it a "direct interest" to support democracy. In contrast, some hard-right lawmakers in the House Freedom Caucus have continued to push back on Ukraine aid. Rep. Chip Roy, R-Texas, has said the U.S. should not discuss a "Ukraine supplemental" when the government "can't even figure out how to fund our own operation of government."
Sen. Rounds blasts McCarthy for declining Zelenskyy address
Sen. Mike Rounds, R-S.D., blasted McCarthy for his decision not to hold a joint session for Zelenskyy, telling NBC News, "There was a possibility that we could have had a joint session, but apparently the House decided that they didn't have time to do it, which is disappointing."
"Guess they have their hands full," Rounds quipped.
Biden to announce additional Ukraine aid package, official says
This afternoon, President Biden will announce that the U.S. will provide an additional aid package to Ukraine, said Amanda Sloat, the National Security Council's senior director for Europe.
"The president today, as part of President Zelenskyy's visit, will be announcing an additional package of security assistance," Sloat said in an interview on MSNBC's "Andrea Mitchell Reports." It's the fourth package that we will have announced in six weeks, and there is expected to be a very significant amount of air defense included in that package, which is the most critical capability that the Ukrainians need now."
Sloat said the new package will not include ATACMS, which are long-range ballistic missiles that are equipped with cluster munitions — tiny bomblets that disperse widely on a target.
Asked why it won't include the ATACMS, Sloat said, "I'm not going to get ahead of deliberations that are continuing in the administration. President Biden himself has said that ATACMS are not off the table. But that is not something that we are going to be announcing today."
Sloat declined to say whether the new package will include cluster munitions.
She said that, in addition to the Ukrainian president, Zelenskyy's military cabinet will participate in the White House meeting with Biden, as will Defense Secretary Lloyd Austin and Chairman of the Joint Chiefs of Staff Mark Milley.
Fetterman slams lawmakers who oppose providing additional U.S. aid to Ukraine
After participating in the senators' meeting with Zelenskyy, Sen. John Fetterman, D-Pa., blasted members of Congress who are against approving more U.S. funding to Ukraine.
"It's un-American," said Fetterman, who was sporting shorts, sneakers and a T-shirt. "I don't care if I'm in shorts, I stand 1000% firmly in support of Ukraine."
Fetterman is often wearing shorts and sweatshirts around the Capitol. In an apparent nod to Fetterman's preferred attire, Schumer recently relaxed the dress code to allow senators to wear whatever they want on the floor instead of formal attire. Republicans have criticized the decision and Fetterman's outfits.
Inside Zelenskyy's meeting with senators: 'He was exceptionally good today'
Zelenskyy met with about 70 senators for a little over an hour in the Old Senate Chamber. 
He spoke entirely in English, without the use of translators, according to two senators in the room, and he took half a dozen questions on everything from a plan for victory to what Ukrainians need most from the U.S. in terms of financial and military aid.
"He was exceptionally good today," said Sen. Cynthia Lummis, R-Wyo., who has questioned and voted against aid for Ukraine in the past. 
Zelenskyy on Putin: 'I'm not speaking with him'
After his meeting with senators, Zelenskyy was asked by reporters if he had a message for Russian President Vladimir Putin. He replied only: "I'm not speaking with him."
The Ukrainian president also avoided speaking to Russian officials at a United Nations Security Council meeting yesterday in New York City, where he decried Russia as a "terrorist state" that is a threat to the international order. He called for the U.N. to strip Russia of its veto power, which is virtually impossible given the structure of the U.N. charter.
Putin did not attend the annual summit after wrapping up a meeting with another authoritarian leader — North Korea's Kim Jong Un — in an effort that is likely aimed at buoying Russia's waning military supplies.
Zelenskyy takes photos with House leaders
Zelenskyy stood for photos behind closed doors with leaders in the House.
Several were taken with him standing between Speaker Kevin McCarthy, R-Calif., and Minority Leader Hakeem Jeffries, D-N.Y.
Another photo was taken showing Zelenskyy sitting at a long table with breakfast food in front of him.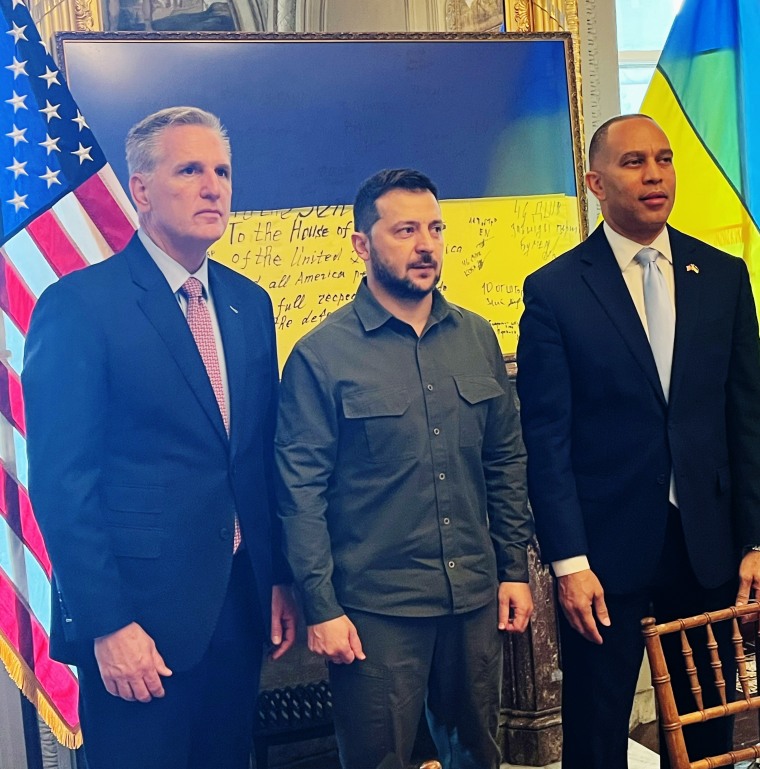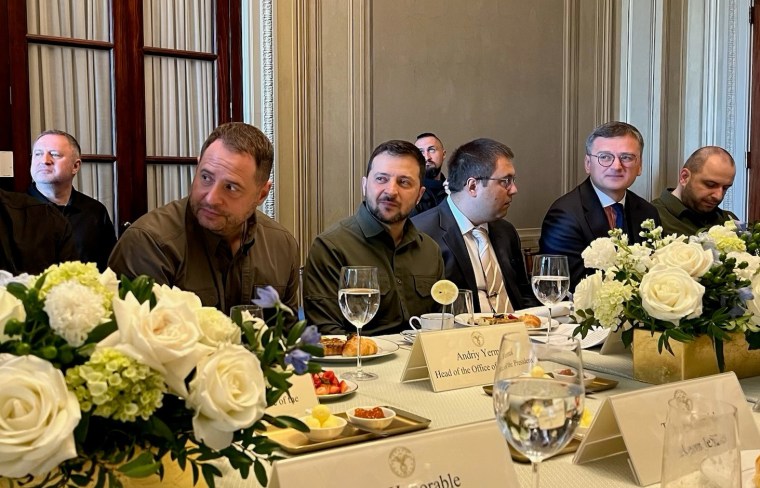 Schumer says Zelenskyy warned senators that Ukraine will 'lose the war' if U.S. doesn't provide more aid
Schumer spoke to reporters after Zelenskyy met with senators and said, "There was a single sentence that summed it all up, and I'm quoting him verbatim, Mr. Zelenskyy said: 'If we don't get the aid, we will lose the war.'"
Biden is scheduled to host Zelenskyy at the White House this afternoon, when they are expected to discuss additional U.S. aid and funding that could be given to Ukraine.
Zelenskyy meeting with senators ends, says they had a 'great dialogue'
Zelenskyy exited the meeting with senators a little more than an hour after entering the Old Senate Chamber.
The Ukrainian president was seen shaking hands and meeting with senators from both parties once the meeting ended. After he emerged from the room, he walked back through the corridor, flanked by Schumer and McConnell.
When asked what he told lawmakers who don't want to fund Ukraine, Zelenskyy said, "We were happy that senators, the Congress, White House, really the United States, of course ... all people of America really, support us."
Asked about the meeting, Zelenskyy told reporters that they had a "great dialogue."
"We had a great dialogue and we're thankful to you, to journalists, to senators, to Congress for helping us, support us. We spoke about so many details, but it will be between us, sorry. Thank you," Zelenskyy said.
McCarthy says Zelenskyy meeting was 'direct' and 'productive'
McCarthy described the House side meeting with Zelenskyy as "very good, thought it was direct, thought it was productive."
McCarthy said he "raised issues with him" and noted that "we're very concerned about accountability." 
Ahead of the meeting, McCarthy told reporters Wednesday that he planned to ask Zelenskyy, "What's the strategy to win? Accountability, they want to make sure the resources are going to the right place."
As Congress races toward a Sept. 30 deadline to pass a government funding bill or risk a shutdown, McCarthy is facing pushback from some members of his caucus on whether to continue to provide Ukraine aid.
Zelenskyy meets with Schumer and McConnell
Just after 10 a.m., after meeting with House leaders, Zelenskyy walked through the Ohio clock corridor near the Senate chamber, standing between Majority Leader Chuck Schumer, D-N.Y., and Minority Leader Mitch McConnell, R-Ky.
They did not respond to questions from reporters about Zelenskyy's response to Republicans skeptical of sending additional aid to Ukraine.
The leaders are meeting inside the Old Senate Chamber. Zelenskyy received applause when he entered the room.
After meeting with Zelenskyy, McCaul seems confident Ukraine will receive additional $24 billion in U.S. aid
After participating in the meeting with Zelenskyy on the House side, Rep. Mike McCaul, R-Texas, seemed confident that Ukraine will get the additional funding that the White House has requested from Congress.
Asked if Zelenskyy brought up that potential $24 billion aid package, McCaul said, "Of course, I mean, they need it, and they're gonna get it." He said that it should be included in a supplemental appropriations bill.
McCaul, chair of the House Foreign Affairs Committee, claimed that the Republicans support providing aid, but acknowledged that there's "dissension on both sides."
McCaul said that McCarthy has shown "strong support" for Ukraine, but said they're both frustrated with the Biden administration in how slow the U.S. is taking to deliver weapons to Ukraine.
He said McCarthy asked about accountability, the speed of weapons and a plan for victory against Russia.
Zelenskyy at the Capitol
Zelenskyy is in the Capitol and holding meetings with senior lawmakers.
Zelenskyy to visit Congress and meet with Biden at the White House
Ukrainian President Volodymyr Zelenskyy will meet with President Joe Biden at the White House on Thursday afternoon after heading to Capitol Hill to meet with lawmakers who will be asked to continue to fund his nation's defense against Russia.
Zelenskyy will meet with senators in the morning followed by bipartisan House leaders.
In his second trip to Washington since Russia invaded Ukraine in early 2022, Zelenskyy and Biden will meet in the Oval Office, followed by an expanded bilateral meeting in the East Room that Vice President Kamala Harris will also attend.
McCarthy says he rejected request for Zelenskyy to address joint session of Congress
House Speaker Kevin McCarthy said this morning he turned down a request from Zelenskyy to address a joint session of Congress.
McCarthy said that there wasn't enough time for a joint address given the busy legislative week and said what they are doing for Zelenskyy — a meeting with members — is the same as what they did for the prime ministers of the U.K. and Italy on recent visits.
Plus, McCarthy said, Zelenskyy had already addressed Congress. 
The refusal was first reported by Punchbowl.
On what McCarthy plans to say to Zelenskyy this morning when they meet: "Well I think the best part is to sit down and walk through the questions. What is the plan for victory, where are we currently on the field, the accountability issues that a lot of members have questions."
Trump says he's pleased by Putin's praise: 'I like that he said that'
Former President Donald Trump said Thursday that he appreciated recent praise from Russian leader Vladimir Putin. In an exclusive interview with NBC "Meet the Press" moderator Kristen Welker, Trump said it meant "what I'm saying is right," referring to his positions on the war in Ukraine.
Trump readily claimed in the interview that if re-elected president, he would resolve the war within 24 hours, though he provided few details about how he would end a conflict that has dragged on for more than 18 months. The former president has asserted several times that he could quickly end the war.
"If I tell you exactly, I lose all my bargaining chips. I mean, you can't really say exactly what you're going to do. But I would say certain things to Putin. I would say certain things to Zelenskyy," he said, referring to Ukrainian President Volodymyr Zelenskyy.
Putin, Russia's longtime leader, said at the Eastern Economic Forum in Vladivostok, Russia, last week that he had heard "that Mr. Trump says he will resolve all burning issues within several days, including the Ukrainian crisis. We cannot help but feel happy about it."
Poland, with election looming, says it isn't sending new arms to Ukraine
Poland is no longer arming Ukraine as it is focusing on building up its own stocks of weapons, the prime minister said on Wednesday, as Warsaw's stance toward Kyiv shifts just weeks before an election.
Poland is only carrying out previously agreed arms deliveries to Ukraine, a government spokesman said on Thursday, amid souring bilateral relations due to a grain dispute just weeks before a Polish parliamentary election.
Poland has been seen until recently as one of Ukraine's staunchest allies in its war with Russia, but its decision to extend a ban on Ukrainian grain imports has annoyed Kyiv.
Prime Minister Mateusz Morawiecki said Wednesday that Poland, a NATO member, was no longer arming Ukraine and was focusing on rebuilding its own weapon stocks.
Asked about Morawiecki's comments on arms supplies, State Assets Minister Jacek Sasin said: "In this case, Polish interests come first. We cannot disarm the Polish army, we cannot get rid of the weapons that are necessary for our security."
Russia strikes cities from east to west Ukraine, starting fires and killing at least 2
Russian missiles pounded cities across Ukraine early Thursday morning, according to Ukrainian authorities, starting fires, killing at least two people and trapping others under rubble.
The early morning missile attack was Russia's largest in over a month, and came a day after reports of sabotage at a Russian military airfield in Chkalovsk near Moscow.
It also coincided with the United Nations General Assembly summit in New York, where Ukrainian President Volodymyr Zelenskyy delivered a speech and presented a Ukrainian "peace formula," and came on the International Day of Peace.
In the southern Ukrainian city of Kherson, near the front lines, two people were killed Thursday and at least five injured after a strike hit a residential building, said regional Governor Oleksand Prokudin.
Seven people were injured in Kyiv, including a 9-year-old girl, reported Mayor Vitalii Klitschko, and some residential and commercial buildings were damaged.