Maine's tough-talking governor admitted he made a "mistake" and apologized Friday for making what has been widely condemned as a racist remark at a town hall meeting.
But Gov. Paul LePage insisted he was being unfairly pilloried for "one slip-up."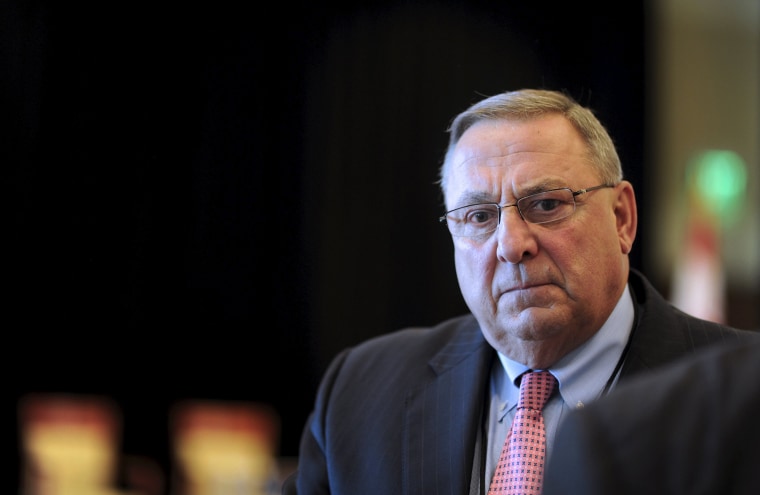 "I was going impromptu and my brain didn't catch up to my mouth," LePage said. "Instead of Maine women I said white women. ... If you go to Maine, you can see it's 95 percent white."
Then LePage went after the journalists who reported his gaffe.
"If I was perfect, I would be a reporter," LePage said. "If you want to make it racist, go ahead and do what you want."
Claiming to be paraphrasing the "Rocky" movies, he also said: "Youse don't like me and I don't like youse."
No such quote appears to exist on the various movie quote databases NBC News reseachers checked out.
LePage also slammed his state's media, saying they aren't reporting enough on Maine's growing drug problem.
"Get your heads out of the sand," he said.
LePage got into hot water on Thursday night about half-an-hour into a meeting in Bridgton, Maine, when he began talking about the heroin problem and and blamed out-of-state drug dealers.
"These are guys with the name D-Money, Smoothie, Shifty — these types of guys — they come from Connecticut and New York, they come up here, they sell their heroin, they go back home," LePage told a large crowd made up mostly of supporters.
Then LePage added: "Incidentally, half the time they impregnate a young white girl before they leave, which is a real sad thing because then we have another issue we have to deal with down the road."
The reaction was fast and furious, with moderate Republicans joining outraged Democrats in condemning LePage's comments.
"LePage's racist rants sadly distract from efforts to address one of our nation's most pressing problems," Hillary Clinton campaign spokesman Marlon Marshall said in a statement.
Le Page's spokesman defended his boss.
"The governor is not making comments about race," Peter Steele said. "Race is irrelevant. What is relevant is the cost to state taxpayers for welfare and the emotional costs for these kids who are born as a result of involvement with drug traffickers."
LePage has a history of making controversial cracks. Three years ago he caught heat for saying at a private function that President Obama "hates white people." He denied making the remark.