Maine's controversial Gov. Paul LePage appeared to suggest on Thursday that he makes up fake stories to mislead reporters — before adding that society would be better off without print media in general.
"I just love to sit in my office and make up ways so they'll write these stupid stories because they are just so stupid, it's awful," LePage told local radio station WGAN-AM on Thursday.
"I'm sorry, but I'd tell you the sooner the print press goes away the better society will be," he added.
LePage's office did not immediately respond to request for comment.
LePage, a Republican, also called Maine's media "vile and inaccurate" over reports earlier this week that he planned to take an out-of-state vacation during tense budget negotiations and a state government shutdown.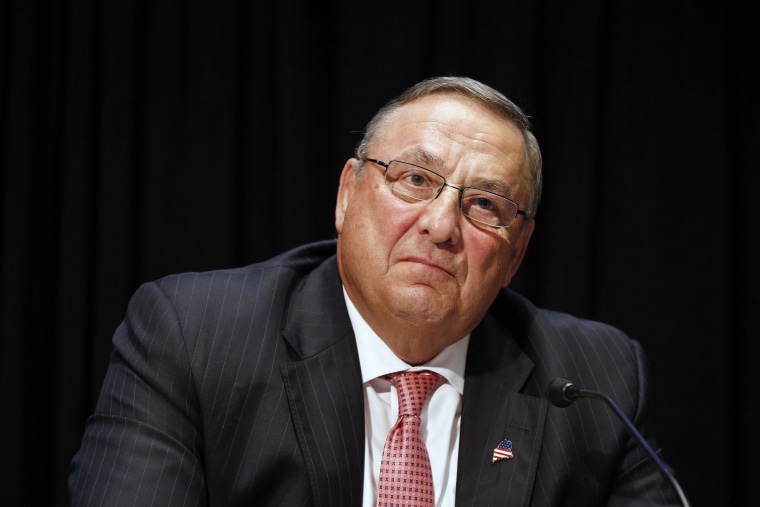 "This is when you know that it's not about the press, it's not about reporting. It's about poking at a certain person in the eye for 6½ years. Shame on them!" he said.
During the shutdown, two Republican state lawmakers told local media that LePage himself had called them to say he planned to leave the state on a 10-day vacation. LePage's office later denied the claim, but both Senate President Michael Thibodeau and Sen. Roger Katz stood by their original comments.
"It all started by saying my pen is on vacation, it has nothing to sign. That was how this started, and the press just ran, and they're so, so vile and inaccurate," LePage said Thursday.
Related: Maine Gov. Paul LePage Has History of Controversial Remarks
The news of LePage's alleged vacation plans came just as a governor farther south, Chris Christie of New Jersey, was spotted lounging on a beach closed by a state government shutdown.
LePage's fraught history with local newspapers spans his tenure as governor.
In 2012, he told a group of eighth-grade students, "Reading newspapers in the state of Maine is like paying somebody to tell you lies."
And in 2013, he said he would like to blow up the building of the state's largest newspaper. "I want to find the Portland Press Herald building and blow it up," he said at the time.
The outspoken governor has made his share of headlines for some shocking remarks over the years, and in January 2016 he had to apologize for saying out-of-state drug traffickers with names like "D-Money" and "Shifty" go to Maine and "impregnate a young, white girl before they leave."
He has also called a pair of protesters "idiots" and told the state's National Association for the Advancement of Colored People to "kiss my butt."