WASHINGTON — Anti-abortion advocates descended on the National Mall in downtown Washington, D.C., on Friday for the annual March for Life rally, marking the event's 50th anniversary with the first march since the Supreme Court overturned the ruling that protected the right to an abortion nationwide.
The mood was alternately joyful and somber, as marchers celebrated the high court's decision in June to reverse the 1973 Roe v. Wade ruling, while lamenting that abortions are still being carried out in many states.
Organizers said they they will continue to march every January "until a culture of life is restored in the United States of America."
"While this year marks our most significant victory, the human rights abuse of abortion is far from over," Jeanne Mancini, president of the March for Life Education and Defense Fund, told the crowd.
"We will continue to march until the human rights abuse of abortion is a thing of the past," she added.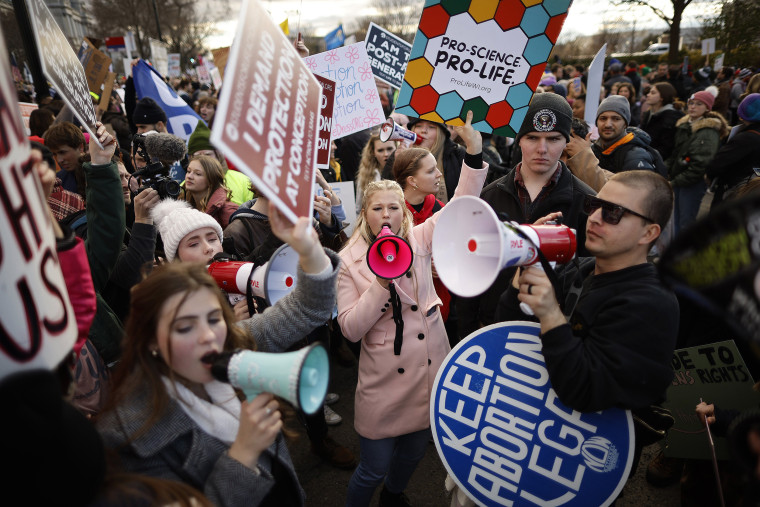 In an effort to achieve that goal, organizers are pressing congressional leaders to limit abortions on the federal level. Friday's rally included remarks by GOP lawmakers.
"You are showing us and giving us hope that the young people of America support life, defend life, are here to march for life," said House Majority Leader Steve Scalise, R-La.
Rep. Chris Smith, co-chair of the Congressional Pro-Life Caucus, told the crowd: "Future generations will someday look back on us and wonder how and why a society that bragged about its commitment to human rights could have legally sanctioned and aggressively promoted child beheadings, dismemberment, chemical poisoning and forced expulsion from the womb."
"The injustice of abortion need not be forever and because of you, it won't be," Smith, R-N.J., said.
Earlier on Friday, House Speaker Kevin McCarthy, R-Calif., signaled his support for the marchers in a tweet.
"Last week, we passed legislation providing medical care for babies born alive during abortions," McCarthy wrote, referring to a GOP measure to penalize doctors who don't provide such care that has no chance of passing the Democratic-controlled Senate. "You now have a Congress that is standing up for life."
Activists who attended the march chanted, "Hey hey, ho ho, abortion has got to go," after years of saying "Roe v. Wade has got to go."
A large sign emblazoned with the words, "We are the Post-Roe Generation," was displayed outside of the Supreme Court at Friday's rally.
In June, the court overturned Roe in a 5-4 decision. That reversal came nearly 50 years after the landmark ruling — in a case about Mississippi's abortion ban, which it upheld in a 6-3 ruling.
Soon after the ruling, more than a half-dozen states rushed to ban abortion procedures completely, while others imposed other types of restrictions. As of last week, more than a dozen states had banned all or most abortions.
And as conservatives implement restrictions across the country, Democrats are expanding access to abortion in states where they control the legislatures.
The Biden administration has sought to protect abortion rights despite the end of Roe. For example, the Food and Drug Administration this month finalized a rule change that expands the availability of abortion pills to many more U.S. pharmacies, including large chains and mail-order companies.
The issue was at the top of voters' minds last year when they cast ballots in the midterm elections. Americans named abortion and inflation as the most important issues that drove their votes, according to the NBC News Exit Poll.
Mary Carmen Zakrajsek, a regional coordinator for Students for Life of America, an anti-abortion group, said Friday that advocacy before Roe's reversal was the "preseason."
"Our work has just begun," she said. "We've got 50 individual state-by-state battles that we need to tackle."