In the fall of 2015, James Laurenson of Maryland was so upset that his governor, Larry Hogan, was opposed to the Obama administration's plan to allow Syrian refugees to resettle within the U.S. that he did something he never had before: He aired his grievances on the governor's public Facebook page.
As part of comments that were also emailed to the governor's office, Laurenson wrote that he was "ashamed to be called a Marylander" and believed that Hogan, a Republican, was "aiding and abetting" the Islamic State.
No one replied to Laurenson's email, but someone overseeing the Facebook page deleted his comments and then blocked him from posting further, according to a federal lawsuit filed last August on behalf of Laurenson and three others who say they were similarly gagged by the governor's office.
But now, Hogan's critics are free again to speak their minds. On Monday, the American Civil Liberties Union of Maryland announced a settlement allowing for open expression on the governor's Facebook page, which has more than 275,000 likes.
It's an especially striking outcome, observers say, after other public officials — most notably President Donald Trump — have been sued on complaints of censoring their constituents on social media.
The agreement is "good for free speech and for our democracy," said Neil Richards, a professor at Washington University Law School who specializes in First Amendment theory.
The ACLU also heralded the settlement as a "victory for the free-speech rights of constituents who wish to respectfully disagree" with the governor.
The fight against social media censorship is also the basis for a First Amendment lawsuit filed in federal court last July by the Knight First Amendment Institute at Columbia University and seven people who say they were wrongly blocked by Trump on Twitter.
The government has argued that Trump's account is personal, so he has the right to block users. A ruling could come within a couple of months.
Katie Fallow, a senior staff attorney for Knight, said the settlement in Maryland this week is an optimistic sign in the Trump case.
"It's a good development in the sense that the governor is agreeing not to block people based on viewpoints, which is the central aim of our lawsuit as well," Fallow said.
"The whole point that we want in our democracy and the First Amendment is that people should be allowed to criticize public officials," she said, adding that the public discourse is not benefited when only voices that praise officials are heard.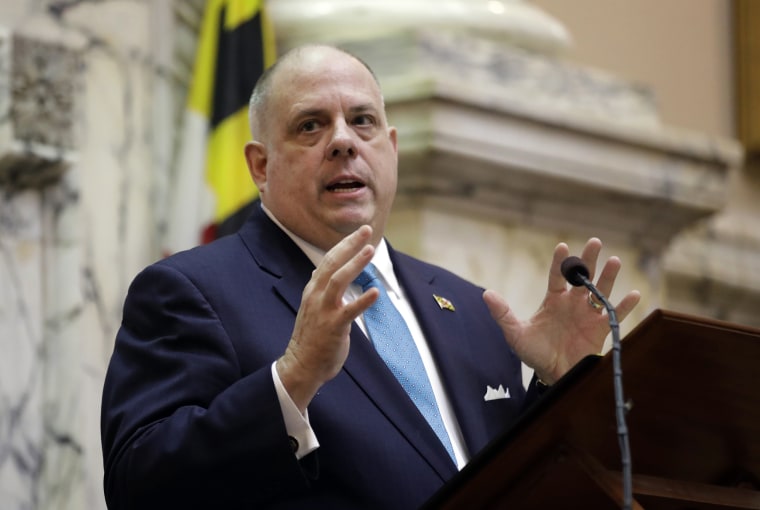 As part of the Maryland case, the ACLU said, the governor's office agreed not to discriminate against someone who has a critical viewpoint and agreed to create a second "constituent message page" for users to discuss any topic, even ones that Hogan has not previously addressed. In addition, social media users with restrictions to the governor's accounts can contest their access.
Laurenson said Tuesday that he was finally unblocked from the governor's Facebook page in the past week after previous requests to regain access. He said he wished that the case didn't have to come to a lawsuit, but the settlement is "a good day for democracy."
The governor's office already had a written social media policy for more than a year. The ACLU conceded in its lawsuit that the governor's office did warn users that it would ban certain comments it finds "inappropriate," although the ACLU said the policy also appeared "inconsistent with the First Amendment" and too broad and vague.
Hogan's office suggested that the settlement was less a victory for the ACLU and was "pleased" that the organization decided to drop "this frivolous and politically motivated lawsuit."
"Ultimately, it was much better for Maryland taxpayers to resolve this, than to continue wasting everyone's time and resources in court," governor's office spokeswoman Shareese Churchill said in a statement.
The Washington Post reported last year that the governor's office had blocked 450 people on Facebook since taking office in 2015. About half were barred over "hateful or racist" language, a spokesman said, while the others were blocked following the unrest in Baltimore in 2014 or in relation to the Trump administration's travel ban.
The governor's office said at the time that "anarchists" were responsible for some of the posts, while Facebook users who were writing pro-Hillary Clinton messages that "contained very similar language" were essentially hijacking Hogan's page.
Regardless, Richards said, government officials shouldn't pick and choose what can appear in a public forum — opening themselves up to lawsuits over constitutionality.
"When the government opens up a place (whether it's a park, or a meeting space, or a digital forum) for public discussion, they can't exclude (or delete) speakers that they don't like," Richards said in an email. "That's censorship and it's unconstitutional."
If officials are simply worried about hateful comments or cyberharassment, those concerns are already policed on platforms such as Facebook and Twitter, which have their own terms of service, said Jennifer Grygiel, a social media professor at Syracuse University.
One solution to protecting people's First Amendment rights, Grygiel said, is for Facebook and others to create a different system for public officials or organizations, so that unlike private users, they can't block whomever they want without oversight.
"The president is simply using a functionality [on Twitter] that is available to him," Grygiel said. "So maybe instead, they turn off the blocking feature."