Former House Intelligence Committee chairman, Mike Rogers was interviewed Saturday in the Trump administration's search to replace fired FBI director James Comey, sources told NBC News, bringing the number of candidates in the first wave to eight.
Rogers, a special agent for the FBI in Chicago before his congressional career, was endorsed Saturday by the FBI Agents Association. Rogers, R-Michigan, did not seek re-election in 2014.
Previously sources said seven candidates, including acting FBI director Andrew McCabe and Republican Sen. John Cornyn of Texas, were to be interviewed Saturday.
Trump, while traveling Saturday for a commencement address at Liberty University, promised a "fast decision" for a new director, who could be announced by late next week before Trump departs for the Vatican.
"I think the process is going to move quickly," Trump told reporters. "Almost all of them are very well-known; they've been vetted over their lifetime, essentially. But very well-known, highly respected, really talented people and that's what we want for the FBI."
Comeywas fired by Trump on Tuesday — sending White House officials and aides scrambling to explain the decision before the president contradicted them and told NBC News that he found the FBI director to be a "showboat."
In addition to McCabe and Sen. Cornyn, attorney and former assistant U.S. Attorney General Alice Fisher and New York appeals court Judge Michael Garcia were slated to be interviewed, the sources told NBC News on Friday.
Sources said Saturday that two others were being interviewed: FBI special agent Adam Lee with the Richmond, Virginia, division and U.S. District Judge Henry Hudson in eastern Virginia. A seventh unnamed candidate was also expected to be interviewed Saturday, sources added.
Related: Trump Tweets That Comey 'Better Hope That There Are No 'Tapes''
The candidates were set to meet with Attorney General Jeff Sessions and Deputy Attorney General Rod Rosenstein, the sources said, with as many as a dozen names under consideration.
Cornyn, a former Texas Supreme Court justice and former Texas attorney general, issued a statement on Friday in which he said he remained focused on his constituents.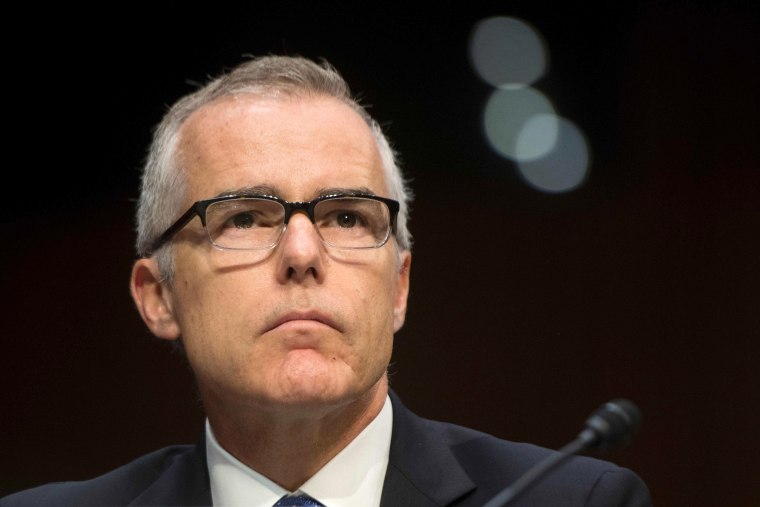 "I have the distinct privilege of serving 28 million Texans in the United States Senate, and that is where my focus remains," Cornyn, who is majority whip in the Senate, said in the statement.
McCabe has served for 20 years with the FBI and was appointed deputy director in 2016. He was made acting director of the agency after Comey was fired.
Garcia, an associate judge of the New York Court of Appeals, was nominated to that court by Gov. Andrew Cuomo in January of 2016 and confirmed a month later.
Garcia was U.S. Attorney for the Southern District of New York from 2005 to 2008, nominated by President George W. Bush. He previously served as an assistant U.S. attorney for the district, and also served as acting commissioner of the Immigration and Naturalization Service and assistant secretary for Immigration and Customs Enforcement.
Hudson made headlines in 2010 when the Virginia federal judge ruled that the Obamacare mandate requiring Americans to buy health insurance was unconstitutional.
In his 42-page opinion, Hudson concluded that the mandate "extends Commerce Clause powers beyond its current high watermark" and advocated for the lawsuit to continue moving through the courts. Two years later, the U.S. Supreme Court ruled in favor of President Barack Obama, declaring the mandate is in line with Congress' ability to levy taxes.
Fisher is a former assistant U.S. attorney general in charge of the Justice Department's criminal division and is now a partner in Latham & Watkins' Washington, D.C. office. If nominated and confirmed, she would be the first woman to lead the FBI.
Fisher was in charge of the criminal division of the Justice Department when lobbyist Jack Abramoff was prosecuted in a corruption case. When he pleaded guilty to three counts Fisher said: "Government officials and government action are not for sale."
Related: Acting FBI Dir.: 'No Effort to Impede' Russia Investigation
Fisher also testified in support of Supreme Court Justice Neil Gorsuch, who was confirmed in April to replace the late conservative Justice Antonin Scalia.
Lee was made special agent in charge of the FBI's Richmond division in 2014. He started his FBI career in December 1996, investigating public corruption and white-crime collar in San Diego, the bureau said.
In 2005, he was promoted to the FBI's Cyber Division before being transferred two years later to the Washington Field Office to supervise the financial crimes squad.