Senate Majority Leader Mitch McConnell, R-Ky., mocked Stephen Bannon's role in the Alabama Senate race on Friday, the latest salvo in the ongoing feud between the establishment Republicans and the far-right activists who have vowed to unseat them.
"Well, let me just say this: The political genius on display throwing away a seat in the reddest state in America is hard to ignore," McConnell said during a year-end news conference.
Republicans unexpectedly lost the Alabama Senate seat this month after a Bannon-backed Republican, Roy Moore, unseated McConnell's chosen candidate in the primary, but lost to Democrat Doug Jones in the general election this month. Bannon had campaigned in Alabama for Moore.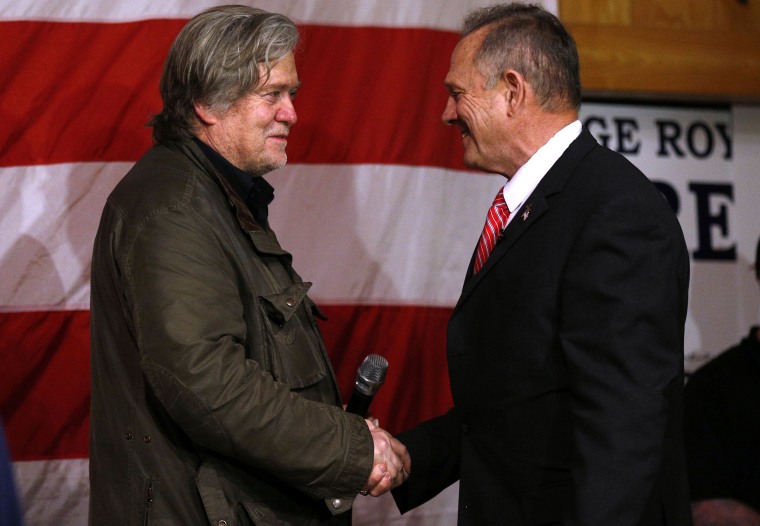 Bannon, a former White House adviser, has said he's planning a war on establishment Republicans like McConnell. "There's a coalition coming together that is going to challenge every Republican incumbent except for Ted Cruz," Bannon said on Fox in October.
McConnell's dis comes a day after Vanity Fair published a feature on Bannon and his political aspirations, with Bannon lashing out at the Senate majority leader for not more fully supporting the president's agenda.
McConnell said Friday that he has a "good working relationship" with the president. "I think we go into the New Year with a high level of confidence in our ability to work together," he said.
Trump also praised McConnell effusively this week for his work on the tax bill that the president signed into law on Friday.
The special election to fill Attorney General Jeff Sessions' former Senate seat in Alabama mirrored the GOP's divide. In the primary, establishment Republicans and the president championed Sen. Luther Strange, who had been appointed to the vacant seat. Bannon and others like Sarah Palin embraced Moore, a controversial former state judge.
Moore was accused of sexual misconduct with teens, which contributed to his defeat.
Bannon was not fazed: "Totally uncowed," he said after Moore's loss.