Listen closely and Republicans have begun to talk about poverty, an issue that has largely been dormant for at least two decades in GOP political circles. The intellectual muscle behind Its quiet resurgence is largely attributed to one person: Arthur Brooks. He has the ear of every potential Republican presidential candidate and is trying to change the way the party thinks about poverty and poor people.
And it could be working. Likely presidential contenders, ranging from nonconformist Sen. Ted Cruz to the libertarian-leaning Sen. Rand Paul to establishment favorite Jeb Bush, are parroting his talking points as they weigh potential runs. Candidates, for example, are using the word "poverty" and discussing ways to alter a system where tens of millions of Americans remain stuck in a vicious cycle.
The Unexpected Ideals of Arthur Brooks
He's an energetic, passionate believer in the idealistic ideal that happiness is the key to a fulfilling life, and the way to do that is to help people who need it. It's an idea he's enthusiastically promoting from his perch at the top of one of the most influential conservative thought factories in Washington, D.C. - the American Enterprise Institute.
"We need better policies that see every single person as an asset - not some people who are poor as liabilities, which is what we currently do," Brooks said, wearing a black plaid fitted suit with fuchsia and black checkered socks during a recent interview in his downtown corner office.
That's a statement that is unexpected from a conservative, but he's using his platform to make sure that the issue of poverty is a central component to presidential politics.
"The reason this country is facing insolvency is not because we're too nice to poor people. It's just not the case."
Brooks' deep-seated belief in the importance of reducing poverty in the "greatest country in the history of the world" stems from an unorthodox journey through his formative 20s.
A product of a liberal Seattle household, Brooks reluctantly attended college only to drop out – or get kicked out. "A difference of opinion," is how he describes it. After his short-lived college career, Brooks hit the road as a professional French horn player with bands and symphonies in the U.S and in Europe. On tour he met his future wife and followed her to Barcelona where he played in the Barcelona Symphony. Eventually, he and his new wife decided to move back to the U.S. with no money, no degrees and his wife's limited language skills.
"I was immigrating to my own country," Brooks said of this time. "Now this was a real starting over experience and this was a new thing for me."
Brooks went back to college at the age of 28 while his wife helped to support them with a minimum wage job. During their U.S. adventure, Brooks' wife said something to him that he said "reset" his entire way of thinking: "She said, 'this is the greatest country in the world for people who want to work.'"
Thus began Brooks' journey to explore economics and human behavior and his mission to create "a new social movement" focused on answering the question: "What does a better country look like?"
Brooks' Outside-The-Box Approach
That question has driven Brooks' work while obtaining his PhD, teaching as a college professor and now as the head of a conservative-leaning think tank.
Brooks search for answers about the correlation of happiness and work and economic stability has taken him across the globe. Last November he visited Dharavi, a massive slum in Mumbai, India that is home to 700,000 people in an area half the size of Central Park. He says that's like 400 people living in the home and yard of the average-sized American home.
He's sought council from spiritual leaders, including "a penniless Hindu swami named Gnanmunidas" at the Swaminarayan Akshardham Hindu temple in New Dehli. In a New York Times opinion piece, he said the swami told him that money is not evil but "the formula for a good life, he explained, is simple: abundance without attachment (to money)."
He also courted the Dalai Lama. Brooks traveled to Dharamsala in northern India with the sole purpose to invite the Dalai Lama to speak at AEI. "The Dalai Lama touches the hearts of many millions, including me," Brooks, a devout Catholic, said of why he traveled to such great lengths to convince the guru to visit AEI. "He speaks with authority about human consciousness and life satisfaction, and I wanted to discuss these things in a serious way in the context of free enterprise." The Dalai Lama accepted and visited his think tank last year.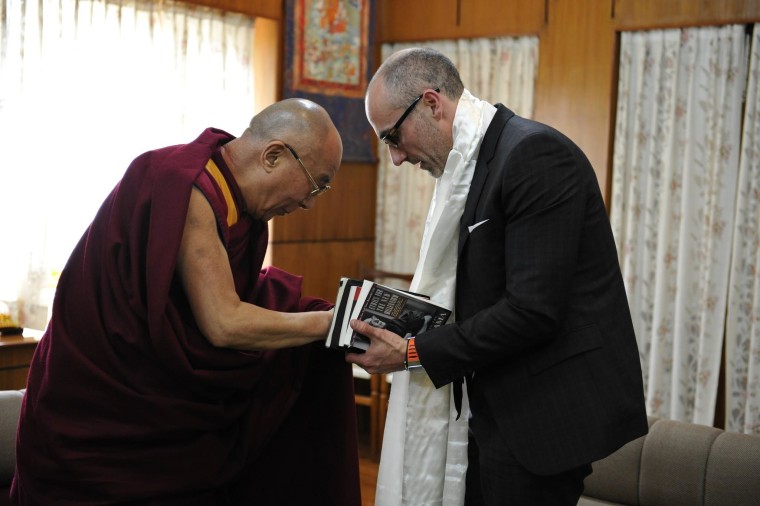 Brooks' search for deeper meaning and understanding of his work, which perhaps places him in the category of a hippy-New Age floater, but his stringent belief in the free enterprise system is what makes him, however, a solid conservative.
How He's Changing the Republican Party
But Brooks said the fallacy of Republican politics is protecting the wealthy's wealth. He said Republicans need to be "for the people who need us."
Brooks is influencing prominent Republicans with that philosophy. He's doubled AEI's revenue, which is funded from donors, from $20 to $40 million since he took over in 2009, proving that poverty is a message that conservatives are willing to get behind.
And perhaps more importantly, potential Republican presidential candidates are touting his ideas on the campaign trail.
Ron Haskins, a conservative leaning scholar at the Brookings Institution on the issue of poverty said Brooks is "a big part of why" Republicans are talking about it.
"He made it permissible for Republicans to talk less about helping zillionaires and talk more about helping the poor," Haskins said.
Every time politicians come to AEI, Brooks makes sure that he talks to them about poverty. He and former Florida Governor Jeb Bush have known each other "for a long time," a Bush aide said. Wisconsin Governor Scott Walker has spoken with Brooks "on multiple occasions on the issue of poverty," an aide for Walker's non-profit Our American Revival said. And in one story about Brooks, Florida Sen. Marco Rubio called Brooks to wish him a happy birthday.
"I don't care about income inequality per se; I care about opportunity inequality," Brooks said. "I want everybody to have a chance to be mobile, to rise, for everybody to have a chance to earn success."
That's a theme becoming familiar on the Republican campaign trail.
Bush's maiden policy speech in Detroit earlier this month centered around "the opportunity gap" and Rubio told a room full of wealthy Republican donors hosted by entrepreneurs Charles and David Koch that income "inequality is a symptom of a bigger problem: opportunity inequality." Even tea party-backed conservative Sen. Ted Cruz said at the same Freedom Forum that "income mobility has gotten harder and harder for people to achieve."
While not running for president, Brooks has been a major influence on Rep. Paul Ryan, the former 2012 Republican vice presidential candidate who now chairs the powerful House Ways and Means Committee. Ryan was one of the first Republicans in the past year to begin addressing the issue publicly.
"Arthur is one of our best minds on fighting poverty, and we've discussed these challenges for years. He's doing tremendous work, and I'm excited to continue making progress with him on these issues," Ryan told NBC News.
How Brooks Plans To Eliminate Poverty
Not only is Brooks focus on poverty a break from Republican policy, some of his ideas are, too. His ideals are central to a new movement among conservatives, especially younger conservatives, called "reform conservatism." The approach maintains the Republican ideal that incentivizes work but dismantles some traditional Republican priorities.
For instance, he said Republicans need to "proactively declare peace on the safety net" he said. "The reason this country is facing insolvency is not because we're too nice to poor people. It's just not the case."
He and some of the scholars at AEI are also challenging the Republicans' standard mantra that tax rates for top earners cannot be raised. They say, well, maybe they can.
Brooks also disagrees with most Republicans on Capitol Hill who say that the minimum wage is going to hurt small businesses. He said it won't. But that doesn't mean he supports an increase in the minimum wage. Instead, he thinks that the government should subsidize wages for low-income earners and phase out the subsidies when the employee begins to make more money.
Brooks also pushes the expansion of the Earned Income Tax Credit. The tax credit is for low wage workers but mostly benefits women with children. Brooks said the tax credit should be expanded to help single men, who are disproportionately left out of the work force. He calls this group of people the "most vulnerable in our society."
"Single men who don't have a high school diploma, for example, but are capable of work, are huge assets to our society," Brooks said. "They're not liabilities for us to manage. They're human assets. They're human potential."
As for greatly expanding the tax credit to single men, Brooks admits that it's an expensive venture. "I don't care," he said. "That's not the point. That's the way we want to spend our money."
And these are some ideas that are even intriguing to Democrats.
Rebecca Vallas, director of policy for the Poverty to Prosperity Program at the liberal-leaning Center for American Progress said she "appreciates AEI's emphasis on poverty and opportunity."
She said it's "been encouraging to see some areas of bipartisanship."
"The reason I care about poverty is because I care about dignity … because I understand what a good life is made of," Brooks said.