First lady Melania Trump can't adequately cash in on her multimillion-dollar brand following false reports that she once worked as a high-paid escort, she says in a newly filed lawsuit against an online tabloid.
The defamation suit, filed Monday in New York Supreme Court, seeks "redress for the commercial harm done" by the Mail Online against Trump, whose brand of skin care products, jewelry and other fashion accessories has "lost significant value" — pegged in the "multiple millions of dollars."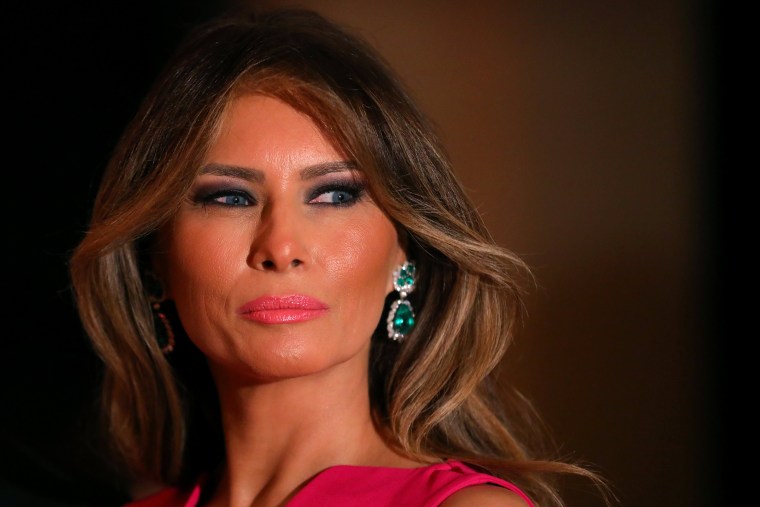 A previous suit filed against Mail Media in Maryland was dismissed, and Trump settled a complaint against a Maryland blogger on Tuesday, the blogger's attorneys said. The new suit moves the litigation to New York, where Mail Media has headquarters.
Trump "had the unique, once-in-a-lifetime opportunity, as an extremely famous and well-known person, as well as a former professional model, brand spokesperson, and successful businesswoman, to launch a broad-based commercial brand in multiple product categories," it says.
It adds that those ventures could have garnered "multimillion-dollar business relationships for a multi-year term" because she is "one of the most photographed women in the world."
While the filing itself doesn't say Trump has specific plans to capitalize on her position in the White House, it does claim that the story has "impugned on her fitness to perform her duties as first lady of the United States."
Trump's attorneys first filed a suit in September against Mail Media Inc. and Webster Griffin Tarpley, a Maryland blogger, for posting stories that questioned Trump's alleged link to an escort agency in the 1990s, before she married Donald Trump. Both outlets issued retractions.
A Maryland judge dismissed the suit because it was filed in the wrong venue. Attorneys for the blogger, Tarpley, told NBC News on Tuesday that they had settled the action against him in return for an apology and payment of an undisclosed "substantial sum."
Related: Melania Trump Defamation Suit Against Political Blogger Can Move Forward
The refiled suit seeks compensation and punitive damages of $150 million — the same amount cited in the initial lawsuit filed in Montgomery County, Maryland.
A spokesman for Mail Online didn't immediately respond to a request for comment Tuesday.
Trump is being represented by high-profile attorney Charles Harder, who helped pro wrestler Hulk Hogan in his successful lawsuit against Gawker Media last year.