Michigan Gov. Gretchen Whitmer wants to bar weapons from being taken into the state Capitol after anti-lockdown protesters showed up with firearms, she told NBC News in a wide-ranging interview.
Whitmer's comments came after gun-toting militia protesters joined a larger group demanding that she reopen parts of the state's economy in a demonstration last week. The protesters spilled inside the Capitol, where armed demonstrators confronted police officers and insisted on being allowed onto the House floor as lawmakers debated an extension of her emergency powers.
Under current state law, it is legal to take firearms inside the Capitol, because Michigan is an open-carry state.
"There are legislators who are wearing bulletproof vests to go to work," Whitmer, a Democrat who is in her first term, said Wednesday. "No one should be intimidated by someone who's bringing in an assault rifle into their workplace. And so there is conversation about changing that law. I think it's long overdue, and I absolutely support that change. You shouldn't be intimidated going to be the voice of the people who elected you."
Whitmer said the protesters were "a relatively small group" who were "loud" and "made an impression" but were "not representative of the general public in Michigan."
The Michigan Capitol Commission sought legal advice this week about whether guns could be banned inside the Capitol. Some Michigan Republicans criticized the gun-toting demonstrators, while others said they were not interested in such a ban. Republicans control both the House and the Senate.
While Michigan is one of the states hit hardest by COVID-19, Whitmer has faced fierce backlash for her strict stay-at-home mandate, which she extended last month while easing some provisions. President Donald Trump tweeted that Whitmer "should give a little, and put out the fire," calling the protesters "very good people" whom she should "make a deal" with.
As states across the nation have either launched their initial phase of reopening or plan to do so soon, including Michigan, Whitmer said she and other governors are feeling the heat from those who are demanding that parts of the economy begin to reopen.
"There's no question that there's intense pressure to reopen, whether it's coming from the White House or the people of our state, and that's playing out all across the country," she said. "We are Americans. We are used to having our freedoms, and I think in this moment we've had to ask people to make sacrifice, and people are getting weary of it.
"And yet we know that the data tells us COVID-19 is still a very real threat in this country, all across the country," Whitmer continued. "So while we've been able to achieve some flattening of the curve, we are by no means done with COVID-19, and that's why we've got to be really smart."
Download the NBC News app for breaking news and politics
Whitmer has seen her profile rise amid the pandemic. She is responsible for leading one of the harder-hit states — which happens to be a pivotal 2020 swing state — and Joe Biden, the apparent Democratic presidential nominee, has named her as a possible running mate, while Trump has both derided and praised her.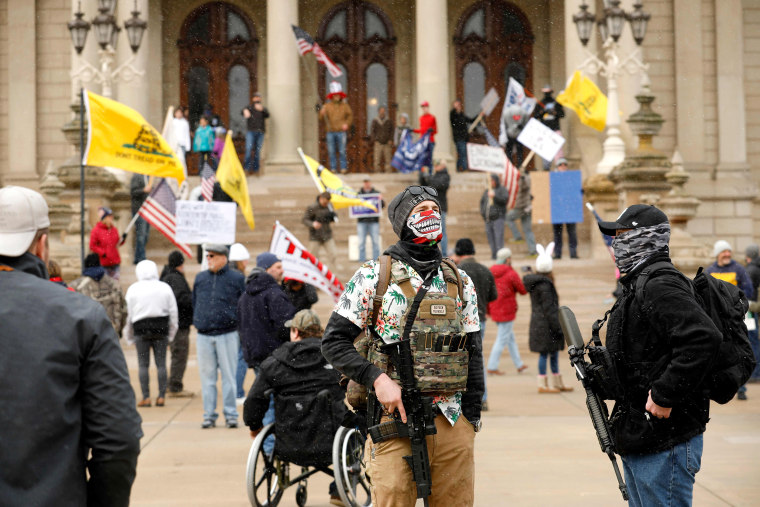 Asked whether the speculation that she could be Biden's running mate has contributed to the intensity of the protests, Whitmer said, "I think that you could conclude that there is a definite political component here."
"These protests were more like political rallies, and then you've got the partisan propaganda," she said. "You saw the signs that people made. This was a political statement, because Michigan is an important state and the 2020 presidential election is looming. It really felt more like a political rally than anything else."
As Michigan Republicans sought to strip her of emergency powers, Republican U.S. Rep. Paul Mitchell filed a lawsuit claiming her restrictions were unconstitutional. Attorney General William Barr has said the Justice Department would consider suing states where he believes stay-at-home orders have gone too far, and the Justice Department has already backed lawsuits similar to Mitchell's.
Whitmer said she'd "rather not" get into a protracted legal battle with the Justice Department and that her orders are "always on the right side of the Constitution."
One of the more vocal governors on the need for Congress to pass emergency relief funding for the states, Whitmer said it was too soon to say whether she would be willing to back removing legal liability for companies that hurry to bring back workers as states loosen restrictions — something Republican leaders have said must be included for them to support such additional aid.
But she said making "sure that everyone has the incentive to keep people safe" is a necessity.
"And I can tell you, [businesses], as much as anyone, want to make sure that we get this right, because they don't want their workforce to get sick," she said. "They don't want the public to be afraid to come in when it's a public-facing type of enterprise."
On the sexual assault allegation that former Biden staffer Tara Reade has made against the former vice president, which he has denied, Whitmer, an assault survivor, said she knows "it's important that we give women the ability to tell their stories and that we listen to them."
"And then they also need to be vetted," she said. "I really don't like having to weigh in every time there is another story that a woman tells. I understand why people ask. I get that. I'm an office-holder and I'm a survivor, but I think that every story is different. Every woman deserves to be heard, but we also have a duty to vet it and to do our due diligence and give people due process and make our own judgments."
Whitmer was the subject of a recent "Saturday Night Live" sketch in which the actress Cecily Strong played her. Whitmer said she found the bit to be "very funny," although she sent Strong a package of Michigan beers because the "one thing that they got wrong" was having Strong drink a Canadian beer, Labatt Blue.