Former CIA Director John Brennan on Friday endorsed Democratic Texas Senate candidate Beto O'Rourke.
"As a former resident of Texas and a proud UT-Austin alumnus, I believe Beto O'Rourke is the type of individual Texans need in the U.S. Senate to represent their best interests," Brennan tweeted. "He has the integrity, intellect, and character that is in short supply in Congress. Vote!"
Brennan, a frequent critic of President Donald Trump, had not previously made any endorsements in any midterm races.
But he had tweeted earlier this week that he would "vote for candidates who believe in America living up to its values & remaining the world's melting pot" and "for individuals who are honest, have integrity, reject inflammatory rhetoric & want to bring us together."
O'Rourke trailed the Republican incumbent, Sen. Ted Cruz, by 3 percentage points in an Emerson College poll released Thursday, 50 percent to 47 percent. The Cook Political Report has rated the race as a toss-up.
Also, as of Nov. 2, more than 29 million votes have been counted as early or absentee in the 2018 midterm elections nationwide, according to data provided by TargetSmart and independently analyzed by the NBC News Data Analytics Lab. That number exceeds the total nationwide early vote as of Election Day in 2014, which was over 21 million.
ON THE TRAIL IN OTHER STATES
FLORIDA
President Barack Obama campaigned in Florida Friday afternoon for Democratic Senate candidate Bill Nelson and Democratic gubernatorial candidate Andrew Gillum.
Obama blasted the "fearmongering" from Trump and other Republicans as a distraction and urged the crowd not to let themselves be swindled.
"They do this every election cycle, try to terrify folks. And then the election comes and the problem suddenly magically vanishes. You never hear about it again," the former president said, listing off several examples from his presidency and the 2016 presidential campaign.
He said the concern about a caravan of migrants making its way to the southern border and Trump's decision to deploy thousands of U.S. troops to deter them is part of "constant fearmongering to distract from the record."
"Don't be bamboozled. Don't be hoodwinked," he added.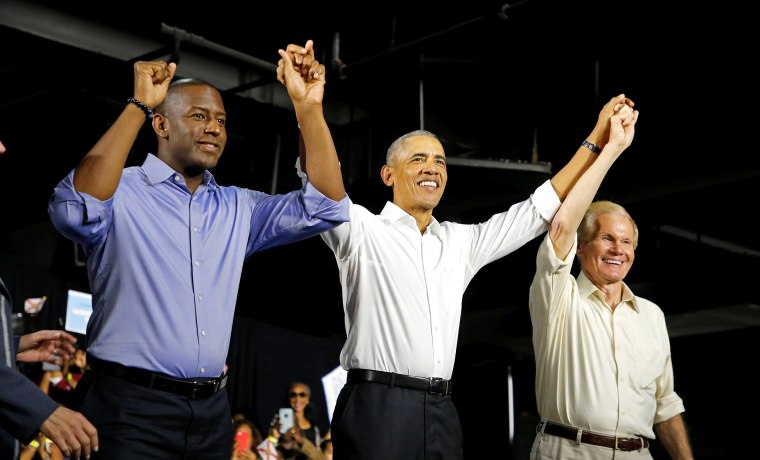 Obama is one of several high-profile Democrats lending their star power to animate the party's base to turn out in high numbers on Nov. 6.
Both Nelson and Gillum are in tight races but have slight leads over their rivals. Nelson is running against Republican Rick Scott, who is the former governor of Florida. Gillum is running against Republican opponent Ron DeSantis, a former House representative.
A recent CNN/SSRS poll has Nelson leading Scott 49 percent to 47 percent, and Gillum leading DeSantis 49 percent to 48 percent.
Republicans, however, have thus far cast more pre-Election Day ballots, according to Political Florida. The news outlet reported that 42 percent of the ballots cast so far are by Republicans and 40 percent by Democrats, out of the 3.7 million early-voting ballots cast as of Thursday morning.
During the rally, a protester also heckled Obama, prompting the former president to criticize the demonstrator and the crowd to chant Gillum's campaign slogan "Bring it home."
"One of the things I never understood was why if you're supporting the other guy, you come to my rally," he said. "Go to their rally! Go talk about what you're for, don't come hollering here."
Obama will also hit the campaign trail in Georgia later Friday at a rally with Democratic gubernatorial candidate Stacey Abrams, who is in a close race with her Republican challenger Brian Kemp.
IOWA
Ivanka Trump made a rare appearance on the campaign trail in West Des Moines, Iowa, on Friday for Gov. Kim Reynolds, a Republican.
The president's eldest daughter, who is also a senior administration official, has seldom stumped for candidates during the midterms, but Reynolds is in a close race against Democrat Fred Hubbell. The Cook Political Report rated the race as a toss-up. Trump won 51 percent of the vote in Iowa in the 2016 presidential election.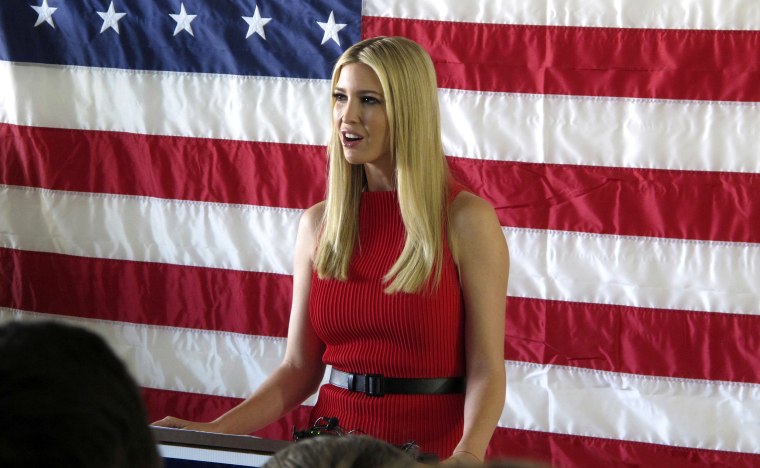 Reynolds, who previously served as lieutenant governor, became governor after former Iowa governor Terry Branstad was appointed by Trump to be the U.S. ambassador to China. She is running to be elected to a full term on Nov. 6.
At a campaign event in Iowa on Friday, Ivanka Trump called the current political environment "very toxic" and stressed the importance of having elected officials who can "lift barriers" for everyday Americans.
"I can not overemphasize how important it is that we have governors who are aligned with us and are working to advance our common goals," she said, referring to the Trump administration. "And in the governor, you have somebody who's been just a tremendous champion for Iowa. And, and that is why I'm here. There is a lot at stake and a lot to lose because Iowa is really booming and we want to keep that going."