Vice President Mike Pence made an unannounced trip to Iraq Saturday morning amid an impeachment inquiry in which his name has come up and after months of criticism that his administration has betrayed former Kurdish allies of the U.S. in the region.
President Donald Trump announced last month that he would be withdrawing 1,000 U.S. troops from the Turkish border with Syria, a region populated by the Kurdish-led Syrian Democratic Forces that worked with the United States to stymie the spread of ISIS.
In response, Turkey immediately invaded northeastern Syria, causing Kurdish forces in the region to declare that the U.S. had betrayed its alliance with them. Soon after the invasion, Pence traveled to Ankara to negotiate a temporary pause in the fighting to allow Kurdish forces to withdraw from the region.
On Saturday's visit to Iraq, Pence attempted to smooth over some of the Kurds' concerns — as well as Democratic and Republican lawmakers' criticism — in a visit with Nechirvan Barzani, the president of the semi-autonomous Kurdish region in Iraq, and on a phone call with Iraqi Prime Minister Adel Abdul Mahdi.
"My sense is that now with our troops in the region and in the air that Kurdish forces, Syrian Democratic Forces as well as the Kurdish population here in the region that the American people are with them," Pence told reporters. "These are allies that fought shoulder to shoulder with us bravely to defeat ISIS."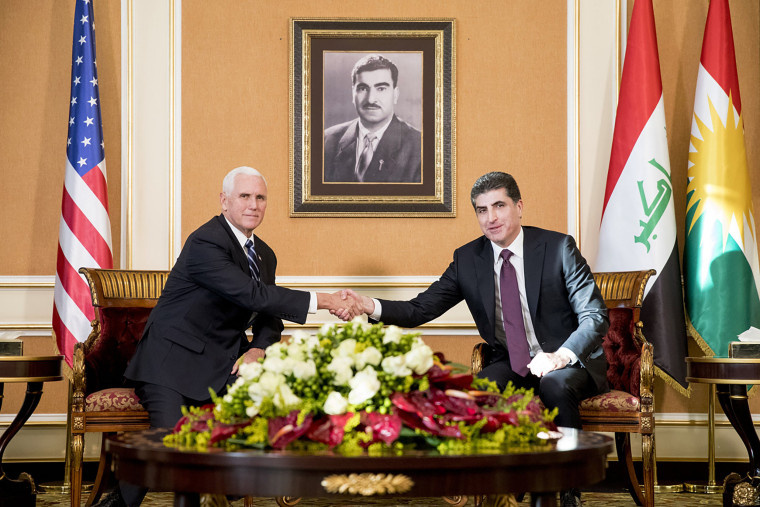 The trip to Iraq was kept secret for security purposes, according to a traveling pool with Pence, who was making his first trip to Iraq as vice president. He spent some of his time there delivering remarks and then serving a Thanksgiving meal to U.S. troops stationed at Al Asad Air Base.
The meal included a combination of turkey, prime rib, ham, macaroni and cheese, mashed potatoes, corn, cranberry sauce and dinner rolls. Some soldiers broke out into chants of "USA" when he arrived, and in return Pence doled out portions of turkey on their plates.
"We served up a little bit of turkey, and maybe there's some leftovers for you if you head over to the mess hall," Pence told service members. "And I know it doesn't beat a home-cooked meal or spending time with your families, but we hope that maybe we brought a little bit of home here to Al Asad."
This is the first high-profile visit by the Trump administration since the White House announced it would withdraw troops from Syria, creating a military power vacuum in the region.
When the vice president arrived in the country with his wife, Karen Pence, he was greeted by U.S. Ambassador Matthew Tueller, Lt. Gen. Pat White, Col. Daniel Leavitt, and Sgt. Major Gerald Knight.
His most public-facing time was spent with the troops, however.
"Here at all Al Asad Air Base, you prove every day what the world knows: the armed forces of the United States are the greatest force for good that the world has ever known," Pence told them.
Pence did not meet with Prime Minister Mahdi in person. It has been a particularly turbulent time recently for the prime minister's government, as Iraq has recently received international condemnation over its stiff crackdown on peaceful protests.
The Iraqi Human Rights Commission said 264 protesters have been killed and 12,000 protesters and security forces injured as tens of thousands of people have taken to the streets in recent weeks demanding sweeping political change amid accusations of endemic corruption among Iraq's governing elite.
But the surprise visit also comes on the heels of a tense few weeks for the White House as the House Intelligence Committee held a series of long public hearings as part of a broader Democratic-led impeachment inquiry against Trump.
Pence was named in testimony by Gordon Sondland, the U.S. ambassador to the European Union, who said that the vice president knew of his concerns about a possible link between the release of military aid to Ukraine and the Eastern European country's announcement of an investigation into the Biden family.
Jennifer Williams, Pence's special adviser on Europe and Russia, also testified that she found a July 25 call between Trump and Ukrainian President Volodymyr Zelenskiy to be "unusual" compared to other presidential calls because "it involved discussion of what appeared to be a domestic political matter."
Pence briefly touched on the investigation during his visit to Iraq, but only as a complaint that the inquiry served as a distraction on Capitol Hill.
"Today in budget negotiations with Congress, we are fighting to secure another pay raise for our men and women in military, which would be the biggest in nine years," Pence said. "Congress should've finished defense appropriations months ago, but you all know that partisan politics and endless investigations have slowed things down a bit in Washington D.C."