Some on Capitol Hill are hoping that low expectations will mean little disappointment when it comes to the bicameral budget committee charged with crafting a long-term budget deal.
The panel sprang from the deal to end a federal government shutdown and avert a potential default and consists of  22 senators and seven House members. There are 15 Democrats and 14 Republicans on the committee – including nine conservatives who voted against the compromise that ended the impasse and laid the groundwork for the group's creation. The panel holds its first public meeting Wednesday morning at the Capitol.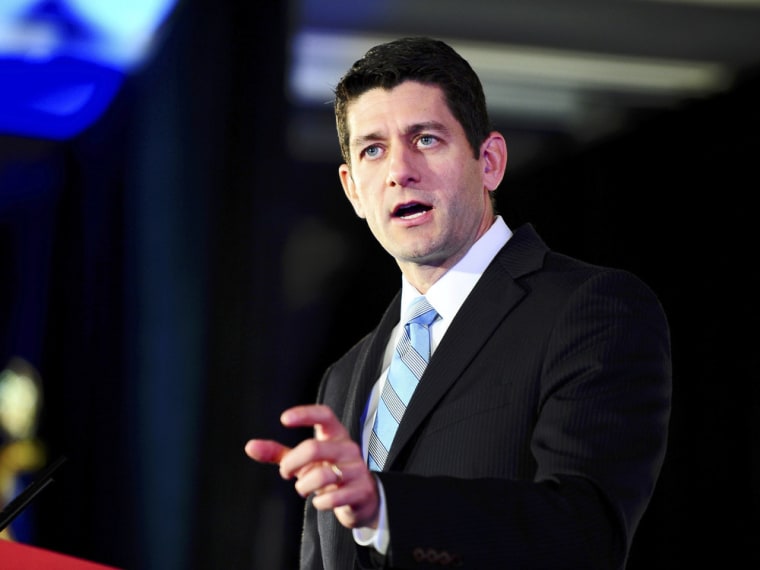 Senate Majority Leader Harry Reid, D-Nev., and House Budget Committee Chairman Paul Ryan, R-Wis., are trying to adjust expectations for the committee – which has until Dec. 13 to craft a plan for consideration by the upper and lower chambers.
The outcome won't be "a grand bargain," Ryan said three weeks ago, even before congressional leaders had publicly agreed to convene the conference committee.
Ryan said he'd seek "modest reforms to entitlement programs" – that is, Medicare, Medicaid and Social Security – and modest changes to the tax code.
Likewise, Reid said last week, "We're not going to have a grand bargain in the near future."
Now that you've been warned not to expect anything "grand," here's a guide to the committee and its work:
What are the committee's goals?
As the budget conference begins, Reid and other Democrats want to find a way to cancel or replace cuts in discretionary spending, the funds Congress usually appropriates every year for items like military training and research at the National Institutes of Health.
The 2011 Budget Control Act included a fail-safe device for cutting spending if Congress couldn't come up with a "grand bargain" to reduce deficits and debt: the sequester, $1.2 trillion in projected spending cuts over 10 years. A bipartisan "super committee" was formed to come up with a more palatable series of spending cuts and tax increases. They failed in their task and sequestration began in March. The spending cuts would amount to about a 2.3 percent reduction in total spending over 10 years.
The next round of discretionary spending cuts under sequestration is set to begin Jan 15.
According to the Congressional Budget Office, the sequester in 2014 will amount to about a 4 percent cut in discretionary spending.
That might sound small, but "it has been brutal … It's been senseless, this cutting. It's been with a meat ax, instead of a scalpel," Reid complained last week in an interview with Nevada radio station KNPR.
Ryan told Reuters last week that the sequester cuts are "not our preferred route to reducing deficit and spending, but it works. If we can't replace these spending cuts with smarter spending cuts, then we'll take what we have."
Who are the key committee members?
The conference committee will be led by Senate Budget Committee Chairman Patty Murray, D-Wash., and Ryan.
Other potential dealmakers on the panel include Sen. Mark Warner, D-Va., who gained significant experience in budget matters as one of the bipartisan "Gang of Six" senators who came up with a plan in 2011 to cut deficits by $3.7 trillion over 10 years. 
If a deal is to emerge, another important player on the committee might be Sen. Rob Portman, R-Ohio, who served as budget director under President George W. Bush.
Could entitlement cuts replace sequestration?
One spending deal might include replacing the sequester cuts with changes to entitlement programs.
President Barack Obama suggested some entitlement changes in his budget blueprint for fiscal year 2104, which he released last April. For example, Obama would save $50 billion over 10 years by shifting more of the cost burden for Medicare Part B (which pays for doctor's office visits, lab tests and other services) and Part D (which covers prescription drugs) to higher-income earners enrolled in the program. His plan would require them to pay higher premiums than they now pay. Some congressional Democrats oppose such cost-shifting to affluent retirees because they think it would erode broad support for Medicare.
Portman said, "The president's (budget) proposal includes a pretty long list of entitlement savings, mandatory savings, adds up to about $730 billion over 10 years. A step in the right direction."
Portman told Bloomberg News, "There's an opportunity here to provide some relief on sequester in exchange for some real changes on the mandatory side … I think this is a good substitution for those of us who are concerned about the fiscal health of our country."
Are there tax increases on the horizon?
The FY 2014 Democratic budget resolution passed by the Senate last March calls for raising an additional $975 billion in tax revenues over the next 10 years from curbing or eliminating tax preferences that mostly benefit upper-income people.
But Republicans oppose any further tax increases. Portman said, "We just raised taxes substantially" – a reference to the bill Obama signed in January.
But Reid contended last week, "The rich are willing to pay more … They want to pay more." He said congressional Republicans "have their mind set on doing nothing more on revenue," meaning not agreeing to new tax increases. And, Reid said, "until they get off that kick there's not going to be a grand bargain, there's not going to be a small bargain….."
In theory, the committee could agree to a plan that would instruct the tax-writing committees to come up with a certain amount of revenue.
But Ken Kies, a tax lobbyist and former chief of staff of the Joint Committee on Taxation, said, "The probability of any significant tax agreement in this committee is very low."
He added that was "exceedingly unlikely" that Ryan would agree to a revenue target larger than current law, which assumes the federal government will collect $40.3 trillion of revenues over the next 10 years -- unless the deal includes language which makes clear that any additional revenue could only come from economic growth and not from specific revenue-raising tax changes. "It's unlikely the Democrats would agree to that," he said.