A woman who accused Roy Moore of sexual assault now says that she added the date and location to the yearbook message that was trumpeted as proof that the two knew each other personally.
Beverly Young Nelson "added that to remind herself who Roy Moore was and when and where he signed her yearbook," her attorney, Gloria Allred, confirmed in a news conference Friday.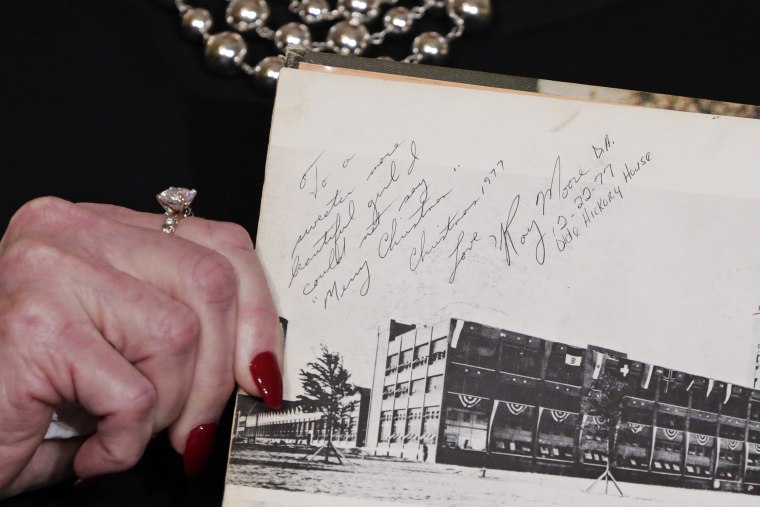 Nelson went public three weeks ago with the accusation that Moore, now the GOP candidate for U.S. Senate in Alabama, groped and attempted to force a sexual act on her in 1977 when she was a 16-year-old waitress and he was in his early 30s. Prior to the alleged assault, she claimed, he was a regular customer at the restaurant where she worked in Etowah County, Alabama, and often flirted with her.
At the initial November 13 press conference where she first made the allegation, she held up her yearbook — which included a message that appeared to be written and signed by Moore, with the date and the name of the restaurant below — as corroboration of her acquaintance with the then-assistant district attorney. She did not mention anything about adding notes then.
Immediately, the Moore campaign said the inscription was a forgery — Moore pointed out in an open letter that there were inconsistencies in the way the year was written in the message and the date below it. He also noted that he was a "deputy district attorney," not a "district attorney" in 1977, but the signature in Nelson's yearbook is followed by the letters "D.A."
RELATED: Woman says Roy Moore sexually assaulted her when she was 16
Despite saying now that she added notes below his inscription in her yearbook, Nelson maintained that the message and signature are Moore's, and her account is true.
"I want everybody to know that I stand by my previous statement, that Roy Moore sexually assaulted me," Nelson said Friday.
Nelson is one of nine women who have accused Moore of sexual misconduct. Moore has denied the allegations and said that the women are lying. He has also claimed the accusations are politically motivated.
Allred said during the news conference Friday that a handwriting expert, Arthur T. Anthony, confirmed that the signature in Nelson's yearbook matches Moore's, based on other public documents.
Nelson, who said she supported Donald Trump for president, said Friday that she is disappointed in him for supporting Moore.
"Seems as if it's just business as usual in the White House, the swamp is getting deeper, and it has not been drained," she said.
Moore's campaign touted Nelson's admission as a kind of vindication in its own news conference Friday, suggesting that voters could not trust her story. Moore's lawyer, Phillip Jauregui, called for the yearbook to be released and tested by an "independent" expert, not an expert hired by Allred.
"The truth is out there and until she releases the yearbook, all we know is they're not telling the truth, and they've lied," Jauregui said.