NASHVILLE, Tenn. — The Nashville Metropolitan Council voted Monday to return Justin Jones to the state Legislature after he was removed last week by Republicans for protesting gun violence on the House floor.
The 36 council members at Monday's meeting unanimously supported reinstating Jones. The council had suspended its rules to allow an immediate vote instead of holding a monthlong nomination period.
Less than an hour later, Jones was sworn in on the steps of the state Capitol. He raised his fist as he entered the House chamber while supporters chanted, "Welcome home!"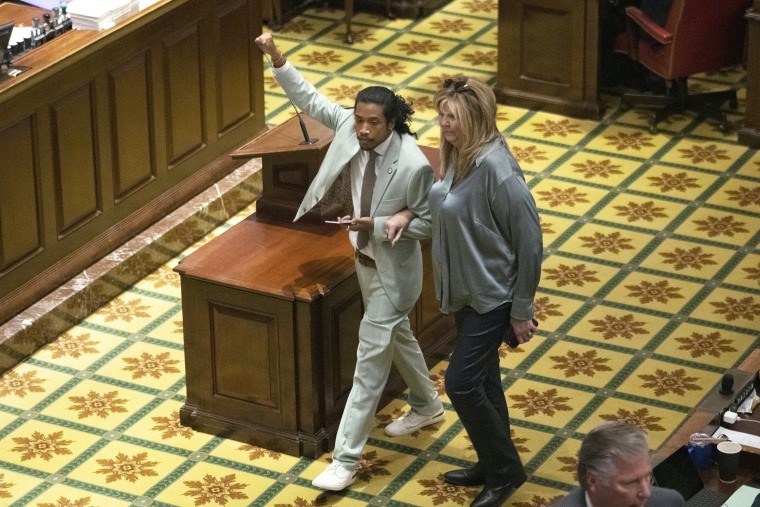 "I want to welcome democracy back to the people's house," Jones said in a speech on the House floor. "I want to thank you all, not for what you did, but for awakening the people of this state, particularly the young people. Thank you for reminding us that the struggle for justice is fought and won in every generation."
Jones and fellow Democrat Justin J. Pearson, who are Black, were expelled Thursday in House votes that drew national attention to racial dynamics in the state's legislative body.
Jones, Pearson and state Rep. Gloria Johnson had led supporters in chants calling for gun control measures after a shooting at a Nashville school killed six people, including three 9-year-old children. The three broke House rules and used a bullhorn when they were not recognized to speak.
House leaders cast the protest as an "insurrection" and voted Thursday to expel Jones and Pearson from the General Assembly. Johnson, who is white, survived her vote, which she suggested had to do with her race. After Monday's council vote, Johnson and Jones embraced and locked arms.
Hundreds of demonstrators who had assembled outside the Metro Nashville Courthouse marched to the State Capitol after the council vote. They were joined by Jones and Pearson.
"Today we send a resounding message that democracy will not be killed in the comfort of silence," Jones said, speaking in front of the Capitol. "This is not about one person. It's not about one position. It's about a movement."
Pearson said: "You might try and silence it. You might try and expel it, but the people's power will not be stopped."
The Shelby County Board of Commissioners, the body charged with choosing Pearson's successor, will meet Wednesday to consider action to reappoint Pearson to his seat, Chairman Mickell Lowery announced Sunday.
"I believe the expulsion of State Representative Justin Pearson was conducted in a hasty manner without consideration of other corrective action methods," Lowery said in a statement. "I also believe that the ramifications for our great state are still yet to be seen."
Cameron Sexton, the Republican House speaker, has committed to seating whomever the two bodies appoint to fill the vacancies, including Jones and Pearson.
"The two governing bodies will make the decision as to who they want to appoint to these seats," a spokesperson for Sexton wrote in a statement. "Those two individuals will be seated as representatives as the constitution requires."
In interviews since their expulsion, Jones and Pearson said they have felt tensions among their fellow legislators since they started in the majority-white Legislature. Jones said he and Pearson had a "target" on them since they joined the Legislature because of their race, ages and activist backgrounds.
Pearson added, "When you have people who make comments about hanging you on a tree and hanging Black people on a tree as a form of capital punishment, when you wear a dashiki on the House floor and a member gets up and they talk about your dashiki saying it's unprofessional, they're really sending signals that you don't belong here."
Democrats in Washington have rallied around Jones and Pearson. Vice President Kamala Harris traveled to Nashville on Friday to meet with the "Tennessee Three," as the group has been called, praising them for "channeling" their constituents' voices in speaking out against gun violence. President Joe Biden also called them and invited them to visit the White House. He had called their expulsion "shocking, undemocratic, and without precedent."
Nashville Metropolitan Council member Zulfat Suara said: "He's a duly elected representative of his constituents. They voted him in. They chose him. They want him to speak for them. We cannot stop the voices of the masses or what the voters wanted. That would not be good for our democracy. What the state did [Thursday] is that: kill democracy."
Black Nashville residents expressed outrage at the ousting of the two lawmakers, saying it silenced their voices. "It's like our vote doesn't matter," one resident said.
Expulsion from the Legislature has been a rare punishment reserved for the most serious offenses, with only a few such instances in the last several decades. Unlike in those cases, Jones and Pearson were not charged with or convicted of breaking the law.
Under state rules, Gov. Bill Lee, a Republican, must schedule a primary for Jones' and Pearson's seats within 60 days and a general election within 107 days. Both Jones and Pearson have said they will seek re-election.