FORT BERTHOLD INDIAN RESERVATION, N.D. — For more than a year, Tiffany Hunts Along has lived in a cherrywood mobile home high on a ridge in western North Dakota, where she knows every jagged hilltop and every flat field. But when asked last week about her street address, she was stumped.
"Hold on," said Hunts Along, 40, after reaching for her newly issued tribal identification card. "That's right — I live on Medicine Otter Loop."
When she, her husband and their young children — Native Americans belonging to the Three Affiliated Tribes, also known as the M.H.A. Nation — moved into the White Oak Park community, there was no street signage and no direct postal service to the home. She fetches the family's mail from the nearest post office on the other side of town; her old tribal ID had listed her address as a post office box.
She never bothered to learn her street's name — until now.
Hunts Along plans to cast a ballot in Tuesday's midterm election, but a change made by North Dakota lawmakers has forced her and an estimated 5,000 tribal citizens who may have IDs with a post office box address to obtain either a new state-issued or tribal identification showing their street address in order to vote. The requirement — meant to prevent voter fraud, state officials say — went into effect in early October.
Nowhere in North Dakota is the registration process more complex — and urgent — than on reservations. Voter rights groups are scrambling to ensure residents understand why they might be turned away at the polls when they present an ID. Absentee ballots must list a home address as well, not a post office box.
The 11th-hour push comes amid a competitive U.S. Senate race in solidly red North Dakota, where the stakes are high: Sen. Heidi Heitkamp, a Democrat, won by fewer than 3,000 votes in 2012. Native Americans, who largely vote Democratic, helped to tip that race in her favor, and she earned more than 80 percent of the vote in the state's majority-Native counties. Recent polls, however, have given her GOP challenger, Rep. Kevin Cramer, a double-digit lead. His victory would boost the Republican Party's chances of holding on to their slim majority in the Senate.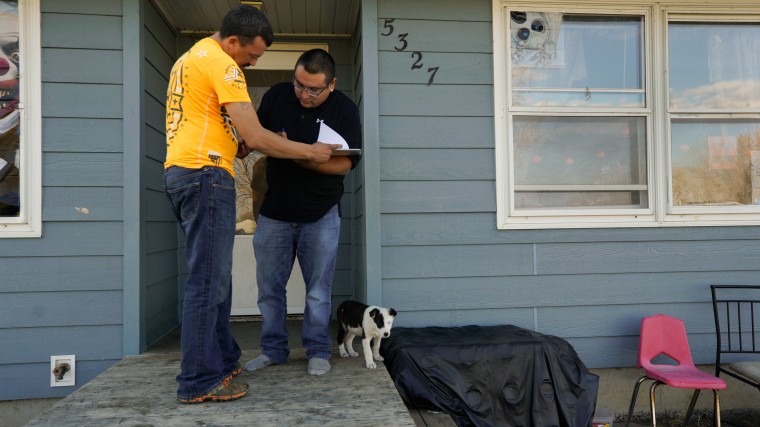 At least 1,360 people have gotten new IDs since the law was changed, according to tribal officials across the state, amid a major get-out-the-vote effort across North Dakota's five reservations ahead of Election Day. To apply for new IDs, tribal citizens are digging through housing documents or calling their county or 911 services to nail down their address. When actual ones can't be determined through the local government, tribes have been creating their own as a workaround.
Patty Ferguson-Bohnee, director of Arizona State University's Indian Legal Clinic, said post offices are an integral part of Native Americans' lives, and that she had never heard of a state reworking voting laws to target people who rely on P.O. boxes.
"This alleged voter fraud shouldn't trump Native Americans' fundamental rights," Ferguson-Bohnee said. "This is a practice, a targeted practice to try and suppress the vote."
'All we want is our vote'
North Dakota is the only state in the nation that doesn't require residents to register before voting — long held as a point of pride in this sparsely populated prairieland.
In previous elections, voters could use a variety of documents to prove they are state residents and have a current address.
For those lacking the appropriate ID, state law even allowed poll workers to vouch for a voter's identity — which was helpful in rural communities, including on reservations, where people are more likely to know one another. Voters could also self-certify their ballot by signing an affidavit at the polling station.
But after Heitkamp won in 2012, the state's Republican-led Legislature decided stricter rules were necessary in the event of voter fraud. Republican state Rep. Dan Ruby told The Nation that his party's loss "shined a light" on the issue of strengthening voter ID registration and made it a priority, but denied any bill was introduced in order to suppress the Native vote.
As lawmakers rewrote the voter ID registration laws, several Native American voters who say they were disenfranchised in 2014 filed a lawsuit in 2016 claiming the changes were unconstitutional.
A federal appeals court in September sided with the state and overruled a district court judge who said that post office boxes are acceptable. The U.S. Supreme Court, responding to an emergency appeal, voted 6-2 earlier this month to allow the appeals court's ruling to stand — meaning the voter ID changes are in effect for the midterm election.
Another lawsuit was filed late Tuesday in U.S. District Court by the Spirit Lake Tribe and six people against Secretary of State Al Jaeger, claiming that having to find and assign addresses has been "incomplete, contradictory and prone to error on reservations."
Jaeger, a Republican who oversees the state's elections, said the state does not comment on pending litigation. He has previously voiced his support for the ID changes, although said voter fraud is not a significant issue in North Dakota.
During the second Senate-race debate between Cramer and Heitkamp, the issue of the voter ID law came up. Cramer said the "integrity of the ballot box is very precious," and that he didn't believe alterations to the law disenfranchise Native residents. Heitkamp disagreed, and said Republican lawmakers "decided there are certain people in North Dakota they don't want to vote."
Chase Iron Eyes, a lawyer who lost to Cramer in 2016 as the Democratic candidate for a seat in Congress, said the more restrictive measures are a "solution to a problem that does not exist."
While Native Americans make up just over 5 percent of North Dakota's 750,000 residents, congressional elections can turn on a few thousand votes — meaning the Native bloc can't be discounted, Iron Eyes added. As a member of the Standing Rock Sioux Tribe, he believes his people are being "taken advantage of again" by the government.
"They didn't need an address when they took our children and rounded them up into boarding schools, and they didn't need an address when they conscripted us to fight in the military and make a worthy and honorable sacrifice," Iron Eyes said. "But now they need our address when we want to exercise our right to vote."
He added: "All we want is our vote."
Last-ditch effort
In the Fort Berthold Indian Reservation, where oil-well sites cast an eerie orange glow at night, about 6,000 citizens reside within an expanse three times larger than Los Angeles. They endearingly call it "the rez." A postcard view of Lake Sakakawea, a pristine spot for fishing and camping, belies the modest homes and meager resources across a community where well-paying jobs outside of the oil industry are in short supply.
Residents' ancestral roots stretch back several generations here, and whether people are able to thrive socially and economically could depend on whom they support politically, given that reservations count on billions of dollars worth of federal programs and grants.
The Standing Rock Reservation has become a staging ground for the pre-Election Day frenzy. In Fort Yates, where the tribal headquarters are located, voting rights groups crammed inside a squat one-room building that serves as a canvassing command center. Posters proclaim: "Standing Rock Will Vote."
The Bureau of Indian Affairs building in Fort Yates — the only place in Standing Rock where it's possible to get a new ID — helped at least 70 people during one day last week. IDs, which normally cost $5, are being printed for free through the election.
"We're on fire," said Phyllis Young, 70, a Standing Rock elder and organizer with the Lakota People's Law Project, which is working with tribal leaders and Native American voting rights group Four Directions. They are nonpartisan, and the canvassers, who are paid, are careful not to sway voters to a particular political party.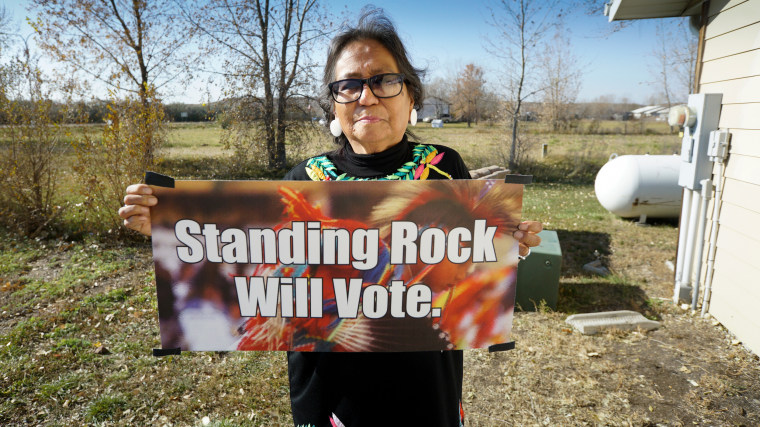 Young, a longtime activist and opponent of the Dakota Access Pipeline, the project that drew thousands of protesters to the area two years ago, said the change in the voter ID law has hit home: For years, she gave visitors her address as "7 miles by highway marker 14 by the Porcupine turnoff" — as good as any street name that can be printed on an ID card.
"We point with our fingers, we point with our lips, and that's the direction we go," said Young, whose home now has a street number on it after she scribbled one with permanent marker.
But convincing fellow citizens to get a new ID doesn't come easily. Some who spoke with canvassers shrugged and said their vote didn't matter. One resident repeatedly slammed her front door on canvassers, and an elderly man who tried to get a new ID later said he regretted leaving his home after learning how involved the process was going to be.
Jeffery White Twin, 27, and his girlfriend, both without transportation, climbed into a canvasser's van to get new tribal IDs. Their old ones only had a post office box. They also filled out absentee ballots.
For White Twin, who is taking GED classes and does not regularly vote, "it was a big step," he said, hoping that someone can bring jobs to a community where the unemployment rate is stuck at over 60 percent.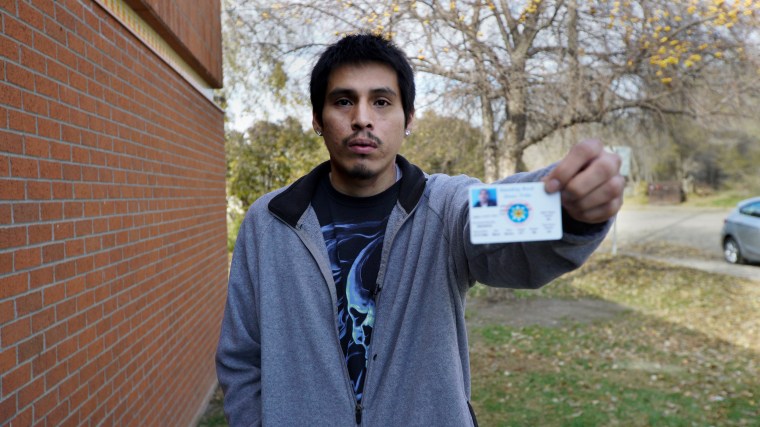 Elsewhere among North Dakota's tribes, the mad dash to get citizens new IDs is gaining traction.
At the Turtle Mountain Band of Chippewa Indians, whose reservation is about 15 miles from the Canadian border, some 250 people showed up in a single day to get new cards. The tribe's ID printing machine became so overheated that it melted cards, tribal officials said, so they brought in four new ones.
At the M.H.A. Nation, the enrollment director said there has been a surge of more than 300 people requesting an ID since the beginning of the month.
On a late afternoon last week at the Fort Berthold Indian Reservation, a trio of canvassers armed with clipboards — Cesar Alvarez, Cheryl Abe and Sterling Reed — took a divide-and-conquer approach in the Four Bears Village neighborhood, where some streets don't have signs. Alvarez's house doesn't pop up on Google Maps.
At one home they visited, a woman said she hadn't realized a tribal ID, which is federally recognized and can be used to get through airport security or open a bank account, may not be acceptable for voting if it only shows a post office box. She said she planned to vote.
"Let us know if you need a ride," Abe said.
After ping-ponging between blocks where some people didn't answer their doors and others said they already had sufficient IDs, the canvassers regrouped inside Alvarez's home. They counted seven people who signed paperwork to receive absentee ballots.
They agreed it was a good start, but on maps they printed of the neighborhood, there were many more doors to knock on. The reservation itself unfolds on 1 million square acres across six counties, which can be a logistical headache.
Alvarez, 27, vowed to press on: "If we're not doing this," he said, "who will?"