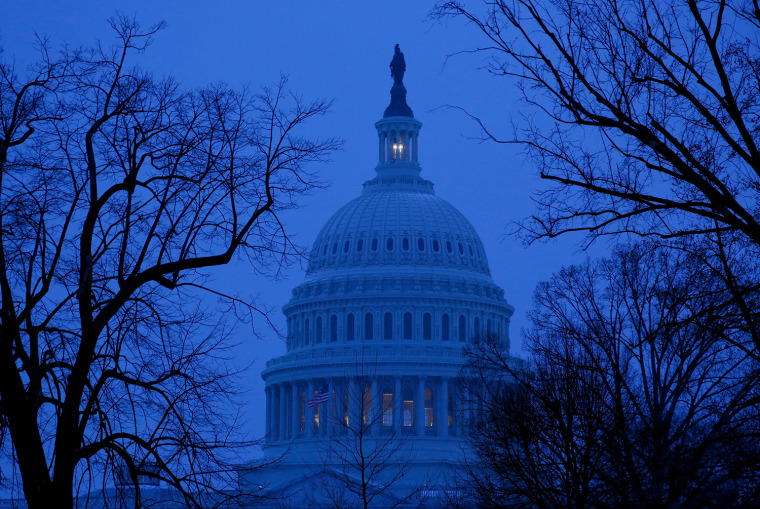 As President Barack Obama enters his sixth year in the White House, 68 percent of Americans say the country is either stagnant or worse off since he took office, according to the latest NBC News/Wall Street Journal poll.
Just 31 percent say the country is better off, and a deep pessimism continues to fuel the public's mood. Most respondents used words like "divided," "troubled," and "deteriorating" to describe the current state of the nation. 
On the eve of Tuesday's State of the Union address, more than six-in-10 Americans believe that the nation is headed in the wrong direction and 70 percent are dissatisfied with the economy.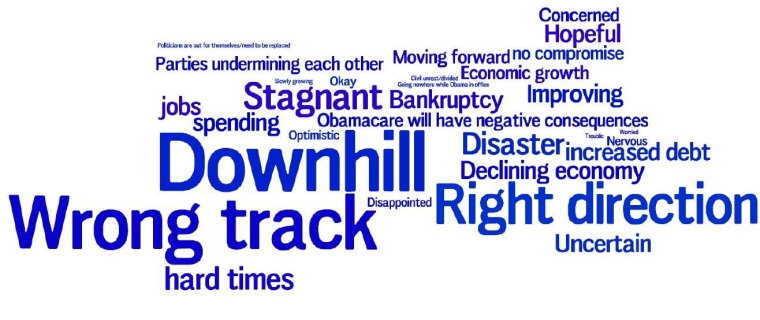 It's not just Obama under fire. A whopping 81 percent disapprove of Congress and twice as many Americans now hold negative views about the Republican Party as positive ones. 
Democratic pollster Fred Yang, whose firm conducted this survey with Republican pollster Bill McInturff, compares these findings to the 1993 movie "Groundhog Day," in which the protagonist finds himself living the same day over and over. 
"It seems like we've been re-living the same basic dynamics -- a public that is anxious, dissatisfied and dismayed -- in a continuous loop," he said. 
But Yang adds that Obama's upcoming State of the Union address is his administration's "best chance to try to achieve a reset with a focus on the economy after last year's glitches" with the health care law. 
Obama's job rating stands at 43 percent
Ahead of the president's Tuesday speech, the NBC/WSJ poll finds 43 percent of adults approving of his job and 51 percent disapproving -- virtually unchanged from a month ago.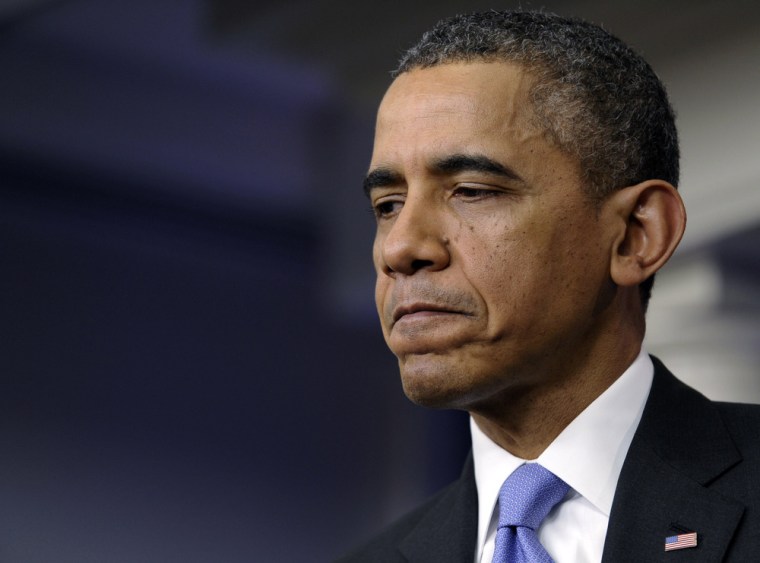 Also, for the third-straight survey, those who view Obama negatively (44 percent) outnumber those who view him positively (42 percent). 
According to GOP pollster McInturff, the president's net-negative personal rating makes it more challenging for him to boost his overall job-performance number. 
"His personal standing has taken a … hit that makes trying to restore your job approval very difficult." 
In more tough numbers for the president, only a combined 40 percent say they are "optimistic and confident" or "satisfied and hopeful" about the president's remaining time in office. By contrast, a combined 59 percent say they are "uncertain and wondering" or "pessimistic and worried." 
And by a 39 percent to 31 percent margin, Americans believe the country is currently worse off compared with where it was when Obama first took office; 29 percent say it's in the same place. 
Key Obama priorities enjoy majority support
But there are other numbers in the poll suggesting a foundation on which the president can improve his standing. 
For one thing, a majority of respondents -- 51 percent -- say he has a clear agenda, versus 43 percent who believe he doesn't. 
Additionally, many of the priorities Obama is expected to address in his State of the Union speech enjoy support from the public: 
63 percent say ensuring all children have access to preschool education should be a priority this year; 
59 percent say the same about closing tax loopholes benefiting corporations;
And 51 percent say the same about increasing the minimum wage. 
And despite all the troubles associated with last fall's health care rollout, 54 percent of respondents say fixing and keeping the law should be a priority, signaling a public that might want to move on from the partisan battles over the issue. 
That said, the poll still finds that the law is unpopular, with 34 percent viewing it as a good idea, compared with 48 percent seeing it as a bad idea -- virtually unchanged from last month. 
A public that's sour on the economy
Yet perhaps Obama's biggest challenge will be addressing a public that remains sour about the economy and the state of American politics. 
Only 28 percent believe the country is headed in the right direction, while 63 percent say it's on the wrong track. 
What's more, 71 percent are dissatisfied with the state of the economy (although more than 60 percent say they're satisfied with their own financial situation). 
And when respondents were asked which one or two words best describe the current state of the nation, the top answers were all negative: "divided" (37 percent), "troubled" (23 percent), and "deteriorating" (21 percent). 
Those answers were followed by "recovering" (19 percent), "broken" (14 percent), and "hopeful" (13 percent). 
And just 3 percent of all respondents picked "strong." 
Congress' job-approval rating: 13 percent
That pessimism isn't only directed at the White House. 
According to poll, just 13 percent approve of Congress' job – 1 point off the all-time low in the poll – while 81 percent disapprove. 
The Republican Party's favorable/unfavorable score stands at an upside-down 24 percent to 47 percent rating (versus the Democratic Party's 37 percent to 40 percent favorable/unfavorable score). 
And a majority of Americans -- 51 percent -- say Republicans in Congress are too inflexible in their dealings with Obama, while 39 percent say the same of the president. 
The NBC/WSJ poll was conducted Jan. 22-25 of 800 adults (including 240 reached by cell phone), and it has an overall margin of error of plus-minus 3.5 percentage points.