WASHINGTON — New Hampshire Secretary of State Bill Gardner, the stalwart protector of the state's first in the nation primary status, has for decades welcomed a parade of political stars to his office to file to run for president. No sitting president ever stopped by to file for re-election, but Gardner has said Hillary Clinton promised to do so in 2020 if elected in 2016.
Clinton, of course, won't be making that trip. And Gardner, 70, may not be there either, as New Hampshire lawmakers are poised this week to determine whether his outsize political role has finally run its course.
Gardner, a Democrat, has been in office since 1976 and won most of his 21 terms without contest. But quiet discontent in his party grew into an open rebellion in 2017 when Gardner agreed to serve on President Donald Trump's so-called Advisory Commission on Election Integrity, formed in response to Trump's unfounded claims of widespread voting fraud.
For Democrats, who have become increasingly focused on expanding voting access and fighting Republican-led election law changes across the country, Gardner's membership on the voting panel lent undeserved credibility to what many viewed as a partisan mission to erect new barriers to Americans' voting rights.
Gardner's status as the most prominent and influential secretary of state in the country could collapse on Wednesday, when the New Hampshire state House and Senate jointly convene to vote on constitutional officers
State House Democrats, who won back control of the chamber in the November midterm elections, voted overwhelmingly in a non-binding straw poll last month to support Gardner's challenger, Colin Van Ostern, the party's 2016 gubernatorial nominee. Gardner's survival now rests in the hands of Republican legislators and a faction of longtime Democratic officeholders who could remain loyal to Gardner in the secret ballot.
The New Hampshire secretary of state's portfolio includes administration of the state's vital and corporate records and securities regulation. But the office's occupant, uniquely empowered to set the date of the state's presidential primary so that it falls before any other, has a crucial role in national politics.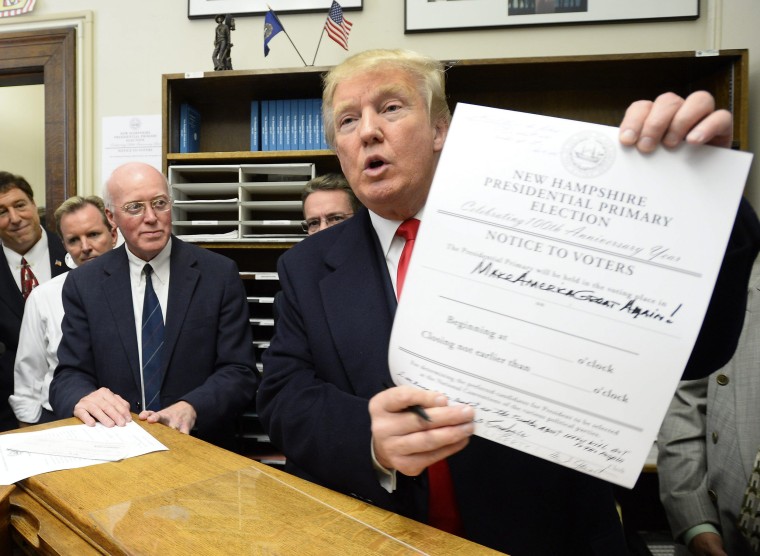 Under Gardner, the state has successfully fought attempts by both national party committees and individual states to shake up the order of primaries.
Gardner has resisted the argument that New Hampshire is too small and not ethnically diverse enough to wield such great influence in winnowing the field of presidential candidates. And he points to New Hampshire's long track record of high voter turnout and hyper-representative government — each member of the state House represents just more than 3,000 people, for instance.
Faced with a potentially career-ending vote, Gardner and his allies are mounting a furious last-minute campaign on his behalf, one that largely rests on his reputation as a nonpartisan broker and his evangelization of New Hampshire's preeminent electoral role to argue he should remain in place.
In a New Hampshire Union Leader op-ed, Steve Duprey and Terry Shumaker, longtime Republican and Democratic National Committee members, argued that Gardner's nonpartisan reputation has been an essential ingredient in helping build trust among other states to preserve New Hampshire's position — one that Van Ostern, who hasn't ruled out running for political office again, might imperil.
"The key to (Gardner's) success has been that he was not a partisan Democrat or Republican with political ambitions, but a dedicated public servant who is fully trusted by both parties to do the right thing without concern for his own political future or that of any particular presidential candidate," they wrote.
Five former governors — four Republicans and one Democrat — also endorsed Gardner last week, praising him for presiding over state elections "with absolute independence and incorruptible motive."
But many local Democrats disagree with that assessment, saying they've been frustrated for years over how Gardner had come to support Republican efforts to institute new voting restrictions, including a voter ID measure and a pair of laws that impose requirements on new voters to prove they lived in the jurisdiction where they want to vote. The latter, critics charge, was a GOP effort to curb voting by college students.
Van Ostern has also argued the office is long overdue for modernization, writing in the Union Leader Tuesday about frustration with a web site "that is often broken; of forms that sometimes just don't make sense; and arbitrary procedures dictated from the top that often seem locked in the past."
Gardner's willingness to join Trump's election commission was the last straw for many.
Criticism of that decision grew exponentially after the panel's vice chairman, Kansas Republican Secretary of State Kris Kobach, penned an op-ed just days before a meeting in New Hampshire last year claiming Democrat Maggie Hassan's narrow victory over Republican Sen. Kelly Ayotte in 2016 was "stolen through voter fraud." The state's Democratic congressional delegation issued rare public criticism of Gardner and called for him to resign from the panel.
Instead, Gardner used the commission meeting to respond publicly to Kobach. He huddled with long-serving advisors, who emphasized the need for a strong stand. Kobach would leave New Hampshire that day, one noted, but Gardner would remain to live with the consequences.
Gardner proceeded to sternly, though in his understated style, push back on Kobach, standing by the outcome of the Senate contest.
Maine Democratic Secretary of State Matt Dunlap, another member of the commission, defended Gardner, saying it was important for Democrats to serve on the commission to ensure the party had a voice in the process. Dunlap would eventually file a suit against the commission, which contributed to its disbanding.