The presidential race is well underway and up to two dozen Republicans are contemplating a presidential run. One Republican who is not - Nikki Haley.
The South Carolina governor was considered a rising star in the Republican Party as recently as the last presidential campaign. She seemed to the perfect up-and-comer for the Republican Party – a woman, a minority and a governor of an early primary state.
But with 2016 heating up, Haley's name is absent from the national conversation.
Haley's political history has been as eventful and colorful as any political bestselling novel – and it fits accordingly with the rough-and-tumble politics of South Carolina. She has ridden the drama, which has endeared her to her supporters and created enemies among others, to become the first woman and first Indian-American to govern the Palmetto State.
While she has triumphed politically in South Carolina, outperforming many of her opponents and winning reelection, her embroiled trajectory to the top of Palmetto State politics has also caused her to fall off the national Republican's radar. Political consultants fear that Haley presents too much risk.
"She looks really good on the surface, but when you start to do the vetting, you wonder if the vetting that was done on her in 2010 is enough to keep her out of the VP consideration."
Now that she easily won reelection, however, if there's a time for a national comeback, the time is now.
The Renegade
After her election to the South Carolina House in 2004, Haley dug into the trenches of the nastiness of South Carolina politics, battling Bobby Harrell, the powerful Speaker of the House. Haley successfully demanded that the House take on-the-record, up-or-down votes. Harrell retaliated by stripping her of her position from a powerful committee.
"She burned a lot of bridges when she was in the House, especially with Bobby Harrell," Alissa Warters, political science professor at Francis Marion University, said.
In 2009, Haley entered a crowded field of Republicans running for governor without the support of key Republican power-brokers. In part her outsider status was due to her relentless focus on cleaning up South Carolina politics, but there was more.
"In South Carolina, it's tough for women," said Republican Sen. Katrina Shealy, the only woman in the 45-member state Senate. "Women being in power and all these men – that's a South Carolina thing."
"These men are used to making all the decisions," Gerri McDaniel, public relations director with the South Carolina Tea Party, who said she worked 18-hour days to get Haley elected in 2010.
Haley's momentum surged after she received an endorsement by Sarah Palin, but her troubles didn't cease. Days after Palin's endorsement, Haley was accused of having two extramarital affairs, one with political blogger Will Folks, who stands by the claim.
Haley weathered that quite large storm and won.
Haley's National Rise
Haley's ability to beat back the entrenched, sometimes vicious and powerful Republican establishment caught the eyes of national Republicans.
She played the game, too. She wrote a memoir, which is common move for someone with national ambitions. She endorsed Mitt Romney during the Republican presidential primary on Fox News, another high-profile move. She traveled with Romney to events in fundraisers throughout the United States.
While her national profile was climbing, at home was a different story. Haley was still recovering from a brutal campaign and she was deeply unpopular. Her approval ratings were only in the mid-30s.
"She had a very bruising primary. It left a scar not only with her but with the party," said Palmetto State political strategist Luke Byars, who worked for Haley's Republican opponent in 2010. "Her support meant a great deal but it was more important (for Romney) to have her by his side outside of South Carolina."
Meanwhile in Columbia, Haley was still battling with her nemesis, Speaker Harrell, who arguably holds a more powerful seat as the South Carolina governors is one of the weakest executives in the nation. Harrell ceded no ground to the governor and forced her to fight at every stage.
After attending a fundraiser in Georgia in 2012, she backed a plan to drudge a port there, which would boost Georgia's trading economy over South Carolina's – a move that didn't sit well with South Carolinians.
Shealy, who was friends with Haley before they entered politics, said Haley is a "tough woman" but said gender politics also continued to play a role in Haley's local troubles. "I think it was tough for her being the first female governor. I think people weren't ready for that," she said.
Haley's National Fall
Then Romney lost the South Carolina primary to challenger Newt Gingrich by more than 12 percent. And Haley's troubles at home started to receive a more scrutinized look by national Republicans.
She was being investigated for conflict of interest ethics violations in a case that went to the state's Supreme Court. She was eventually cleared of those violations because it is legal in South Carolina to engage be paid by a company that has business before the legislature.
Haley was criticized for attending and speaking at the Republican National Committee in August as South Carolina's coastline was impacted by Hurricane Isaac. And South Carolina's Department of Revenue was hit with a massive security breach that led to the theft of more than 6 million South Carolinian's social security numbers. Haley was criticized for her response The State newspaper writing that "no consistent plan" exists for securing the data 18 months after the hack.
"She received a lot of criticism for a slow response," Warters said. "That's when you saw the national party say, ok, maybe not."
Haley's Local Resurgence
In 2013 Haley largely fell off the national scene. She turned her attention to South Carolina, focusing on jobs, education and ethics reform. The unemployment rate dropped from more than 10 percent to 5.3 percent in the spring of 2014. (The unemployment rate has crept back up to over 6 percent, but that is partly because some unemployed are resuming their job search.)
Her work has received praise from local establishment circles. In a state that has some of the worst economic statistics in the country including the lowest worker participation rate and lowest average incomes, Jim Dyke, a South Carolina political strategist who works with both local and national candidates, said Haley has done "a great job" on job creation and economic growth.
Haley's approval ratings began to rise to about 50 percent. And her biggest political foe, Harrell, was indicted for corruption and ethics violations.
During her local resurgence, Haley wasn't immune from controversy, however. More than 60 children died in one year under the Department of Social Services custody. And she got into a public fight on Facebook with her friend, Senator Shealy, over the director of the agency, whom Haley defended.
Still, Shealy praised Haley for her bulldog approach. "If she sees something she wants, she goes after it and I think she's really good at that," Shealy said. But Haley's strength is also her weakness. "But I think her fault is that if she sees something she wants, she goes after it. She's kinda got blinders on," Shealy added.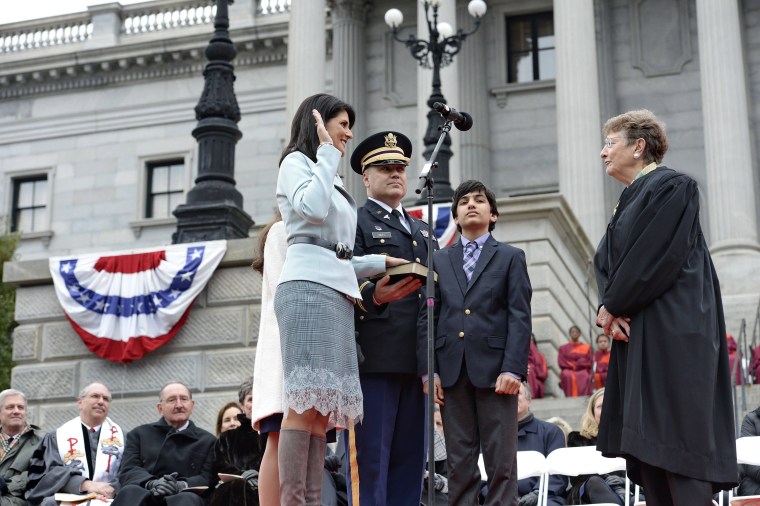 National Prospects in 2016?
Now that she has weathered numerous storms, and unexpectedly coasted to reelection, is Haley well-positioned for a national ticket?
As the presidential campaign heats up, Haley is barely mentioned as for a vice presidential run.
Dyke said that's largely because of the nature of the cycle.
"She made clear she was going to run for reelection so that tends to tamp down speculation," Dyke said. "I suspect when we get into the right season, that speculation can start to pick back up."
But the fact that she didn't win or as her advisers have said - want – a leadership at the Republican Governor's Association, could hurt her chances for a return to high profile politics.
Haley does still seem to invoke interest outside of South Carolina, people say. Shealy said that when she travels outside the state, people are really excited about Haley.
"Nationally her name is still really big," Shealy said.
But one consultant who has worked on numerous presidential campaigns and is gearing up for 2016 said Haley couldn't withstand the scrutiny that a vice presidential candidate has to face. He said the VP nominee has to be squeaky clean because no presidential candidate wants to risk their entire election on their number two.
"She looks really good on the surface," he said, pointing to her gender, ethnicity, and telegenic appeal. "But when you start to do the vetting, you wonder if the vetting that was done on her in 2010 is enough to keep her out of the VP consideration."
He points to rumors of an affair, which the blogger insists is true, and the ethics scandal that tainted her image.
"To go through all of that again, but on a national scale, I wouldn't wish that on her worst enemy," the consultant added.
Presidential candidates would likely be extremely risk averse to Haley especially since she would do nothing to contribute additional electoral votes. She comes from South Carolina, a solidly red state, which is largely out of the national discussion after the primary.
"She brings nothing to the ticket except for her gender and ethnicity, but she can't help you win South Carolina because it's already in the bag," Warters said.
Meanwhile, Haley will likely be courted by nearly every candidate traipsing through South Carolina leading up to the state's late February primary.
Former Florida Governor Jeb Bush stumped for Haley during her reelection campaign and New Jersey Governor Chris Christie attended her inauguration last week.
Regardless of whether or not candidates want her on their ticket – or if she wants to be on their ticket – she's going to be a very popular presence in the presidential campaign for the next year.