WASHINGTON — The U.S. Justice Department announced charges Friday against nine Iranians in what federal officials said was one of the largest state-sponsored computer hacking campaigns ever prosecuted by American authorities.
Deputy Attorney General Rod Rosenstein said the nine stole data from more than 140 U.S. universities, 30 American companies and five government agencies, as well as more than 176 universities in 21 other countries.
"Not only are we publicly identifying the foreign hackers who committed these malicious cyber intrusions, but we are also sending a powerful message to their backers, the government of the Islamic Republic of Iran," Rosenstein said.
Federal investigators said the group had the backing of Iran's Islamic Revolutionary Guard Corps and stole 31 terabytes of academic data and intellectual property from the U.S. targets, equivalent to 15 billion pages of printed data.
The nine men charged were working for a company called the Mabna Institute, which prosecutors said was formed in 2013 with the stated purpose of helping Iranian universities steal scientific research. U.S. authorities put the value of the stolen data at $3.4 billion and said the secrets were used by the Revolutionary Guard or sold for profit.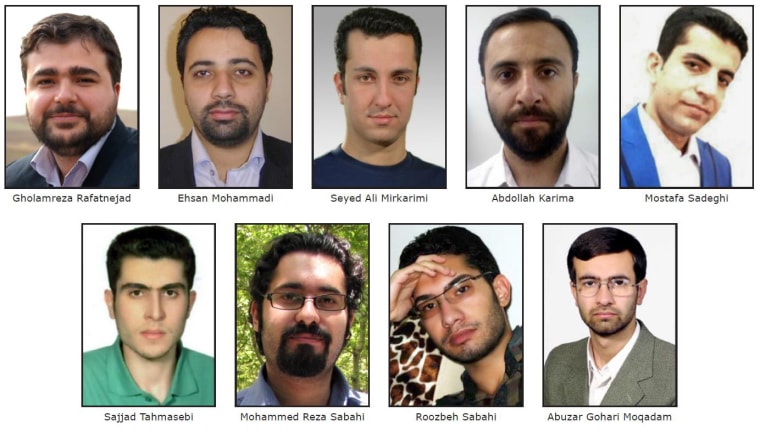 Geoffrey Berman, the U.S. attorney in Manhattan, said the hackers targeted more than 100,000 professors at universities around the world. Roughly 8,000 of them clicked on fake internet links, exposing their accounts to intrusion.
"At the crux of this case is the fact that the government of Iran systematically and methodically hacked into our country's computer networks with the intent to steal as much information as possible," Berman said.
Among other targets were the U.S. Department of Labor, the Federal Energy Regulatory Commission, the states of Hawaii and Indiana, and the United Nations. Officials declined to identify any of the universities or companies affected.
The U.S. has no extradition treaty with Iran, and it is unlikely any of the nine men will ever face trial in a U.S. courtroom. But David Bowdich, acting deputy FBI director, said the men are now international fugitives, subject to arrest if they try to travel.
As a result of the charges, Berman said, "the only way they will see the rest of the world is through their computer screens."
The U.S. Treasury Department also imposed financial sanctions on the Iranians and the Mabna Institute.