Voters expecting to see reflection or remorse from Republicans after their fiscal walloping are still hearing a familiar party line on Obamacare: no retreat.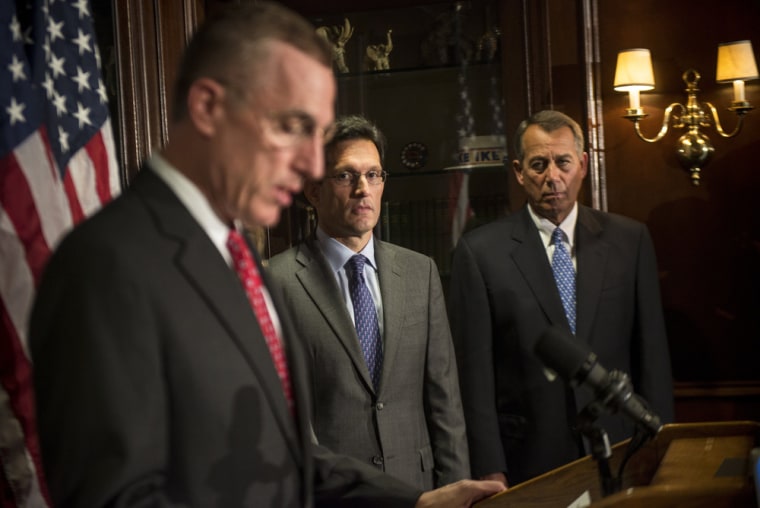 GOP approval ratings have sunk to record lows. Polls show that the public largely blames congressional Republicans for the standoff that took the United States to the brink of default. Republicans extracted no concessions despite their charge to gut Obamacare in exchange for keeping the government open.
The party now finds itself in worse shape than a year ago, when President Barack Obama decisively beat Mitt Romney in the presidential race and party leaders commissioned an autopsy to address problems with messaging and outreach.
Yet there hasn't been much soul-searching lately, and the last several weeks appear to be an afterthought to GOP leaders who have turned their attention right back to the health care law.
Following their very first meeting since the government reopened, House Republican leaders emerged to again assail Obamacare, with Majority Leader Eric Cantor proclaiming that Americans are "now fearful of their health care" and "downright scared about what's going to happen" with their care next year.
More to the point, Cantor pledged that Republicans "remain committed" to delaying the individual mandate in the law, one of the central Republican demands during the shutdown, a demand regarded as so unrealistic that it led to the fiscal impasse in the first place.
Reacting on Monday to September's jobs report, which showed the economy added 148,000 jobs last month, and a 7.2 percent unemployment rate, House Speaker John Boehner, R-Ohio, managed to turn focus to Obamacare as well: "Today's report shows the president has more than a troubled website to fix – he has a troubled economy, weakened by years of failed 'stimulus' policies and excessive red tape."
That report was delayed by 18 days because of the government shutdown. October's jobs report is due Nov. 1 and is expected to more fully account for the economic impacts of the shutdown.
"That's why in the weeks and months ahead Republicans are going to continue to work to stop the president's health care law, and to pursue pro-growth policies that strengthen our economy and expand opportunity for all Americans," Boehner added.
Still, Boehner and the dozens of other Republicans who criticized the most recent jobs report took the September figures as proof-positive that the GOP should forge ahead with its pursuit of repealing the health care law – even after a month which saw congressional Republicans fail repeatedly to make any changes or delay even portions of the law.
In a similar vein, the GOP is just as dogged in its criticism surrounding the launch of HealthCare.gov, the online portal through which consumers can now access insurance exchanges of the Affordable Care Act.
Rather, the portal's struggles seemed to have encouraged Republicans. Florida Sen. Marco Rubio suggested that a few more weeks of problems would finally crack Democrats' opposition to changes to the health reform law.
"I think every week that goes by, it becomes apparent that the problems inherent in the way this website operates are very significant," Rubio said Wednesday on CBS. "So I think as weeks go on, there is gonna be a look for a solution to this problem. Because it's not fair to punish people for not buying something that's not available."
Now, some party elders like former Florida Gov. Jeb Bush have called for the GOP to show some measure of "self-restraint" in the aftermath of the shutdown.
"It might actually be a politically — a better approach to see the massive dysfunction," he said about Obamacare, and the continued efforts to undo it.
Some Senate Republicans have been outspoken about the course their House colleagues have pursued. 
"I think we have fully now acquainted our new members with what a losing strategy that is," Senate Minority Leader Mitch McConnell told The Hill newspaper in one of several post-shutdown interviews he used to all but rule out a second shutdown.
But, for now, it doesn't seem that fellow Republicans are particularly interested in backing off of Obamacare.
Related