North Carolina's Legislature voted Tuesday to override the governor's veto of a 12-week abortion ban, allowing it to become law in a new show of power for the Republican Party in the state.
The GOP's supermajority voted to override Democratic Gov. Roy Cooper's veto of a bill that includes exceptions for rape or incest and a "life-limiting anomaly" in the fetus.
The Senate voted 30-20 along party lines, as did the House, where Republicans hold a 72-48 majority.
As the override was completed in the House, shouts of "Shame!" could be heard on the floor.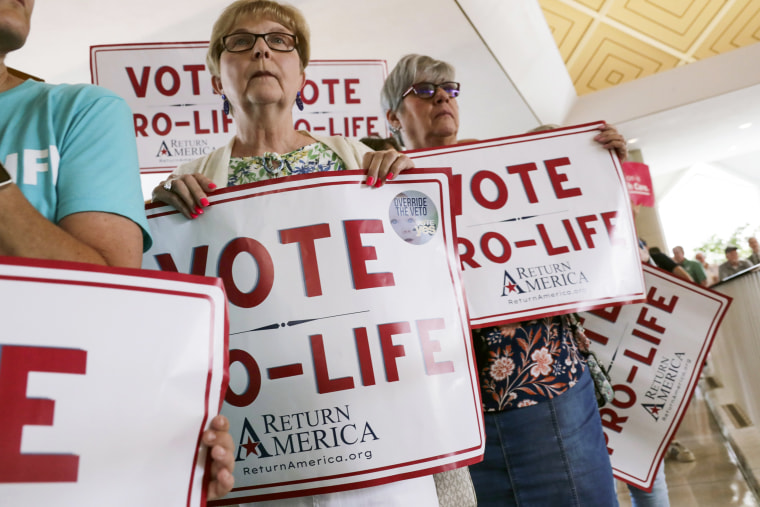 House Speaker Tim Moore said after the vote that the legislation "will save lives and provide needed support for women and families while putting North Carolina's abortion law in line with the most of rest of the free world."
"Today the North Carolina House of Representatives has affirmed the value of human life, and I am proud that the 'Care for Women, Children, and Families Act' is now law," he said in a statement.
Cooper vetoed the legislation Saturday, temporarily keeping abortion legal at up to 20 weeks.
He said after Tuesday's vote that several Republican legislators "broke their promises to protect women's reproductive freedom."
"North Carolinians now understand that Republicans are unified in their assault on women's reproductive freedom, and we are energized to fight back on this and other issues critical issues facing our state," Cooper said. "I will continue doing everything I can to protect abortion access in North Carolina, because women's lives depend on it."
Last month, state Rep. Tricia Cotham joined the Republican Party after having campaigned for and won her House seat as a Democrat, handing the Republicans a veto-proof majority that delivered Tuesday's override.
Cooper had spent the past week locked in a pressure campaign to encourage Republican legislators to break with their party and oppose the bill. In a video posted online, he named four Republican legislators who he said made campaign promises to protect abortion access.
"They say this is a reasonable 12-week ban. It's not," Cooper said in the video. "The fine print requirements and restrictions will shut down clinics and make abortion completely unavailable to many women at any time, causing desperation and death."
Some provisions of the law, including the ban on abortion after 12 weeks, are set to take effect July 1.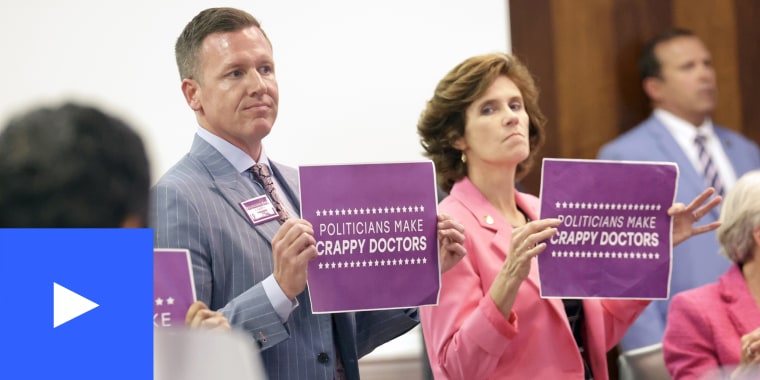 The ban is a less restrictive threshold than other conservative legislatures have implemented. It includes exceptions for rape or incest and a "life-limiting anomaly" in the fetus.
The measure will place new restrictions on abortion access and require in-person physician visits at least 72 hours before people have surgical abortions. Doctors must also make real-time views of fetuses available and allow women seeking abortions to listen to the their heartbeats.
Opponents say the new law will effectively curtail abortion access in a state that has become a haven for women seeking the procedure. Aftermath the U.S> Supreme Court's overturned Roe v. Wade last June, North Carolina had a significant increase in the number of abortions provided, suggesting that women from surrounding states may have flocked to North Carolina to bypass strict abortion bans, according to numbers compiled by the nonprofit Society of Family Planning.
In neighboring South Carolina, state legislators Tuesday debated a ban on abortion after roughly six weeks of pregnancy. The GOP-led state Senate has failed three times since Roe was reversed to pass a near-total abortion ban.
North Carolina's veto override also took place as legislators in Nebraska approved an effort to include a ban on abortion after 12 weeks in a bill that would prohibit gender-affirming care for minors. A six-week abortion ban failed to advance last month in the Republican-led Legislature.
In floor remarks Tuesday night, North Carolina House Speaker Pro Tem Sarah Stevens defended the legislation that Cooper had vetoed, arguing that it strikes a balance.
"The things in this bill are not obstacles to abortion. They're safeguards. We seek to balance protecting unborn babies while ensuring the safe care of mothers," she said, casting the bill as "a mainstream approach" to limiting abortion.
Democratic Rep. Marcia Morey countered: "What we are debating is anything but mainstream. It is extreme — extreme government control over a woman's most basic private right to make her own health care decision."
The bill's three Republican co-sponsors and the Senate majority leader did not immediately respond to requests for comment Tuesday.
In a statement criticizing North Carolina Republicans, White House press secretary Karine Jean-Pierre called the legislation "dangerous."
"In the more than a dozen states with bans, women have been turned away from emergency rooms, left with no choice but to travel hundreds of miles for the care they need, and faced complications that put their lives and health at risk," she said. "Like those laws, the North Carolina ban will harm patients and threaten doctors for providing essential care."