Both parties have now held primetime presidential debates – two for Republicans and one on Tuesday night for Democrats.
But a newcomer to American politics could be forgiven for wondering if the two sets of candidates resided in the same nation at all. One party vied to capture primary voters who are socially conservative, conflicted on immigration policy and deeply concerned about national security; the other warred on Tuesday night to appeal to voters for whom climate change, income inequality and gun violence are among the nation's most pressing issues.
We scoured the transcripts from the August 6 GOP debate and the October 13 Democratic debate to see where the big differences - and similarities - between the parties were.
Both parties mentioned President Barack Obama the same number of times – obviously with vastly different levels of approval -- and nations like China and Russia received similar attention. Promotion of small businesses and the value of education were mentioned about the same number of times as well.
But other partisan foes received lopsided attention. Republicans focused intently on their expected Democratic general election foe, Hillary Clinton, referencing her name 27 times during their contest; Democrats mentioned Republican frontrunner Donald Trump just three times in the course of their debate.
Several issues went almost completely unmentioned by one party while dominating much discussion from the other.
Democrats, who have tacked leftward on issues of closing America's income gap, lambasted Wall Street – with 25 mentions – and discussed banks (16) and inequality (9) at length. Those three words went almost ignored in the first GOP debate, with just three references total.
The phrase "climate change" was also referenced 22 times during the first Democratic debate, versus precisely zero in the first GOP contest. Democrats also engaged in a vigorous debate over gun violence on Tuesday, mentioning the word "gun" a whopping 42 times in their debate. (Note: The Democratic debate was held after the mass shooting at Umpqua Community College; the first GOP debate was well before that incident.)
The Republican primary has been largely dominated by conversation about undocumented immigrants, driven in part by Donald Trump's controversial rhetoric on the subject. In their first contest, Republicans referenced "immigration," "amnesty" and the "border" a total of 46 times. The equivalent tally for Democrats? Just 11.
Social issues, particularly amid the ongoing debate over federal funding for Planned Parenthood, were particularly salient for Republicans in their first debate. Abortion and Planned Parenthood earned a combined 18 mentions from the GOP, while the Democratic debate's single reference to the women's health group was a message of support from Hillary Clinton.
Democrats did not reference the phrases "radical Islam" or "religious liberty" – two topics of discussion for Republicans.
And to dig deeper, here are some of the top issues, phrases and individuals mentioned by each party, by number of mentions during each debate:
Democrats
Obama – 34
Wall Street – 25
Syria – 22
Climate Change – 22
Russia – 16
Banks – 16
Iran – 14
Gun - 42
Marijuana – 11
Education – 10
China/Chinese – 13
Immigration – 9
Inequality – 9
ISIS/ISIL – 5
Small business – 4
Marriage – 3
Trump – 3
Obamacare - 2
Planned Parenthood – 1
God – 3
Terror - 3
Border - 2
Abortion – 0
Faith – 0
Religious liberty – 0
Amnesty – 0
Radical Islam - 0
Republicans
Obama – 34
Clinton – 27
Iran - 26
ISIS/ISIL - 22
Border – 20
God – 19
Immigration – 18
Terror – 15
Education – 11
Abortion – 10
Russia – 9
Obamacare - 9
China/Chinese – 8
Amnesty - 8
Planned Parenthood – 8
Small business - 5
Radical Islam – 4
Religious liberty – 4
Banks - 2
Wall Street – 1
Syria – 1
Gun - 2
Climate change – 0
Inequality – 0
Marijuana – 0
We also visualized the words mentioned throughout both the August 6 GOP debate and the October 13 Democratic debate. To make these visualizations, we used Wordle, an online word cloud technology. (We also scrubbed the transcripts from each debate to remove proper names, common verbs like "know" and "want," titles, and reactions from the audience.)
There are some big similarities -- after all, the candidates are all auditioning for the same job -- but look at some of the smaller words to get a sense of the big differences between the parties.
Here's the word cloud for Republicans: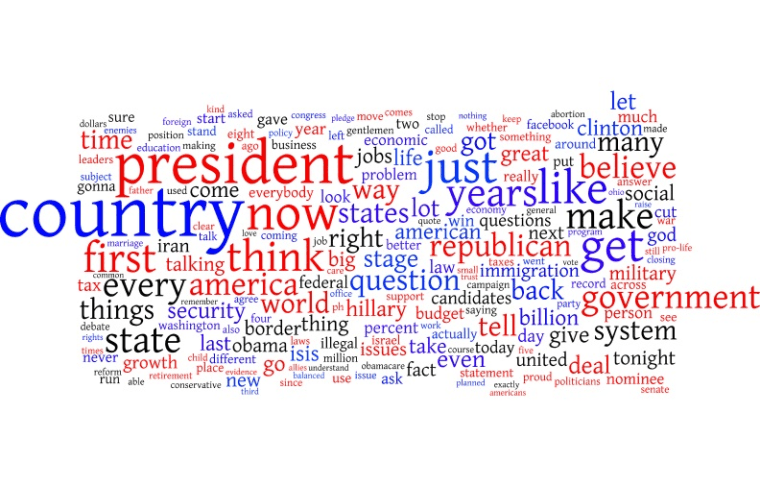 And for Democrats: