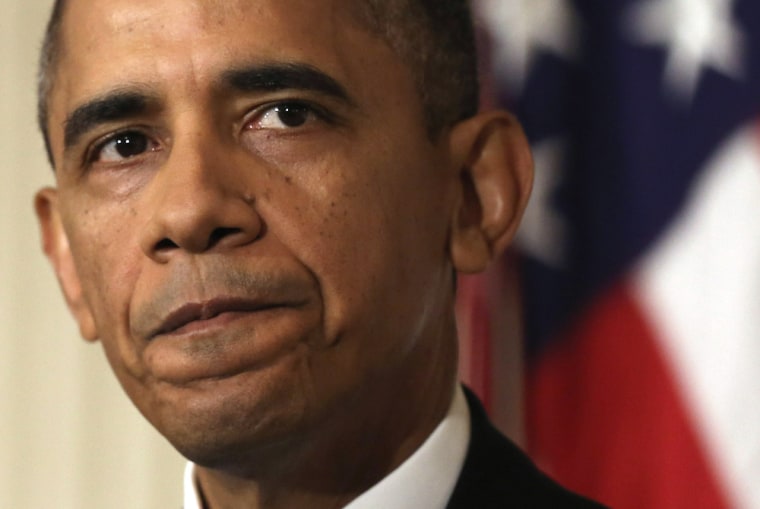 President Barack Obama's seemingly hands-off management style is raising fresh questions and concerns that could upend his second-term legacy.
Claims by the administration and other Democrats that Obama didn't know about sensitive matters in his own administration -- such as problems with the health care website and revelations of National Security Agency surveillance on foreign leaders -- have many in Washington scratching their heads.
"It all fits as part of a pattern. Who is in control? Who is running things? There are a lot of questions," said Democratic pollster Peter Hart, who helps conduct the NBC News/Wall Street Journal poll, which Wednesday showed Obama's approval rating dropping to an all-time low.
Obama has been hammered for being unaware of potential glitches that disrupted the launch of the online marketplace for Americans to browse and purchase health plans. Health and Human Services Secretary Kathleen Sebelius told CNN last week that Obama wasn't aware of the we problems until "the first couple of days" after its launch.
Even Democratic allies of the administration question why Obama didn't know about the serious problems, and express concern about his personal response.
"I think he might have been better off by standing up and saying this happened up on my watch and take responsibility for it. I think that's better than saying he didn't know," said veteran Democratic strategist Bob Shrum. "I think people expect the president, on his signature program, to be on top of it."
"The president's certainly got some work to do in getting people focused on his agenda," added Democratic operative Jamal Simmons, who floated the idea of the administration bringing in an adviser from outside Obama's close-knit inner circle to shake-up internal thinking. "Mainly it just seems that the White House has been reacting to issues as they arise and not getting out there and setting the agenda."
David Axelrod, a former top aide to Obama, told NBC News that the president needs to be vocal in his response.
"Internally, I'm sure that there is a lot, a lot of strong words being exchanged between the president and people who are accountable for some of these things that have cropped up here," Axelrod said. "He needs to show some of that in public, he needs to show some of that edge, some of that anger. Because after all, the Affordable Care Act is something he ventured much of his political capital on, and he believes deeply in it."
The administration has also struggled to respond to angry foreign leaders, like German Chancellor Angela Merkel, whose personal communications were reported to have fallen under surveillance by the NSA. Senate Intelligence Committee Chairwoman Dianne Feinstein said earlier this week that "it is [her] understanding that President Obama was not aware" of the fact that Merkel's communications were being monitored since 2002.
Obama himself hasn't answered the question of whether he was aware of surveillance of Merkel or other foreign leaders, prompting a major diplomatic headache for an administration two months removed from an international debate over military intervention in Syria. The White House has only said that the U.S. intelligence practices are under active review.
When Democratic allies of Obama's like Sebelius or Feinstein say the president was unaware of these practices, it helps distance the president from the missteps of agencies under his command.  And it's a reminder that even under the best of circumstances, presidents might not be able to grasp the full breadth of the government's activities on a daily basis.
"I think he is a good manager in some ways and not in others," said David Maraniss, a Washington Post editor and Obama biographer. "And in this case it shows the weakness in him, in terms of letting other people do things, in trusting them to a certain extent in some areas and in others over-managing them. It is a fine line he hasn't quite figured out."
But this defense also invites questions about whether Obama should have known more, and whether his management style is too hands-off.
Obama endured similar criticism earlier this year, when information about the IRS's inappropriate targeting of conservative groups came to light. Though Republicans heavily insinuated that Obama was aware of the targeting activities, they were incredulous at the administration's insistence that the president was uninformed.
The Obama administration has also faced charges that it was caught off-guard by crises like the Sept. 11, 2012 attack on the U.S. diplomatic compound in Benghazi, Libya, or to the summer 2010 BP oil spill in the Gulf of Mexico.
On foreign affairs, the president has had to parry attacks about "leading from behind" for seeming reluctance to spearhead U.S. intervention or state an explicit U.S. position in civil conflicts within Egypt, Libya and Syria.
And even on trivial matters, Republicans have gleefully tweaked the president for golfing on weekends during times of crisis, insinuating that Obama has spent more time focusing on his putt than pressing national issues.
The GOP, which is looking to bleed Obama enough to render him a lame-duck president as soon as possible, is all too happy to seize on any of these examples to damage the president.
But it was just two weeks earlier that internal Republican fissures dominated the headlines, illustrating the whiplash speed at which the public focus has moved in recent weeks. For that reason, Democrats aren't particularly sweating the recent tough stretch for Obama.
"We live in a media age of instant reaction and instant analysis," said Shrum. "Obviously people aren't happy about the exchanges -- it's become a big story, even though I think some of the stories have been irresponsible. That's what's in the information bloodstream right now. If the exchanges get fixed and the policies work for people, then we'll all be talking about something else."
Related: