President Barack Obama tried to refocus attention on the incomplete comprehensive immigration reform push Thursday, saying that "this is the moment we should be able to finally get the job done."
"Let's not wait," Obama said during a statement at the White House. "It doesn't get easier to just put it off. Let's do it now. Let's not delay. Let's get this done and let's do it in a bipartisan fashion."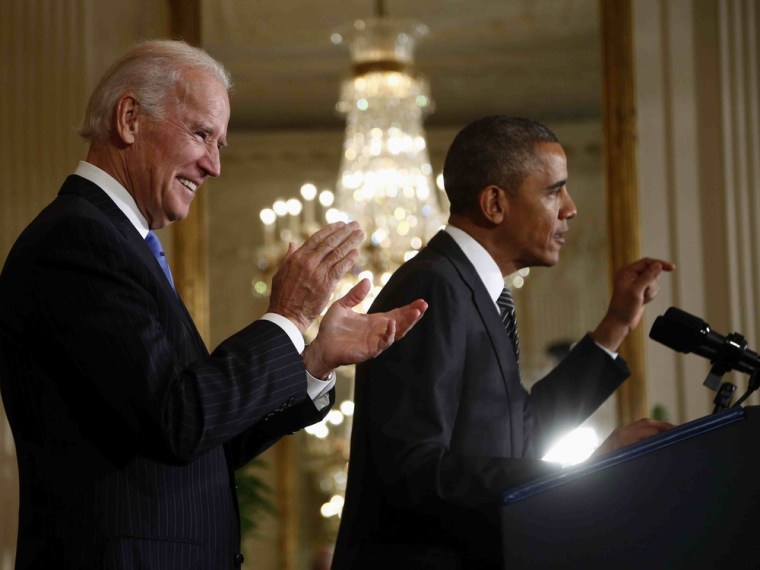 The president's remarks come as the rocky rollout of Obamacare's online health insurance exchanges continues to dominate headlines. Earlier this month, major immigration protests were largely drowned out by the government shutdown and the ongoing fiscal crisis.
Thanking pro-reform activists who have maintained pressure on Congress despite waning chances for action this year, Obama dipped into campaign-like rhetoric to urge another salvo. 
"You don't look like folks who are going to give up," he said. "You look fired up to make the next push." 
A spokesman for House Speaker John Boehner reiterated after the speech that the House GOP will not pursue one sweeping comprehensive immigration reform bill but will concentrate instead on the House's "step by step" legislation. That's an approach most Democrats reject. 
"The Speaker agrees that America has a broken immigration system and we need reform that would boost our economy," said spokesman Brendan Buck. "He's also been clear that the House will not consider any massive, Obamacare-style legislation that no one understands. Instead, the House is committed to a common sense, step-by-step approach that gives Americans confidence that reform is done the right way."
Acknowledging "disagreements" between the parties on major fiscal issues, Obama said he's not giving up on the bill he has called the top domestic priority of his second term, even as the number of legislative days left in the year dwindles.
Immigration advocates are hoping that House Republican leaders, alarmed at falling approval ratings and fearful of diminishing appeal to Hispanic voters, will take up legislation that would offer a path to citizenship – or at least legal status – for the nation's undocumented immigrants.
Movement on the reform push has stalled since the House declined to take up a Senate-passed comprehensive immigration reform bill earlier this summer. Now, several House Republicans have proposed separate legislation that would address the undocumented population, but it's unclear if Democrats in the House will back legislation that stops well short of the Senate bill's promise of the possibility for citizenship for most immigrants in the country illegally.
Obama did not specifically mention those separate Republican proposals, instead touting the Senate-passed legislation and a measure introduced by House Democrats that closely mirrors the upper chamber's bill. 
Proponents were optimistic Wednesday, when Boehner indicated that he is "hopeful" that the immigration issue will be taken up.
"I still think that immigration reform is an important subject that needs to be addressed and I am hopeful," he told reporters when asked if he will bring reform legislation up before the end of the year.
But Democrats are wary of GOP piecemeal efforts, which would stop short of the Senate bill's promise of the possibility for citizenship for most undocumented immigrants at the end of a long probationary period.
And conservative Republicans in the House warn that if any legislation passes the House, it could be melded with the Senate bill and injected with more Democratic priorities.