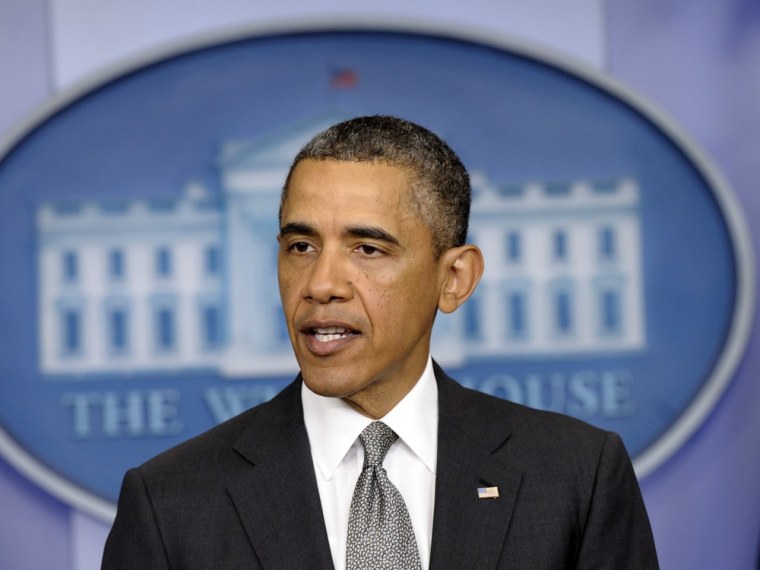 President Barack Obama will travel to Boston on Thursday to speak at an interfaith service dedicated to those injured or killed in the terrorist attack against the one of the city's most beloved events.
His trip to Massachusetts comes as investigators continue to sort through evidence from the dual blasts near the finish line of the Boston Marathon. His schedule had previously called only for unspecified meetings at the White House. 
Earlier on Tuesday, the president said he considered the tragedy to be an act of terror.
"This was a heinous and cowardly act, and, given what we now know about what took place, the FBI is investigating it as an act of terrorism," Obama said in a statement Tuesday morning in the White House briefing room. "And anytime bombs are used to target innocent civilians, it is an act of terror."
Obama's willingness to term the Boston attack as an act of terror represents a slight departure from his more careful words on Monday evening, in the immediate aftermath of the bombings. The president said last night, "We still do not know who did this or why and people should not jump to conclusions before we have all the facts."
Much of the uncertainty that hovered over the president's Monday remarks continued into Tuesday, when Obama said that investigators were still working to piece together evidence in hopes of identifying a culprit in the attack. 
"What we don't yet know is who carried out this attack -- or why --  whether it was planned and executed by a terrorist investigation -- foreign or domestic -- or was the act of a malevolent individual," Obama said on Tuesday, noting that the investigation was on beginning.
In Boston, the FBI has taken the lead in spearheading the investigation into the attacks, which took place near the finish line of the Boston Marathon, an annual tradition that draws throngs of crowds and takes place on a state holiday in Massachusetts. 
Obama said that he had been continually updated on the situation overnight by his national security team, including FBI Director Robert Mueller, Attorney General Eric Holder, Homeland Security Secretary Janet Napolitano and senior aide Lisa Monaco. (Every senator was invited to a classified briefing with Napolitano and Mueller on Tuesday afternoon at the Capitol.)
"We will find whoever harmed our citizens, and we will bring them to justice. We also know this: the American people refuse to be terrorized," the president said. "Because what we saw in the aftermath of the explosions were stories of heroism and kindness and generosity and love."
A top lawmaker on intelligence issues, Sen. Dianne Feinstein, D-Calif., said she was very confident investigators' efforts would ultimately lead to an arrest.
"I have great faith that an arrest is going to be made," said Feinstein, the chairwoman of the Senate Intelligence Committee. "I don't think it's going to be the day after tomorrow, but that's okay, it's going to happen."
Washington's typical political rhythms mostly groundto a halt, though, as lawmakers started to sift through information about the attack. 
"I talked to the White House yesterday, and the message we both had was, you know this is not a Republican, Democrat issue, this is an American issue," said Rep. Mike McCaul, R-Texas, the chairman of the House Homeland Security Committee, on "Morning Joe" on MSNBC. "It's one of those events that really transcends politics."
Said Senate Majority Leader Harry Reid, D-Nev. this morning: "Americans are still reeling from the senseless violence at the Boston Marathon yesterday. Our nation is united in its sympathy for the victims of the attack and their families."
NBC's Kasie Hunt contributed.