President Barack Obama took his economic road show to Phoenix on Tuesday, where he highlighted the effect his housing policies could have on furthering the recovery of the housing market in the Arizona city and dozens of other towns like it that were hit hard by last decade's mortgage crisis.
The president called for a series of reforms for both borrowers and lenders, which he said would help boost homeownership and protect the housing market from another crash similar to the one which devastated American financial system and prompted the onset of the 2008 recession.
"As home prices rise, we can't just re-inflate a housing bubble," the president told a crowd at a high school in Phoenix. "That's the second thing I'm here to talk about today: laying a rock-solid foundation to make sure the kind of crisis we just went through never happens again."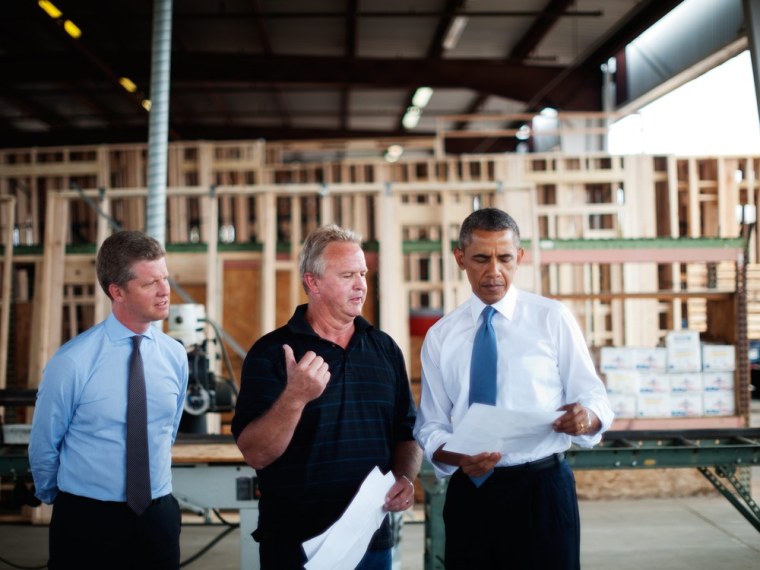 Obama's remarks were the latest in a series of speeches the president has delivered across the country in recent weeks to both boost his vision for middle-class growth and to set the contours for a debate with congressional Republicans this autumn over federal spending and the mounting national debt. 
"We've got to give to more hard-working Americans the chance to buy their first home. We have to help more responsible homeowners refinance their mortgages," Obama said in Phoenix, a southwestern city hurt particularly hard by the subprime mortgage crisis. "And we've got to turn the page on this kind of bubble-and-bust mentality that created this mess in the first place, and build a housing system that's durable and fair and rewards responsibility for generations to come." 
The president, however, did not touch on an issue that has commanded his administration's attention in recent days: the threat of a terror attack against U.S. interests abroad, which prompted the government to order the closure of almost two dozen embassies and led to the evacuation of U.S. diplomatic staff from Yemen this week. 
Obama instead focused his remarks squarely upon a series of housing reforms that he said would help advance the industry's recovery. 
On the consumer side, Obama asked Congress to pass legislation to allow homeowners to refinance their mortgage at current rates, and to cut down regulations for qualified borrowers. He argued for projects that would put construction workers on jobs repairing rundown homes or clearing vacant properties, and called for policies to ensure affordable housing. The president also asserted that immigration reform, which he's championed, would also help add value to the housing market.
As to lenders, Obama endorsed a bipartisan effort in the Senate to reform mortgage-backing giants Fannie Mae and Freddie Mac, which were taken into government conservatorship at the height of the financial crisis.
He also called for the government to decrease its role in the housing market.
Obama said that private lenders, rather than the government, should lead the housing market. ("I know that must sound confusing to the folks who call me a socialist," he joked in one of his few barbs toward Republicans – a minor contrast with some of his other economic speeches.)
The president also warned lenders who approve mortgages for subprime borrowers not to expect government assistance in the future. "We encourage the pursuit of profit – but the era of expecting a bailout after your pursuing your profit ... we're not going to do that anymore," he said.
Obama further called for lenders to preserve the use of familiar instruments like the 30-year, fixed-rate mortgage; he also encouraged lenders to support affordable housing and preserve advantages for first-time homebuyers as a way to encourage homeownership.
The president's speech was relatively sparse in terms of calling out Republicans compared to some of his preceding stops on his economic tour. Beyond his joke about being called a "raging socialist," Obama goaded senators to vote soon on Rep. Mel Watt, D-N.C., his nominee to head up the Federal Housing Finance Agency.
"He's the right person for the job," Obama said. "Congress and the Senate should give his nomination an up-or-down vote without any more obstruction or delay."