Opposition to Obamacare has united the GOP for the past four years, but now it's threatening to become a central fault line in the party's simmering civil war. 
While still unified on philosophical grounds against President Barack Obama's signature health care reform law, Republicans are no longer using "Obamacare" to pummel Democrats so much as each other. The divide exists between Republicans engaged in a crusade to repeal the law at all costs and those resigned to accept a government program three years into its implementation. 
"There's a schism between people who want to accept reality and be quiet and let the thing take its course, and another side that makes it into a cause célèbre," said former Rep. Steve LaTourette, the recently-retired centrist Republican congressman from Ohio.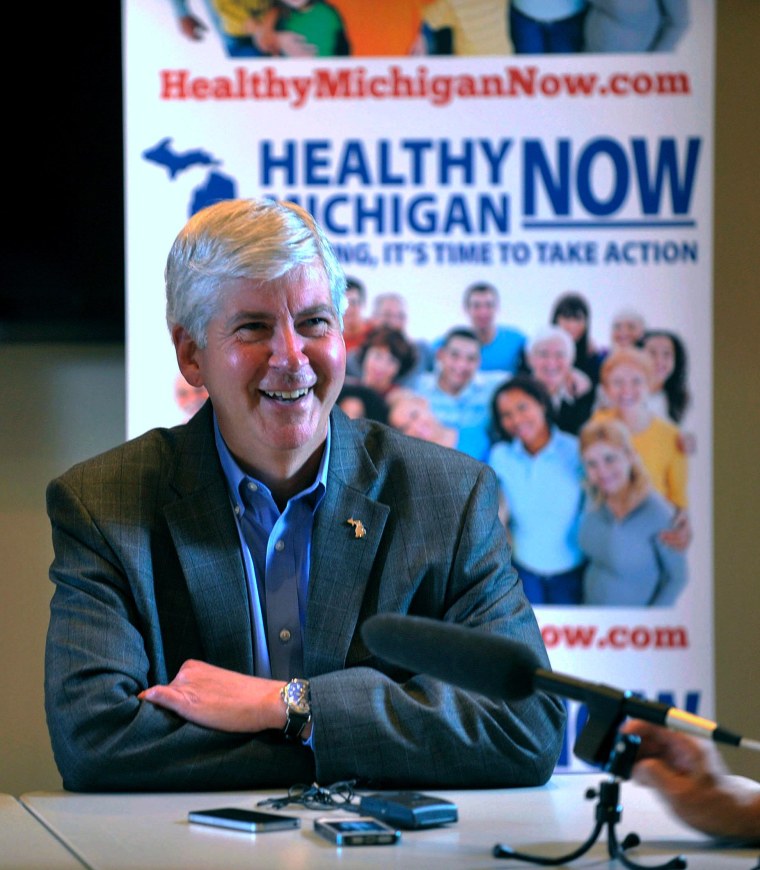 Some Republicans have begun relenting to the reality that the law is here to stay after numerous failed efforts to repeal it, Obama's re-election and the Supreme Court's ruling upholding the law's key provision as constitutional. But a number of Tea Party affiliated conservatives insist the law can be vanquished, even if it means shutting down the government.
In Congress, GOP leaders and a growing coterie of rank-and-file members have distanced themselves from a proposal that would threaten to shut down the government this fall unless Obamacare is defunded. And a variety of states have expanded their Medicaid rolls as prescribed by the law, with the support of their Republican governors. A few GOP governors have even established the state-based health exchanges allowed by the law.
The most noteworthy example came Tuesday evening, when Michigan Republican Gov. Rick Snyder — a "tough nerd" conservative who was swept to power in a generally Democratic state by 2010's anti-Obamacare wave — pushed through legislation to comply with the Affordable Care Act, over the objections of conservatives in a state House and Senate that are both controlled by Republicans.
Other Republican governors have overseen or supported the expansion of their Medicaid programs under Obamacare: New Jersey Gov. Chris Christie, New Mexico Gov. Susana Martinez, Gov. John Kasich of Ohio and Nevada Gov. Brian Sandoval, among others. (Christie is considered a top contender for the Republican presidential nomination in 2016, and several other governors could end up being candidates as well.)
"It's certainly not helpful when governors like Kasich and Snyder are forcing us to answer this question, about whether they would help move forward to Obamacare," said Mike Needham, the CEO of Heritage Action, a conservative group at the forefront of the effort to pressure lawmakers to defund Obamacare this fall or force a government shutdown.
Needham added: "I think there's definitely a divide between some members of Congress who are keeping that commitment and others who are like Meatloaf — I'll do anything for love, but I won't do that."
On Capitol Hill, conservatives like Sens. Ted Cruz, R-Texas, Rand Paul, R-Ky., and Marco Rubio, R-Fla., have led an effort to stage a politically dangerous shutdown of the government over Obamacare — the ultimate showdown, but one Republicans are decidedly unlikely to win.
And over the August recess, conservative groups have not focused their vituperation toward Democrats, or even Obama. Rather, Heritage Action — the political arm of the Heritage Foundation, now run by former Sen. Jim DeMint, R-S.C., — has traveled the country targeting fellow Republicans as apostates for refusing to sign onto the hard-line strategy. And the Senate Conservative Fund and Club for Growth have turned up the heat on key Senate Republicans for not joining with the conservatives' strategy.
In Kentucky, the duly elected leader of Republicans in the United States Senate — Mitch McConnell, a veteran of the chamber of 28 years — is facing more spirited opposition from conservative groups and their favored candidate, Matt Bevin, than his Democratic opponent, Alison Lundergan Grimes.
But the old-guard Republicans in the House and Senate have begun to reassert themselves. Arizona Sen. Jeff Flake, who cultivated a reputation as a fiscal conservative's conservative, shrugged off the SCF's attacks with a tweet: "Oh, whatever."
And a Kaiser Family Foundation poll released on Wednesday found that a third of Republicans disapproved of cutting off Obamacare's funding as a means of stopping it, though 60 percent of self-identified Republicans did express support.
Even if Republicans' passions against Obamacare have begun to fade, the issue is still a potent one. And if the bloodletting hasn't ended by 2016, LaTourette said the GOP's continued struggle to come to terms with Obamacare could cost the party another presidential election, its third straight loss.
"It'll cost us the White House in 2016 if we don't figure this thing out," he said. "While it's bad, maybe it's better to have this ruckus in 2013-14 and get it out of our system than 2016."