RICHMOND, Virginia -- Is Terry McAuliffe willing to stake his entire governorship on Obamacare just five months into his tenure?
Republicans in the Virginia state legislature this week won a standoff with the former DNC chairman that has been brewing since McAuliffe assumed office in January. A Democratic resignation in the state senate Monday cleared the way for both houses to pass a budget barring McAuliffe from expanding Medicaid under the Affordable Care Act.
Now, the governor faces a huge decision about one of his top legislative priorities – whether he expands Medicaid on his own.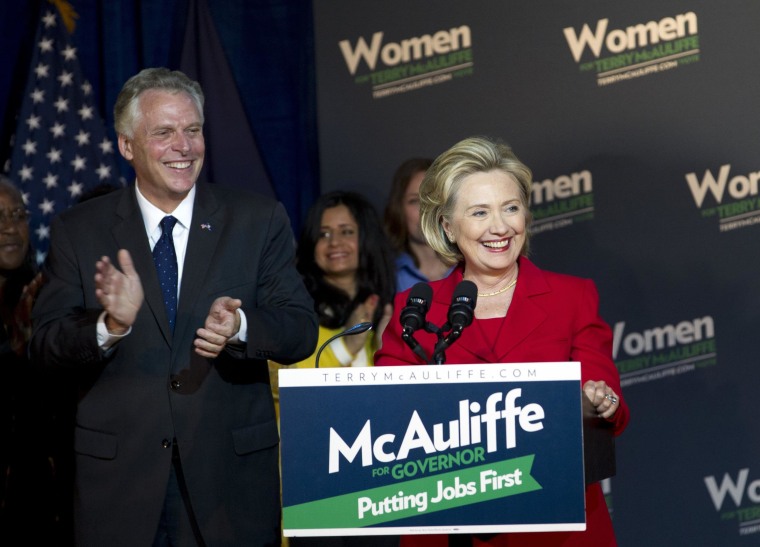 McAuliffe, according to Democrats here, has long been exploring a Medicaid expansion by using his administrative power as a governor, bucking the direct wishes of the legislature.
Republicans say they would file a lawsuit to block that move, arguing McAuliffe would be exceeding his executive authority. And, they warn, it would poison their relationship with the governor for work on other issues as well.
"It would be unconstitutional, and he would be putting himself in a very precarious situation both legally and - more importantly - with his relationship with the General Assembly," said Steve Landes, a Republican member of the House of Delegates who has been one of the leaders in the opposition to the Medicaid provision.
The fight over Medicaid in Virginia is part of a national debate over the health care law that persists four years after the legislation passed, even as millions of Americans have enrolled in the private marketplaces created through the ACA. Twenty-four states, all of which have either a Republican governor or a GOP-controlled state legislature, have opted against the provision in the ACA that puts essentially all Americans with a household income of below $32,000 a year in the Medicaid program.
This division between Republicans and Democrats is not simply about Obamacare, but reflects a long-standing ideological rift between the two parties. Democrats hail Medicaid as a program that helps those who cannot afford insurance and should be expanded, while Republicans believe it is economically unsustainable and encourages people not to work.
He's up against an immovable object
Many of those 24 states are in the South, but Virginia is unique: it is the only state where Obama won in 2012 and where a Democratic governor has not yet expanded Medicaid.
McAuliffe campaigned heavily on the issue during his 2013 campaign and then tried a number of strategies to get Republicans on board. During his first few months in office, he went to hospitals in rural areas around the state, emphasizing how they would benefit from new federal dollars going to the Medicaid program and hoping doctors and hospital executives could then sway Republicans. He has proposed a hybrid private-public Medicaid system, along the lines of what Iowa and Arkansas created to get conservative support in those states.
The governor, a close friend of both Clintons and a gregarious man known for having friends in both parties, also has tried to employ his personal charm, as Democrats in Washington have long unsuccessfully urged President Obama to do. Early in his tenure, McAuliffe invited legislators over to the governor's mansion during the evenings for informal receptions.
None of this has worked at all. Despite Virginia's increasingly Democratic tilt in national elections, the state's House of Delegates has just 32 Democrats and is dominated by its 68 Republicans, many of whom hail from rural, deeply conservative areas.
"They say 'all of my constituents hate Obamacare," said Katharine Webb of the Virginia Hospital and Healthcare Association, which supports the Medicaid provision.
Democrats had narrowly controlled the state Senate here and put through a Medicaid provision. But they were on the verge of conceding to the House on the Medicaid issue even before one of their members resigned last weekend and gave the Republicans the majority in the Senate.
That member, Sen. Phillip Puckett, even became the target of allegations of a bribery scheme, because he was rumored to be under consideration for a job on a state-funded tobacco commission that Republicans control. Puckett subsequently withdrew from consideration for the job.
But since his departure, the state Senate is now controlled by Republicans, who promptly stripped out a provision creating a Medicaid program. In a direct slap at McAuliffe, GOP lawmakers also added in a new section of the budget requiring that the governor must get legislative approval to expand Medicaid.
The governor declined an interview through a spokesman, and his staff would not talk about their deliberations about his executive authority on Medicaid.
Some governors, such as Ohio's John Kasich (R) and Kentucky's Steve Beshear (D) have opted to expand Medicaid over the objections of their state's legislatures. Judges in both states upheld the moves.
"He's up against an immovable object," said Kenneth Plum, a Democratic state legislator from Northern Virginia, referring to the GOP legislators. An attempt at executive action is "absolutely worth it," he added.