Billionaire media mogul Oprah Winfrey is diving into one of the nation's tightest and most contentious races, visiting Georgia on Thursday to campaign with Democratic gubernatorial candidate Stacey Abrams.
Winfrey is set to join Abrams Thursday at a pair of town hall events in the state, and will accompany the Georgia Democrat in knocking on voters' doors in one of the state's final days of early voting and just five days prior to Election Day.
"Oprah Winfrey has inspired so many of us though the years with her unparalleled ability to form real connections and strengthen the bonds of family and community," Abrams told NBC News in a statement. "I am honored to have Oprah join me for uplifting and honest conversations with voters about the clear choice before us in this election and the boundless potential of Georgians."
BuzzFeed was first to report on Winfrey's upcoming events with Abrams, the former minority leader of the Georgia state House.
Abrams is going toe-to-toe with Republican Secretary of State Brian Kemp in one of the nation's most hotly contested races. Last week, an NBC News/Marist poll found that the race is essentially tied, with likely voters favoring Kemp by a 49 percent to 47 percent spread, a number within the poll's margin of error. Among registered voters, the two candidates are tied at 47 percent.
Abrams has accused Kemp of undermining confidence in democracy and creating "an atmosphere of fear" for voters through his actions as secretary of state — allegations that Kemp has called "a farce."
The controversy surrounding Kemp centers on his office purging tens of thousands of voters, most of whom are black, from voter rolls ahead of next week's election. Kemp has denied that he is attempting to suppress the black vote, saying that he is simply following the law.
Former President Jimmy Carter, a Georgian, recently called for Kemp to resign from his position, which oversees the election he hopes to win.
Kemp is also bringing in some heavy-hitters in the closing days of his campaign. The same day that Winfrey is set to campaign with Abrams, Vice President Mike Pence will host a trio of events with the GOP hopeful. On Sunday, President Donald Trump will pay Kemp a visit.
For Abrams, Winfrey's visit will be followed with an appearance by former President Barack Obama on Friday.
Oprah endorsed and campaigned for Obama during his 2008 presidential bid.
INDIANA
Democratic Sen. Joe Donnelly, running for re-election against Republican businessman Mike Braun, suggested he would keep an open mind regarding President Donald Trump's proposal to end birthright citizenship in the U.S.
Asked during a televised debate Tuesday night whether he would vote to end birthright citizenship, Donnelly mentioned his past votes in favor of tougher border measures.
"Well, I'm the only person on this stage who voted three times for a border wall," the incumbent senator said. "I voted against sanctuary cities. I've stood for secure borders with John McCain when in 2013, we passed legislation that would've provided an additional 20,000 border agents to the border."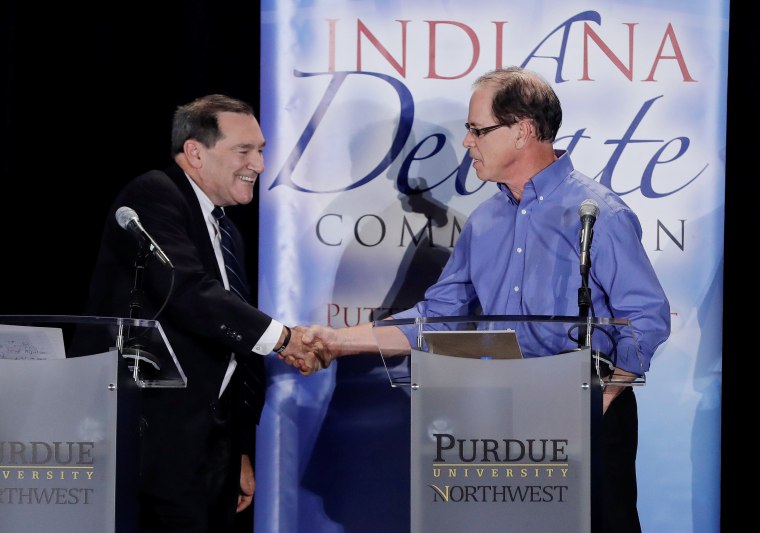 He added that he would have to "take a look at" any legislation brought forward regarding birthright citizenship, "make sure it was constitutional, and review it first."
Trump told "Axios on HBO" that he would soon sign an executive order to end birthright citizenship — which is enshrined in the 14th Amendment of the Constitution. Trump suggested that there was no need to alter the Constitution in order to make it so that children born to parents who are not citizens of the U.S. do not automatically become U.S. citizens at birth.
The 14th Amendment states, however, that "all persons born or naturalized in the United States and subject to the jurisdiction thereof, are citizens of the United States and of the State wherein they reside."
Many have pointed to this statement as making it clear that such an executive order would be unconstitutional, although there has been some debate over whether the phrase "subject to the jurisdiction thereof" provides Trump with wiggle room.
Meanwhile, a new NBC News/Marist poll released Wednesday found Donnelly and Braun in a dead heat for the pivotal Senate seat.
Donnelly has support of 48 percent of likely voters, while Braun get 46 percent. Another 7 percent are undecided.
MISSOURI
Josh Hawley, the GOP candidate for Senate in Missouri, was asked Wednesday about Trump's proposal to end birthright citizenship during a conference call with reporters.
Locked in a tight race with Democratic Sen. Claire McCaskill, Hawley said that a president could not alter the 14th Amendment by executive order or statute, though he said the question of how birthright citizenship applies to children born in the U.S. to non-citizens is "an open legal question."
FLORIDA
Democratic gubernatorial candidate Andrew Gillum, the mayor of Tallahassee, spoke with NBC News' Ali Vitali about Trump's declared intention on birthright citizenship in a Tuesday night interview.
Gillum, who is battling former Republican Rep. Ron DeSantis, said the proposal was "an example of Donald Trump attempting to be lawless again."
"He does not believe the normal rules of operation apply to him," Gillum continued. "This has been a deeply held principle and value, very consistent with the American way."
During a campaign event in Tampa on Tuesday, DeSantis, who has aligned himself closely with Trump, told supporters that he was in favor of the president ending birthright citizenship, though he expressed skepticism that Trump would actually be able to do so.
"As a matter of policy I don't think the Constitution intended that people could come illegally in order to get citizenship," DeSantis said. "That being said, there's been a long list of [Supreme Court] decisions that I think you'd have to reckon with."
TEXAS
Rep. Beto O'Rourke, D-Texas, told NBC News' Garrett Haake on Wednesday that he's not concerned about polls that show him trailing Republican Sen. Ted Cruz in the critical Texas Senate race, instead pointing to early voting numbers throughout the state as evidence that he may be in for good fortunes next week.
"The only thing that really matters is who turns out vote, and what we've seen in McLennan County and seen in every major part of state is early voting turnout far surpasses 2014 and in some cases is on pace to eclipse 2016, a presidential year," O'Rourke told NBC News. "So folks are getting out there, they're getting after it, they are voting."
OHIO
Vice President Mike Pence spoke at a rally for Republican gubernatorial candidate Mike DeWine and GOP Rep. Troy Balderson, telling supporters that caravans of migrants "are being driven by leftist organizations in Central America."
"They are," Pence claimed. "And by human traffickers."
In response to a caravan of migrants and refugees currently traveling through Mexico toward the U.S. border, the Trump administration is deploying more than 5,000 troops to the southern border. Though the caravan is weeks away from reaching the U.S., Trump opted to move the troops to the border in advance of the midterms.
EARLY VOTE
The NBC News Data Analytics lab, using voter file data from TargetSmart, found that nationwide early voting numbers have already surpassed the nationwide total from 2014.
Election Day is six days from Wednesday. As of Wednesday, 24,024,621 million early and absentee ballots have been counted nationwide in all states with early voting activity.
Nationally, 43 percent of early voters are Republicans, 41 percent are Democrats, and 16 percent have another affiliation.
ILLINOIS
Former Vice President Joe Biden continued storming the campaign trail, stopping Wednesday in Illinois to speak in support of Democratic House candidate Lauren Underwood, who is running in the state's 14th Congressional District.
Biden condemned the series of violent acts from the past week, which included a Florida man mailing pipe bombs packages to a series of high-profile current and former Democratic officials, such as Biden.
"Folks, three times this past week the forces of hate have terrorized our fellow Americans for their political beliefs, for the color of their skin, for the religion they practice," Biden said, also noting the massacre at a synagogue in Pittsburgh police say was committed by a man who expressed anti-Semitic views online as well as a Kentucky shooting spree where a white man is suspected of killing two black people at a Kroger store.
"We need to recognize that words matter. Words really matter," Biden said. "In my view, you have to understand, that our opponents are not our enemies, they are our opponents. The press is not the enemy of the American people. And before we're Democrats, Republicans, independents, we are Americans. That's who we are. Folks, we're so much better than this."