After a narrow Supreme Court decision on Monday declined to offer clear legal precedent on whether businesses can refuse to offer services for gay weddings, a Washington florist could bring the issue back to the high court.
On Monday, the court ruled 7-2 that legal proceedings in Colorado had shown hostility when considering the Denver baker's religious views and said he could not be forced to bake a cake for a gay couple's wedding. The opinion, however, was narrowly focused on that case and gave no indication how or whether the court would rule in a similar case, creating an opening for the florist.
Last year, Washington state's Supreme Court ruled unanimously in Arlene's Flowers vs. Washington that Barronelle Stutzman, owner of Arlene's Flowers and Gifts, violated state law when she refused to provide flowers for the wedding of two men in 2013, Robert Ingersoll and Curt Freed. She appealed the ruling to the U.S. Supreme Court, which is deciding whether it will hear the case.
The florist is defended by Alliance Defending Freedom, or ADF, the same conservative Christian nonprofit that defended the baker in the gay wedding cake case, Masterpiece Cakeshop's Jack Phillips. ADF initially sought to consolidate the two cases and argue them in front of the Supreme Court together, but the court declined.
"Like Colorado, the state of Washington has shown hostility toward Barronelle Stutzman's religious beliefs about marriage," ADF senior counsel Kristen Waggoner said in a statement to NBC News. "For example, the state sued Barronelle not just in her business capacity, but also in her personal capacity. That threatens to take away everything she owns and has ever worked for."
Washington Attorney General Bob Ferguson argued that he'd given Stutzman a chance to stop discriminating before filing the lawsuit.
"Had she agreed to no longer discriminate, I would not have filed a lawsuit. Even after pursuing and prevailing in a lawsuit, I asked for only $1 in costs and fees. That is what the court awarded in our case, along with a modest $1,000 penalty for violating the law. That is all Mrs. Stutzman is obligated to pay as a result of the state's lawsuit, aside from her own legal fees," Ferguson said in a statement.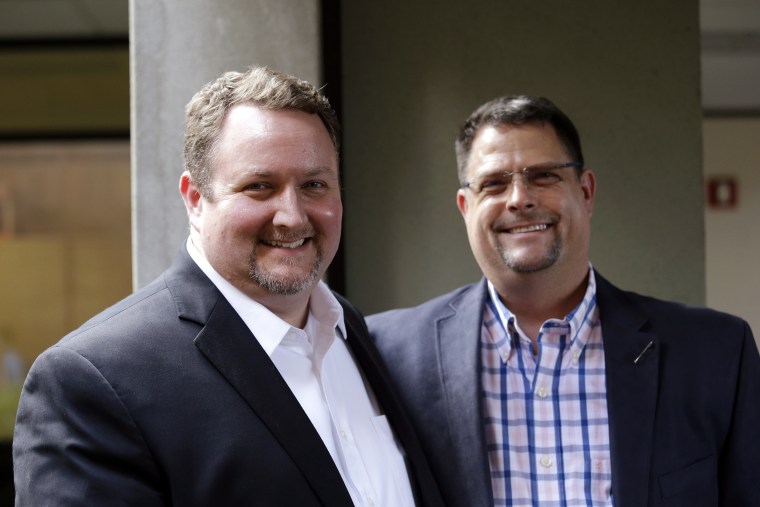 Both the state and the couple sued after Stutzman, the couple's longtime florist, arguing that she was in violation of a Washington law that makes it illegal for businesses to discriminate on the basis of sexual orientation.
"Discrimination based on same-sex marriage constitutes discrimination on the basis of sexual orientation," the Washington court ruled last year.
Stuzman, a Southern Baptist, said providing the flowers would violate her religious beliefs and "her relationship with Jesus Christ."
She also said the law violated constitutionally protected right of free speech, asserting the flower arrangements were a form of artistic expression. Phillips had said the same about his wedding cakes.
"The decision to either provide or refuse to provide flowers for a wedding does not inherently express a message about the wedding," the Washington court ruled. "As Stutzman acknowledged at deposition, providing flowers for a wedding between Muslims would not necessarily constitute an endorsement of Islam, nor would providing flowers for an atheist couple endorse atheism."
It also rejected her claim that the law violated her religious freedom, because it applied to the general public and was not targeted at any particular religious practice.
In Monday's Supreme Court ruling, Justice Anthony Kennedy suggested that future cases would be necessary to settle the broader debate between religious rights and discrimination.
"The outcome of cases like this in other circumstances must await further elaboration in the courts, all in the context of recognizing that these disputes must be resolved with tolerance, without undue disrespect to sincere religious beliefs, and without subjecting gay persons to indignities when they seek goods and services in an open market," he wrote.