A onetime adviser to President Donald Trump, George Papadopoulos, admitted again in a court document filed Friday that he lied to federal agents, and he pleaded for leniency in his sentencing.
The admission came as his attorneys pushed in a late-night filing Friday for a sentence of probation. Papadopoulos pleaded guilty Oct. 5, 2017, to making false statements, and special counsel Robert Mueller's team is recommending a sentence of up to six months in jail.
He is scheduled to be sentenced Sept. 7.
Investigators probing Russian influence in the 2016 presidential election have said the onetime foreign policy adviser to then-candidate Trump provided no useful information.
His attorneys, in their sentencing memorandum, write, "Mr. Papadopoulos misled investigators to save his professional aspirations and preserve a perhaps misguided loyalty to his master."
His attorneys said the "master" was Trump.
Papadopoulos' attorneys said he was in over his head in experience both in dealing with Russia and in serving as an adviser to a presidential campaign.
"To say George was out of his depth would be a gross understatement," the memorandum states. "Despite being a young energy policy guru, he had no experience in dealing with Russian policy or its officials."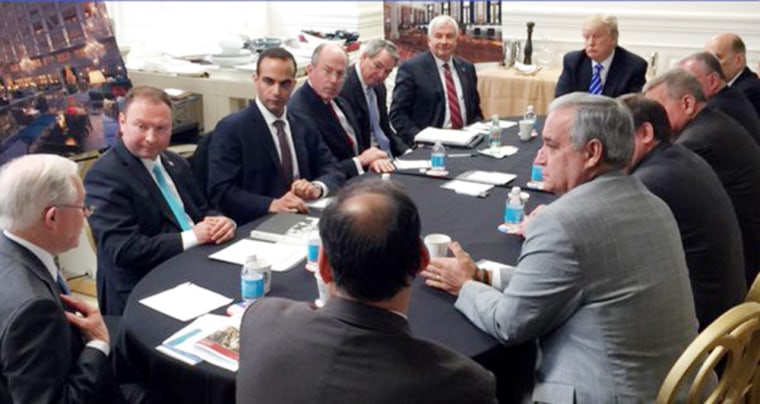 They said their client was overtaken with the now-infamous scene in which Trump, then-Sen. Jeff Sessions and other campaign officials discussed forming policy and the possibility of a summit with Trump and Russian President Vladimir Putin that Papadopoulos would arrange.
"George announced at the meeting that he had connections that could facilitate a foreign policy meeting between Mr. Trump and Russian President Vladimir Putin," the filing states. "While some in the room rebuffed George's offer, Mr. Trump nodded with approval and deferred to Mr. Sessions who appeared to like the idea and stated that the campaign should look into it."
Concluding the document, the attorneys lobbied for straight probation and no jail.
"George Papadopoulos is now a convicted felon," they wrote. "When it came time to make a good decision he made a bad one. His arrest and prosecution served as notice to all involved that this was a serious investigation.
"He was the first domino, and many have fallen in behind," they continued. "Despite the gravity of his offense, it is important to remember what Special Counsel said at George's plea of guilty: he was just a small part of a large-scale investigation."
The filing was sent to the court just after 11 p.m. Friday.