Paul Manafort, formerly President Donald Trump's campaign chairman, pleaded guilty Friday in Washington, D.C., to two new counts, admitted his guilt in 10 counts outstanding from his earlier trial in Virginia and agreed to cooperate with federal prosecutors.
Under the plea deal with special counsel Robert Mueller's team, Manafort agreed to forfeit multiple bank accounts and properties — including his apartment in Trump Tower — and to cooperate with investigators, including participating in interviews, providing documents and testifying in court.
The cooperation agreement filed with the court Friday says that Manafort must cooperate fully with the government in "any and all matters as to what the Government deems the cooperation relevant."
It also says that on Tuesday, Manafort or his attorney offered federal prosecutors a written proffer agreement, meaning Mueller's team has likely learned what kind of information Manafort can provide for their ongoing investigation.
Former U.S. attorney and MSNBC contributor Chuck Rosenberg said, "Typically, an initial proffer session with a defendant would be covered by a written agreement and the defendant would give prosecutors an overview of the topics and events where he could be helpful."
Manafort, 69, pleaded guilty Friday in a Washington, D.C., courtroom to one new count of participating in a conspiracy against the United States — involving money laundering, tax fraud, failing to file Foreign Bank Account Reports, violating the Foreign Agents Registration Act, and lying and misrepresenting to the Department of Justice.
The second new count, conspiracy to obstruct justice, is tied to his efforts to guide witness testimony after he was indicted last year.
He also admitted guilt in 10 outstanding counts previously filed in the Eastern District of Virginia, including three counts of failing to file reports of foreign bank and financial accounts, and seven counts of bank fraud and bank fraud conspiracy. In July and August, Manafort stood trial on 18 counts in an Alexandria courtroom. He was convicted on eight counts of tax fraud and bank fraud and failing to report foreign bank accounts, but because of a single holdout juror the jury hung on the other 10.
His admission of guilt to the 10 Virginia charges does not mean that he has pleaded guilty to them, and he will not be sentenced for them. However, should he violate his plea agreement, prosecutors could use his admission of guilt against him.
Andrew Weissmann, a senior deputy to Mueller, walked through the charges in the criminal information for about 25 minutes, and then Judge Amy Berman Jackson summoned Manafort to the podium.
"Is what the prosecutor said an accurate representation of events?" asked Jackson.
"It is," said Manafort, before Jackson was finished with her question. He then pleaded guilty.
The two counts carry a maximum sentence of 10 years in jail and six years of supervised release, as well as up to $500,000 in fines. Manafort agreed to delay his sentencing until his cooperation is fulfilled. If Manafort completes his plea agreement and cooperation, prosecutors will dismiss five remaining Washington, D.C., counts against him.
Manafort was returned to jail in Alexandria, Virginia after the hearing. He has been jailed since June, when his bail was revoked after he was indicted for witness tampering.
Outside court, Manafort attorney Kevin Downing said it was a "tough day" for his client, "but he's accepted responsibility, and he wanted to make sure that his family was able to remain safe and live a good life."
"He has accepted responsibility, and this is for conduct that dates back many years. Everybody should remember that."
In August, Trump praised Manafort for having "refused to break" in order to get a deal, and said he had "such respect for a brave man."
Reacting to Friday's guilty plea, White House Press Secretary Sarah Huckabee Sanders said, "This had absolutely nothing to do with the president or his victorious 2016 presidential campaign. It is totally unrelated."
Trump attorney Rudolph Giuliani said Friday, "Once again, an investigation has concluded with a plea having nothing to do with President Trump or the Trump campaign. The reason: the President did nothing wrong and Paul Manafort will tell the truth."
Giuliani later amended the statement to omit "and Paul Manafort will tell the truth." The president's legal team would not comment on the change in the statement. A source familiar with the matter told NBC News that the change occurred because an older version of the statement was sent out initially. The source said the president's legal team believes Manafort will tell the truth.
Earlier this week Giuliani told reporters that Manafort and President Trump had a joint defense agreement, meaning defense attorneys for the two men were sharing confidential information. He said he was unconcerned about a potential plea because Manafort had nothing damaging to say about Trump.
As part of the plea, Manafort will be required to admit to the conduct outlined in the charging document, which describes a criminal scheme to launder money, defraud banks, evade taxes and violate lobbying laws. The document describes the conduct Manafort was charged with in both Virginia and Washington and additional criminal conduct.
Click here to read the full charging document
With his guilty plea, Manafort will forfeit five properties in New York — his home in the Hamptons, his Trump Tower condo, other Manhattan properties on Howard Street and Baxter Street.
His plea agreement says that the Baxter Street apartment was forfeited in lieu of his property on Edgewood Street in Arlington, Virginia, and the Trump Tower condo was forfeited in lieu of a bank account.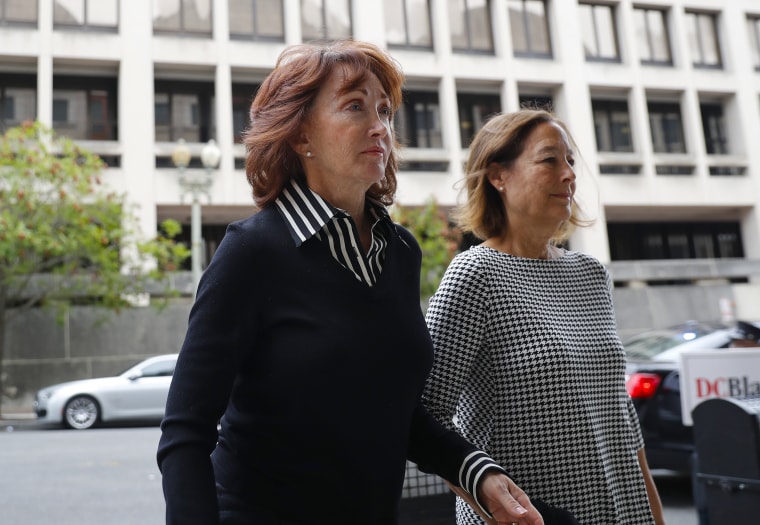 In addition, Manafort forfeits all funds contained in four bank accounts, as well as a life insurance policy.
In one remarkable section of the charging document, prosecutors detailed the nature of Manafort's work for Viktor Yanukovych, who was elected president of Ukraine in 2010 with Russia's backing until he was removed from power as part of the country's political revolution four years later. In 2010, he was running against Yulia Tymoshenko, and prosecutors said Manafort worked to undermine Tymoshenko in the U.S. by spreading stories that a senior U.S. Cabinet official was supporting anti-Semitism because the official supported Tymoshenko, who in turn had formed a political alliance with a Ukraine party that espoused anti-Semitic views.
Manafort privately coordinated with an unnamed senior Israeli official to spread this story as part of what he called an effort to have "Obama Jews" pressure the Obama administration to disavow Tymoshenko. Manafort wrote to one associate: "I have someone pushing it on the NY Post. Bada bing bada boom."
At least one outlet — Breitbart News — took Manafort's bait, publishing a story with the headline, "Jewish Leaders Blame Hillary Clinton For 'Legitimizing' Ukraine's Neo-Nazi Party."
"Manafort sought to have the Administration understand that 'the Jewish community will take this out on Obama on election day if he does nothing,'" the charging document said.
The document also describes Manafort asking lobbyists in 2013 via "written communications" to spread a story that Tymoshenko had paid for the murder of a Ukrainian official. Manafort said, "[m]y goal is to plant some stink on Tymo."
Manafort said he wanted the story to be "push[ed]" "[w]ith no fingerprints."
"It is very important we have no connection," said Manafort.
In tax filings from 2007 to 2014, according to the document, Manafort said again and again that he did not have authority over any foreign bank accounts. In fact, said prosecutors, he used offshore accounts to launder more than $30 million that he spent on luxury goods and real estate in the U.S. He "used his hidden overseas wealth to enjoy a lavish lifestyle" and "cheated the United States out of over $15 million in taxes."
Friday's plea deal pertains to what was to have been the second of Manafort's two federal trials. Jury selection for the trial, in a Washington federal court, had been scheduled to start Monday.